Has anyone else scored four goals in a game for Liverpool? And who has had a hand in the most goals in 2018? Martin Tyler has the answers...
Sky Sports commentator Martin Tyler has the answers to those questions and more.
Got a question for Martin? Tweet @SkySportsPL with #TylersTeasers and do not forget to have a go at his latest teaser.
Tyler's starting stat
It is the sixth time Leicester City and Chelsea had met each other in the FA Cup and the Blues have now won all six. And on the last three occasions they have gone on to win the Cup itself - the fifth round in 1997 when they drew 2-2 at Filbert Street and Chelsea won 1-0 at home in a replay; then also in the fifth round in 2000, when Chelsea won 2-1 at Stamford Bridge; and nearly exactly six years to the day, on March 18, 2012, Chelsea won 5-2 at home.
Chelsea striker Alvaro Morata scored for the first time in 14 games, with his last strike coming at home to Brighton on Boxing Day, while Jamie Vardy got his 17th goal of the season.
Leicester, meanwhile, missed out on their first FA Cup semi-final since 1982, but Chelsea are into the last four of the Cup for the 23rd time in their history.
The Foxes were also one of three clubs in the last eight never to have won the Cup, and along with Brighton and Swansea, they all went out, meaning all four semi-finalists (Man Utd, Tottenham, Chelsea and Southampton) have previously won the competition.
Mo for four
Mo Salah scored four times for Liverpool on Saturday, but how many Liverpool players have managed the same feat? Also, who has scored four goals in a Premier League game the most times? (Jack, Devon)
MARTIN SAYS: There are three other players that have scored four times in a single Premier League game for Liverpool, with Mo Salah adding his name to the list at the weekend. He has joined a talented club of Robbie Fowler (2), Michael Owen (2) and Luis Suarez, with the Uruguayan the last Liverpool player to do so against Norwich in December 2013.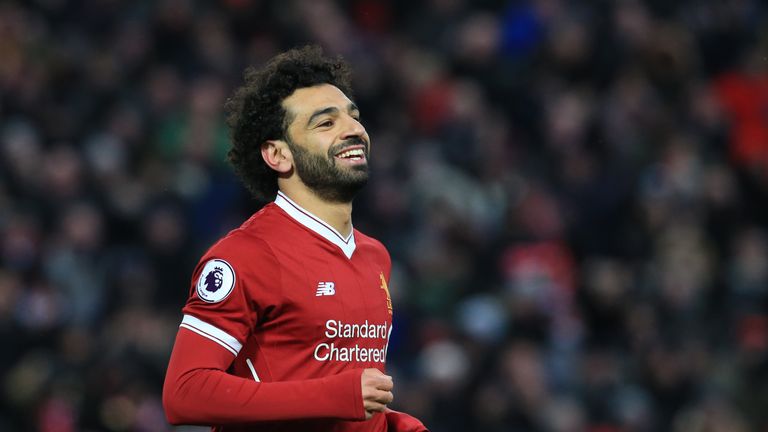 In the Premier League as a whole, Sergio Aguero has the highest number of four-goal hauls, doing so three times, with his last coming not that long ago in February 2018 when he netted four against Leicester in a 5-1 win for Man City.
Alongside Fowler and Owen, five other players have scored four goals in two separate Premier League games - Dimitar Berbatov, Andrew Cole, Frank Lampard, Ole Gunnar Solskjaer and Yakubu.
A spot of success
Luka Milivojevic has scored more penalties than any other Premier League player this season (6), but how far is he from scoring the most in a single campaign? Who has missed the most penalties in a season? (Jason, Southampton)
MARTIN SAYS: Milivojevic has a few penalties to go before he can claim the top spot after his goal against Huddersfield on Saturday. It is a former Crystal Palace player who leads the way, though, in Andrew Johnson, who scored 11 penalties in the 2004/05 Premier League season.
Oddly, though, the Serb is perhaps best remembered by Sky Sports viewers for two penalty failures this season: the first on December 9 - in a game he had already scored a penalty in - when team-mate Christian Benteke took the ball out of his hands, only for his stoppage-time spot kick to be saved by Bournemouth goalkeeper Asmir Begovic.
And then on New Year's Eve when the midfielder saw his last-minute penalty kept out by Man City' keeper Ederson, with both misses denying Palace three points.
Milivojevic is closely followed by three Premier League legends with 10 penalties each - Alan Shearer (1994/95), Frank Lampard (2009/10) and Steven Gerrard (2013/14) - while Ruud van Nistelrooy netted eight times from the spot in the 2002/03 campaign.
Penalties in one season
| | | |
| --- | --- | --- |
| Season | Player | Goals (penalties) |
| 2004/05 | Andy Johnson | 11 |
| 1994/95 | Alan Shearer | 10 |
| 2009/10 | Frank Lampard | 10 |
| 2013/14 | Steven Gerrard | 10 |
| 2002/03 | Ruud van Nistelrooy | 8 |
As mentioned last week, Van Nistelrooy, Darren Bent (2009/10) and Shearer (2003/04) also feature in the list for the most penalties missed in a Premier League season, although no player has ever missed more than three.
However, Wayne Rooney could break this record having already failed with three penalties this season, while Teddy Sheringham features twice in the list for Spurs in 1994/95 and Man Utd in 1997/98.
Aiding goals in 2018
Romelu Lukaku been involved in 14 goals in 14 appearances in all competitions in 2018, but has anyone been involved in more? (Rachel, London)
MARTIN SAYS: Yes, there are two players who have been involved in more goals than Romelu Lukaku in 2018, but their names will not be a surprise. Sergio Aguero has played 15 games in all competitions this calendar year and had a hand in 18 goals - scoring 15 and assisting three times.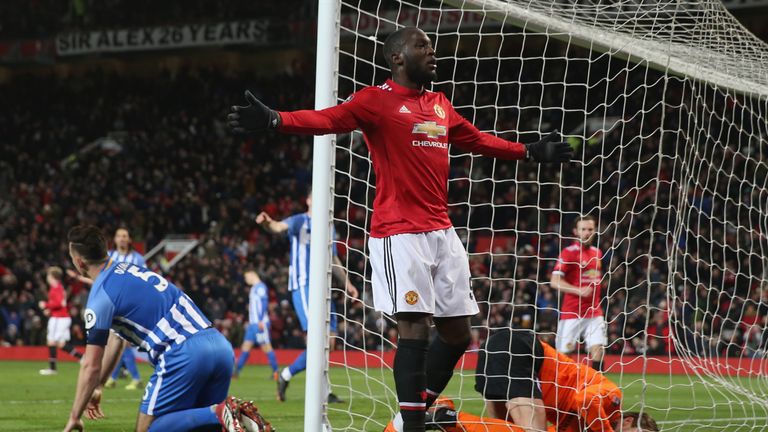 Mo Salah also features having been involved in 17 goals in 2018, although he has played in the least amount of games in the top five, featuring 12 times with 13 goals and four assists. Lukaku is third in the list with a breakdown of 10 goals and four assists in all competitions.
The final two spots in the top five come from Tottenham, with Heung-Min Son aiding 13 goals in 18 games, with nine goals and four assists. Harry Kane rounds off proceedings with 11 goals and one assist in 15 games so far in 2018.
Goals & Assists in 2018
| | | | |
| --- | --- | --- | --- |
| Player | Goals | Assists | Total |
| Sergio Aguero | 15 | 3 | 18 |
| Mohamed Salah | 13 | 4 | 17 |
| Romelu Lukaku | 10 | 4 | 14 |
| Son Heung-Min | 9 | 4 | 13 |
| Harry Kane | 11 | 1 | 12 |
Klopp's home comforts
Jurgen Klopp took charge of his 50th Premier League home game in charge of Liverpool and the Reds have averaged 2.22 goals per game since he took over - their highest goals-per-game ratio at Anfield in the competition under any Reds boss. Where does this figure rank overall in the Premier League era and who has scored the most goals at home on average so far this season? (Ashley, Yorkshire)
MARTIN SAYS: Klopp's record at Anfield does feature quite highly - in the top seven in fact - and is level with Roberto Mancini's career at Man City, whose side also scored 2.22 goals on average in their home Premier League games. This is not far behind Sir Alex Ferguson's record at Old Trafford either, with his team's averaging 2.25 goals.
Jumping to the top of the table, and it is Carlo Ancelotti's Chelsea side who lead the way with 2.82 goals per game at Stamford Bridge between 2009 and 2011 in the Premier League, while Manuel Pellegrini's City make it into second place with 2.70 goals per home game.
There are two other current Premier League managers who make the top seven for average Premier League goals scored at home in Pep Guardiola (2.59) and Antonio Conte (2.38). Indeed, Guardiola's City also lead the way for Premier League goals scored at the Etihad this season at 3.40 per game on average.
Average home goals
| | | | |
| --- | --- | --- | --- |
| Manager | Home games (min 10) | Goals | Goals/Game |
| Carlo Ancelotti | 38 | 107 | 2.82 |
| Manuel Pellegrini | 57 | 154 | 2.70 |
| Pep Guardiola | 34 | 88 | 2.59 |
| Antonio Conte | 34 | 81 | 2.38 |
| Alex Ferguson | 405 | 910 | 2.25 |
| Roberto Mancini | 67 | 149 | 2.22 |
| Jurgen Klopp | 50 | 111 | 2.22 |
They are followed by Arsenal (2.60), Liverpool (2.38), Manchester United (2.20) and Tottenham (2.07), while Burnley bring up the rear of the table with 0.80 goals per game on average at Turf Moor this season. Huddersfield also have under one goal per game at 0.94, while Swansea, Newcastle and Southampton are all averaging one goal per game at home this campaign.