Football Commentator & Columnist
Martin Tyler's stats: Daniel Sturridge as a substitute and long penalty waits
Plus try Tyler's latest Teaser from The Vitality Stadium
Last Updated: 02/10/18 11:43am
Which Premier League side has waited longest for a penalty? Which team named the same starting XI most often?
Sky Sports commentator Martin Tyler has the answers to those questions - and don't forget to try his tricky teaser in the video above.
Got a question for Martin? Tweet @SkySportsPL with the hashtag #TylersTeasers and the voice of football could be answering your question next week!
Martin's starting stat - Howe about that
Monday night was the first home win in seven Premier League fixtures between Bournemouth and Crystal Palace after four draws and one away win each in their previous meetings.
It was a clash between the youngest (Eddie Howe, 40) and oldest (Roy Hodgson, 71) Premier League managers. Eddie wasn't born when Roy started his managerial career.
Bournemouth have now won eight of their last 11 in all competitions and that was their first Premier League win on a Monday night.
All five of Palace's Premier League goals this season have come away from home. Patrick van Aanholt became their third scorer after Wilfried Zaha and Jeffrey Schlupp.
Since Christmas, Bournemouth have only lost twice at home in the Premier League - to Spurs and Manchester United - so they are doing very well.
Same starters
Wolves named the same starting XI for their opening seven games. Who has named the same line-up the most times during a Premier League season? Mary, Swindon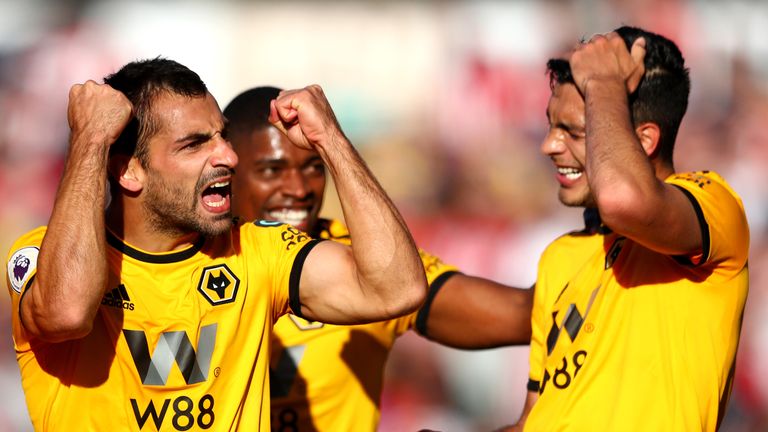 MARTIN SAYS: Wolves are only the third team in Premier League history to name the same starting XI for their opening seven games of a season.
The two sides to have done so previously are Leeds United (1992/93) and Aston Villa (2008/09), but neither stretched that run to eight matches.
That means that if Nuno Espirito Santo chooses the same 11 players at Crystal Palace on Saturday, then Wolves will set a new record.
To answer your question, the record for the same starting XI being named the most often in one season was set by Manchester United boss Sir Alex Ferguson, who selected the same starting XI 17 times in the first season of the Premier League in 1992/93 (not in a row).
That team was: Schmeichel, Parker, Irwin, Bruce, Pallister, Ince, Sharpe, Giggs, Hughes, McClair, Cantona
That consistency helped United to win the Premier League that season though it was a 42-game season.
The record for a 38-game season is 13 matches which was achieved by Leicester in 2015/16 and Chelsea in 2016/17 - both of whom won the title.
Leicester 2015/16: Schmeichel, Simpson, Fuchs, Morgan, Huth, Kante, Drinkwater, Albrighton, Okazaki, Mahrez, Vardy
Chelsea 2016/17: Courtois, Azpilicueta, Cahill, Luiz, Alonso, Moses, Kante, Matic, Pedro, Hazard, Costa
However, Birmingham City's starting XI was also the same in 13 matches in the 2009/10 and they only finished ninth!
Birmingham 2009/10: Hart, Carr, Johnson, Ridgewell, Dann, Carsley, Bowyer, Ferguson, McFadden, Larsson, Jerome
Burnley's penalty patience
Sean Dyche said Burnley have not had a penalty in 16 months. Has any team in the Premier League been waiting longer?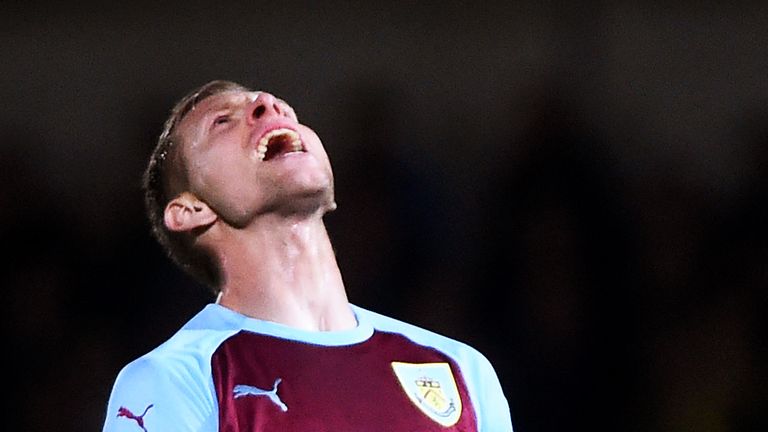 MARTIN SAYS: Burnley's last penalty was awarded on April 15th 2017 when Sam Vokes scored one in a 3-1 defeat at Everton.
Only the three promoted sides have been waiting longer. Fulham and Cardiff were both awarded their most recent Premier League penalties on April 19, 2014 before both were relegated at the end of that season. Wolves' last Premier League penalty came in their last Premier League season in December 2011 against Stoke.
In effect, Cardiff and Fulham have completed 10 Premier League matches since their previous penalty award while Wolves have completed 29. Yet Burnley have now completed 50 Premier League matches in a row without being given a penalty.
Newcastle, Bournemouth, Manchester United, Chelsea, Leicester, Brighton, Southampton, Everton, Tottenham, West Ham and Liverpool have all been awarded penalties this season.
Of the nine clubs that haven't, we have listed their most recent penalty below:
Premier League clubs not awarded a penalty yet this season
| Date | Team | PL matches since last penalty |
| --- | --- | --- |
| 17/12/11 | Wolves | 29 |
| 19/04/14 | Cardiff | 10 |
| 19/04/14 | Fulham | 10 |
| 15/04/17 | Burnley | 50 |
| 11/02/18 | Huddersfield | 18 |
| 01/04/18 | Arsenal | 14 |
| 22/04/18 | Manchester City | 11 |
| 28/04/18 | Crystal Palace | 9 |
| 05/05/18 | Watford | 8 |
Home discomforts
Are Huddersfield on course for the fewest home goals in a PL season? Sam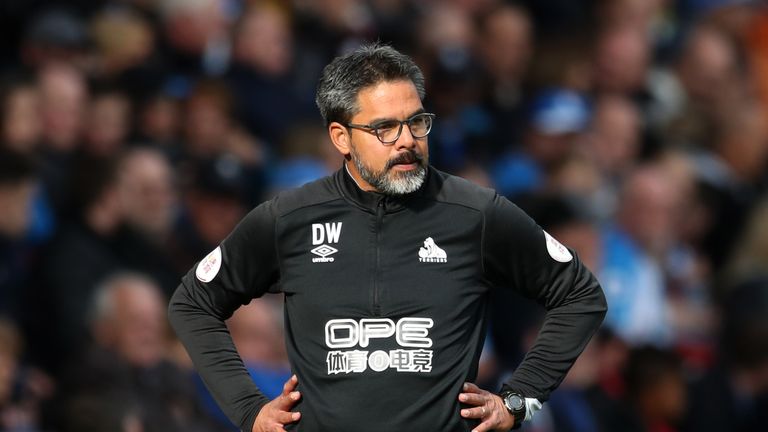 MARTIN SAYS: Huddersfield have so far failed to score at home to Cardiff (0-0), Chelsea (0-3), Crystal Palace (0-1) and on Saturday Tottenham (0-2), with their last top-flight goal in front of their own fans coming way back on April 14 when Tom Ince scored in the last minute of a 1-0 win over Watford.
Crystal Palace have also yet to score at home in three Premier League games this season.
However, Huddersfield, team still have another 15 league games in which to score the 11 goals they need to beat the record held by Manchester City for the fewest home goals scored in a Premier League season.
That ignominious record was set by Stuart Pearce's side in the 2006/07 campaign, with the last of their 10 goals at the Etihad incredibly coming against Everton on January 1, although it did not stop them from finishing 14th that season.
Sunderland scored just 11 goals in the 2002/03 season when they finished bottom and then just 12 in 2005/06 when they finished bottom again! Derby also only managed 12 goals in 2007/08 and finished bottom of the table.
QPR scored just 13 goals at home in 2012/13 in finishing bottom, while Wolves managed just 13 in 2009/10, but survived, finishing 15th.
Super-sub Sturridge
Who has the most PL goals as a substitute and where is Daniel Sturridge in the list? Ed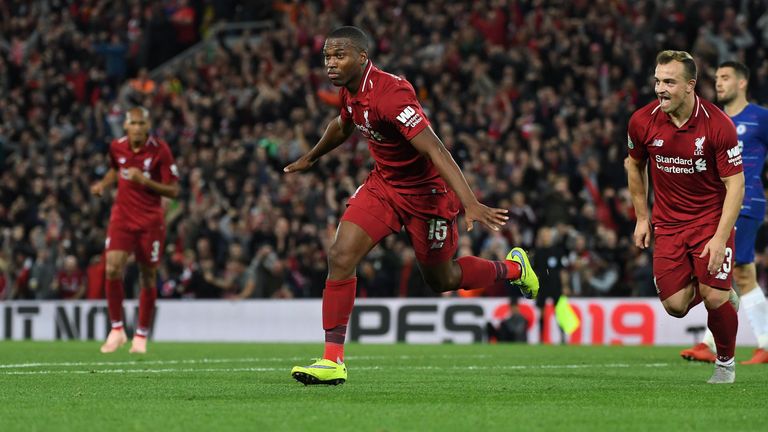 MARTIN SAYS: Sturridge's goal against Chelsea was his 17th as a substitute in the Premier League and he's now joint-third on the all-time list of scoring subs.
But he's got a way to go to reach the top of the list, as Jermain Defoe has 24 Premier League goals from the bench, ahead of another active player, Olivier Giroud, on 19.
On 17 substitute goals, Sturridge joins former Arsenal striker Kanu and former Manchester United striker Ole Gunnar Solskjaer, who has the best minutes per goal ratio of the five players we've mentioned (87.94 minutes per goal as a substitute) and once scored four as a sub in one game against Nottingham Forest - one of the most extraordinary Premier League games I've witnessed.
Get a full list of the top goalscoring Premier League substitutes below...
Most PL goals as a substitute
| Premier League subs | Goals | Mins/goal |
| --- | --- | --- |
| Jermain Defoe | 24 | 120.75 |
| Olivier Giroud | 19 | 72.63 |
| Kanu | 17 | 152.29 |
| Daniel Sturridge | 17 | 92.59 |
| Ole Gunnar Solskjaer | 17 | 87.94 |
| Peter Crouch | 16 | 163.44 |
| Javier Hernandez | 16 | 86.44 |
| Victor Anichebe | 13 | 150.23 |
| Andrew Cole | 13 | 114.69 |
| Robbie Keane | 13 | 114.46 |
| Michael Owen | 13 | 107.38 |
| Tore Andre Flo | 13 | 107.31 |
| Darren Bent | 13 | 101.92 |
| Edin Dzeko | 13 | 82.92 |