What happened to Andrey Arshavin? Former Arsenal forward nearing sad end to his career
By Nick Wright
Last Updated: 22/02/16 6:52pm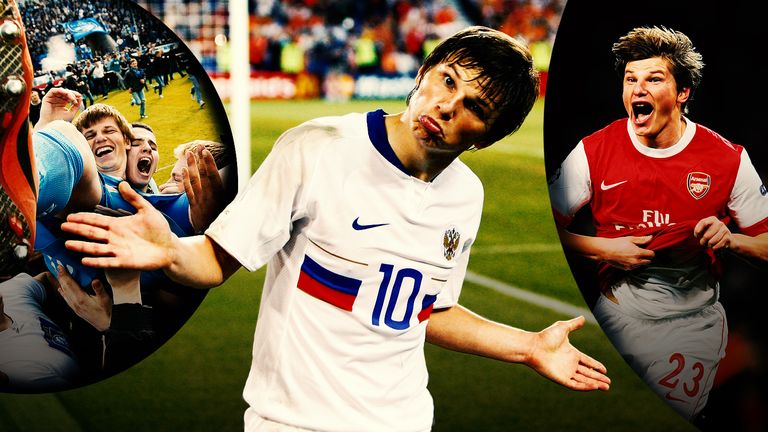 Andrey Arshavin was regarded as one of the most exciting talents in European football when he joined Arsenal from Zenit St Petersburg in 2009, so what went wrong? Nick Wright reflects on a career of fleeting brilliance and wasted talent…
Andrey Arshavin may not have left much of a legacy at Arsenal, but his winning goal against Barcelona in 2011 still ranks as one of their greatest moments at the Emirates Stadium.
The Russian's sweeping finish sealed a 2-1 first-leg victory over the imperious Catalans and, while it ultimately wasn't enough to reach the Champions League quarter-finals, it's fair to say the Gunners would cherish a repeat result on Tuesday.
Five years on from that memorable night in north London, the landscape looks very different for Arshavin. The mercurial forward reached the end of the road at Arsenal in 2013, and at the start of February a brief spell at Russian side Kuban Krasnodar concluded with the termination of his contract. "If there is an offer to continue playing, I will definitely take a look at it," said Arshavin. "If not, I will end my career." He is 34.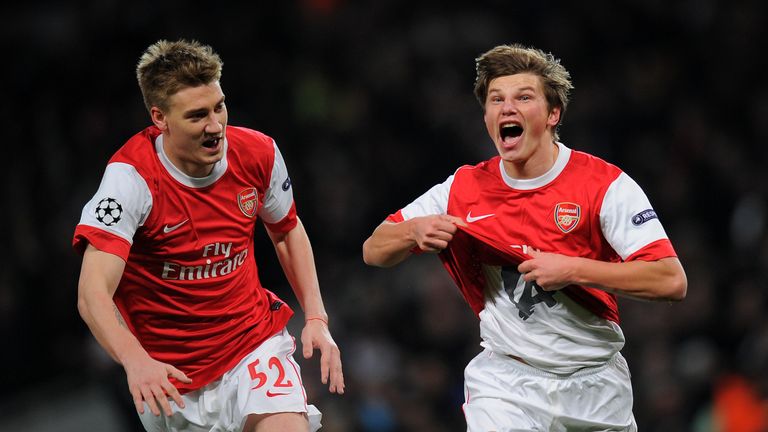 Arshavin's sad decline was already in motion when he scored that goal against Barcelona, but he appeared to have the world at his feet just a few years earlier. His scintillating performances for Russia at Euro 2008 drew international acclaim, and he looked like a superstar in the making when he made his £15m move to Arsenal six months later.
The club-record outlay represented a major departure from Arsene Wenger's usual transfer policy, but Arsenal were in dire need of inspiration as they sought to make up a five-point gap on the top four, and here was an elite talent capable of making the difference. In Russia, Zenit St Petersburg rued the loss of their talisman, with manager Dick Advocaat describing it as "the bargain signing of the January window".
Arshavin was at the peak of his powers and his arrival initially had the desired effect, with six goals and seven assists in 12 Premier League games helping Arsenal finish the 2008/09 campaign in the Champions League spots. Supporters were smitten with the impish little Russian, and his explosive four-goal performance against Liverpool at Anfield wrote him into Premier League folklore.
For all his talent, however, there was another side to Arshavin that grew more and more prominent. "In Russia he was considered as a lazy player even at his best times," Russian football journalist Artur Petrosyan tells Sky Sports. "He never really liked to run much. He would be off for 60 or 70 minutes of a game, but then turn on and do something amazing."
Arshavin featured regularly for Arsenal over the next two seasons, scoring 22 goals in 91 appearances in all competitions, but the moments of brilliance became increasingly infrequent. Match fitness and work rate were persistent issues, while lethargic performances and an indifferent attitude suggested his heart simply wasn't in it.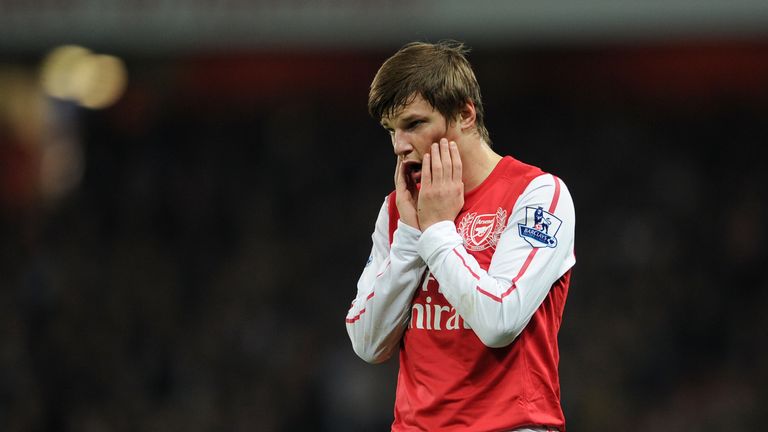 "He was never the most ambitious person," says Petrosyan. "Actually that's a problem with a lot of Russian players. It's a problem with their mentality. When they achieve success and earn some good money, they just stop progressing and that's it for them. That's what happened with Arshavin."
There were controversies, too, most notably a run-in with a group of angry supporters after Russia exited Euro 2012 with a dismal group stage defeat by Greece. "What should we apologise for?" snapped Arshavin. "It's not our problem that we didn't meet your expectations. It's your problem."
Arsenal v Barcelona
Follow Arsenal v Barcelona with our live blog across the Sky Sports platforms
The comments caused outcry in Russia. "His serious career ended after the Euros in 2012," says Petrosyan. "Before that he was a real hero here and he was considered as probably the best Russian footballer in history, but after that it changed. He was never an easy person and there were always controversies around him, but he made up for it by playing good football. After that, though, everyone began pointing fingers at him."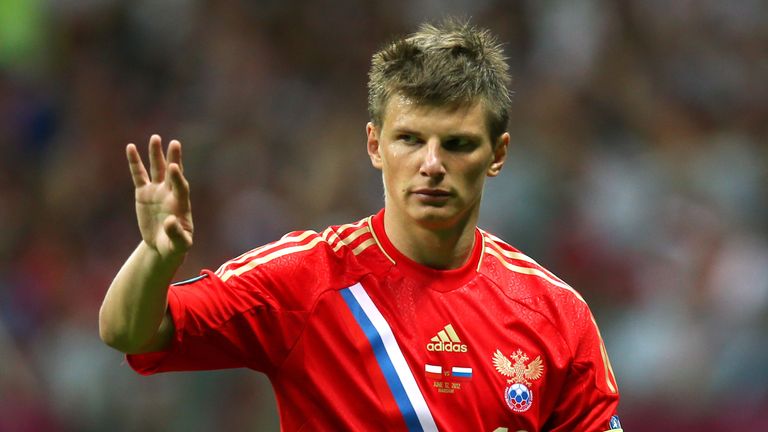 Arshavin had spent the months leading up to Euro 2012 on loan at Zenit, and he returned to the Gazprom-owned club permanently in the summer of 2013. "I don't regret anything, but I had to leave," he said after making just two starts in his final season at Arsenal. "To train even though you know you won't play - it is psychologically difficult. I nearly suffered depression."
Zenit, though, was not exactly a happy homecoming. "It was the president of Gazprom's idea to bring him back," says Petrosyan. "Some fans liked it, but those who understand football and don't just cheer for big names could see what was going on. They knew that Arshavin couldn't help the team any more. He wasn't able to, even if he wanted.
"In footballing terms, after returning from Arsenal he was a just a squad player, not a regular. So he wasn't satisfied with that but he was still getting paid around 2.5m euros per year. He gained some weight and he just didn't have the desire to play anymore."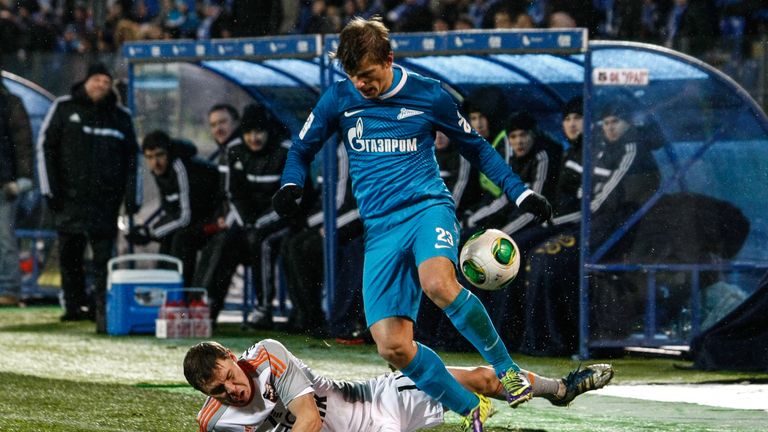 Arshavin was a peripheral figure as Zenit won the title under Andre Villas-Boas last season, and the former Chelsea and Tottenham manager confirmed his contract would not be renewed at the end of the campaign. Retirement loomed for Arshavin, but government-funded Russian Premier League rivals Kuban Krasnodar offered him a lucrative lifeline.
"It was a couple of months before elections in the Krasnodar region, and the governor thought it was obvious that he needed publicity and PR so he signed Arshavin and [Roman] Pavlyuchenko," says Petrosyan. "But after the elections, the governor lost all interest in the club and the bad times started. Now they're selling all their stars, they've got money problems and they are probably going to be relegated."
In the six months before the termination of his contract at Kuban, Arshavin made just eight league appearances totalling 357 minutes. None of them ended in victories, he only completed the 90 minutes once, and there were no goals or assists.
There has been talk of interest from clubs in Kazakhstan and Macedonia for one final payday, but Arshavin appears to be preoccupied with business interests in St Petersburg. "His footballing career is not the most important thing," says Petrosyan. "If he can't play for another season, he won't be too sad."
And so, as Arsenal prepare for another meeting with Barcelona at the Emirates Stadium, the hero of their last encounter nears an unceremonious end to his career. For a player who shone so brightly, Arshavin's plight feels like an extraordinary waste.
Artur Petrosyan is the former editor of Russian newspaper Sport Express and currently runs https://bookmaker-ratings.com
What are your memories of Andrey Arshavin? Let us know using the message boards or by tweeting @SkyFootball