Amanda Staveley has told Sky Sports News the long-term ambition for Newcastle United is to top the Premier League after the club's takeover was completed on Thursday.
"Newcastle United deserves to be top of the Premier League. We want to get there. It will take time, but we will get there," Staveley, the chief executive of PCP Capital Partners who is now a director on the Newcastle board, told Sky Sports News reporter Keith Downie.
"We're proud to be part of the Premier League. It's an incredibly competitive league, which we love. Premier League football is the best in the world, and Newcastle United is the best team in the world.
"We want to see it get those trophies, obviously. At top of the Premier League, in Europe, but to get trophies means patience, investment, time. We want everybody to work with us to build the club towards what it needs to be."
PCP Capital Partners are part of the investment group, which is led by the Public Investment Fund (PIF) and also comprises of RB Sports & Media, that ended Mike Ashley's 14-year ownership of Newcastle.
Staveley said the new owners "want to invest at every level", and though Steve Bruce is expected to be replaced, she would not be drawn on the head coach's future or plans for new players.
The new names at Newcastle
Yasir Al-Rumayyan, Governor of PIF, will serve as non-executive chairman of Newcastle United. Amanda Staveley, chief executive of PCP Capital Partners, will have one seat on the board, while Jamie Reuben will also be a director of the club, representing RB Sports & Media.
"We've got a great squad," Staveley added. "I had a great chat with Jamaal [Lascelles] tonight as captain. We're really excited about strengthening the squad, but we have to work within Financial Fair Play and make sure this is done over a longer term.
"But you can know and be reassured that we want to invest at every level. We want to get the best squad we possibly can.
"Everybody talks about it [big-name players], but what you need is a team that works well together. That's also just as important."
Asked if she had the chance to speak with Bruce, she said: "I did speak to the manager and say hello and introduce ourselves. We look forward to speaking to him over the next few days. There's an international break so I think everybody is just relieved to have some rest before the Tottenham game."
Asked about Bruce's future, she said: "We're very supportive of Steve and we've spoken to him. What we're going to do is not talk about managers or what big signings we can make. We're going to do a review right through the football operations, of the commercial side as well, and come back and make some decisions."
Pushed further on whether Bruce would be in charge against Tottenham on October 17, live on Sky Sports, she added: "I'm not even able to talk about anything as to players or managers at this stage."
How wealthy are PIF?
The PIF now own an 80 per cent share of Newcastle - and they are worth an eye-watering £700bn.
For context, the previous richest club in the Premier League was Manchester City, whose owners are worth £23bn.
While it is important to note that it is the PIF worth £700bn and not the club, that figure - 22-times greater than City's worth - gives an indication of the spending power of Newcastle's new owners.
Plans are now in place to increase revenue streams into the club which will help them better deal with Financial Fair Play rules and what they have to spend.
Staveley and her husband Mehrdad Ghodoussi (MD of PCP Capital Partners) met all club staff on Friday morning where she held a short meeting to introduce herself but did not lay out long-term plans.
She will visit the training ground on Friday afternoon, which is one of the main areas needing improvement. The players and manager are on a day off.
Bruce 'realistic' on future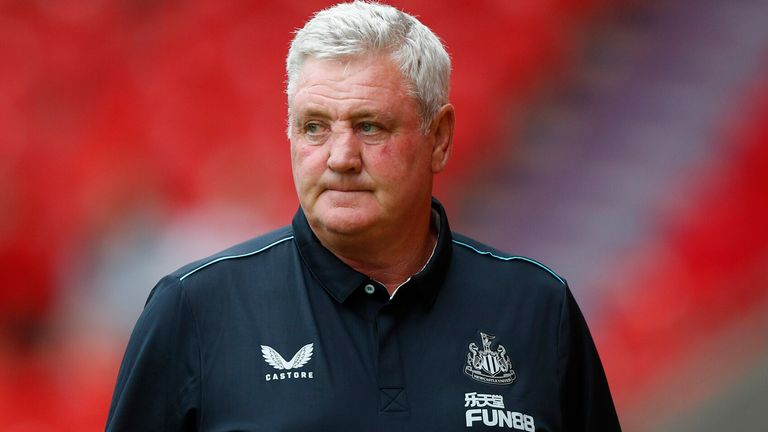 It is understood that Steve Bruce is almost certain to be relieved of his duties before the Spurs match next Sunday. He was at home on Friday on a day off but it remains to be seen if Newcastle will appoint an interim manager or a permanent one.
Bruce told Sky Sports News on Thursday that he was fully aware that the new owners could seek a new head coach.
"I'm happy for the club that this has gone through. It's a great night for the fans, I'm delighted for them," Bruce told Sky Sports News.
"I want to continue (as manager) but I have to be realistic. I'm not stupid and aware what could happen with new owners.
"I don't have any plans to speak to Amanda that I'm aware of."
Bruce is due to take charge of his 1,000th match against Spurs a week on Sunday on Sky Sports.
He added: "If I don't make 1,000 games against Spurs - you might say that can only happen to me. It's not cruel, it's just football."
Staveley's message to the fans
Staveley confirmed she will be based in the north east, and said the group will take their role as new owners "very seriously", four years on from the game which first piqued her interest.
"We've certainly taken time to get here," Staveley said. "The first game I came to was Newcastle-Liverpool. It took me half an hour and I was in love with the city, with the club, with their amazing fans. Today has just been extraordinary."
Yesssssssss. We can dare to hope again 👏🏻👏🏻👏🏻 🙋🏼‍♂️⚫️⚪️⚫️⚪️⚫️⚪️ #NUFC

— Alan Shearer (@alanshearer) October 7, 2021
She added: "We'd like to thank the incredible fans. We wouldn't be here without them today, it's their club. We want to be great custodians of this club. We take our role very seriously. We don't want to overpromise, because I've seen a lot of people come into clubs and say 'We'll do this', but genuinely we want to really invest in every area of this club at every level.
"We know it's at the heart of the community, you can feel that. It's so touching for me as well, to finally be able to talk about this openly.
"The last 48 hours have been exhausting. I'd like to thank the Premier League as well, and to Mike [Ashley] for us all getting there."
Newcastle are currently 19th in the Premier League table, and Staveley admitted that while their position is a concern, she believes the squad are capable of climbing out of the relegation zone.
She said: "Relegation is a real big issue at the moment, and we're going to have to work hard. Performance could do with some improvement, but we've got a great squad and this squad should not be at 19th position. It really shouldn't. But with a fair wind and some hard work we'll get there.
"I think it also shows the commitment of PIF and Jamie Reuben. What I can say, as PCP, I have brave and patient investors alongside me. They would have to be to take on this challenge. They know how important this club is to its community. We appreciate where we are in the league and we know relegation is a real issue."
Club legends Alan Shearer and Kevin Keegan are both set to be offered roles at the club as ambassadors. Both were jettisoned under Ashley.
The Premier League confirmed the takeover in a statement on Thursday, saying it had received "legally binding assurances" that the Kingdom of Saudi Arabia will not control Newcastle United.
Before the completed deal was announced, meanwhile, Amnesty International drew attention to Saudi Arabia's record on human rights and called on the Premier League to look again at its criteria for approving takeovers.
"Instead of allowing those implicated in serious human rights violations to walk into English football simply because they have deep pockets, we've urged the Premier League to change their owners' and directors' test to address human rights issues," Amnesty UK chief executive Sacha Deshmukh said earlier on Thursday.
Asked about those concerned with Saudi Arabia's human rights record, Staveley said: "The consortium's lead partner is PIF, it's an autonomous, commercially-driven investment fund. It's a great partner for Newcastle. I'm very honoured to work with them, they've been incredibly patient and fabulous partners to PCP.
"For me when I came here, I knew there was only one partner for Newcastle. It was just obvious, because you needed someone with patient capital, who's brave, can take quick decisions, and can also be there on sunny days and when the rain starts to fall.
"I do hear [the concerns], we want all fans to talk to us, so anybody that has any issues they know we're here and they need to come talk to us. We'll take them through our plan and introduce everybody to the PIF team."
Ashley: I rejected better offer, but it was best for Newcastle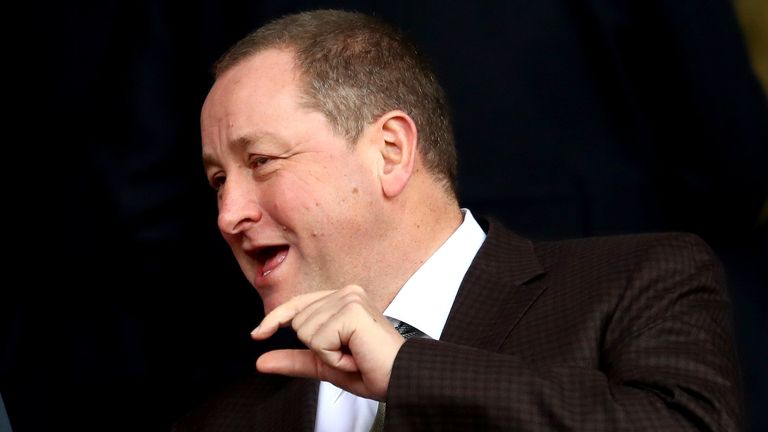 Outgoing owner Ashley says he had rejected a higher bid than the one that led to the club being taken over by the Saudi Arabia-led group, but believed he had acted in the best interests of the club.
"I would like it to be known that I received a higher offer for the club than the one that I accepted. It was from another reputable bidder who made a credible case," Ashley told The Sun newspaper in an interview published on Thursday.
"But I felt the bid that we accepted from the current new owners would deliver the best for Newcastle United. Money wasn't my only consideration. There were times when I stepped in financially to keep Newcastle United afloat.
"We ensured the wage bills were paid when we went down in order that we could bounce straight back up. Nobody was happier than me when we achieved immediate promotion."
Ashley said he was not in the same "financial league" as the consortium, and selling had been the best option.
"It's hard to compete at the highest level in football with certain clubs that have almost unlimited resources," he said. "I've known for some time now that many Newcastle fans were frustrated by the situation and were in favour of a change.
"I therefore felt that I owed it to the fans to fight tooth and nail over the last 18 months or so to make this happen."