Guillem Balague claims Real Madrid have never been easier to beat Real Madrid in his latest 'Five things from La Liga' column.
Goalless Galacticos
Zidane is blaming the lack of goals for Real Madrid's poor form, in fact, this is the worst position in the table Real Madrid have been in at this stage of the season since 2008, so there are more than one thing going wrong. It's shocking because the team that drew at Athletic Bilbao is exactly the same as the one which started the Champions League final in Cardiff six months ago. Real seem to have relaxed and they are lacking the intensity they once had. They have no options or solutions from the bench - it is very rare to see Zidane use only two substitutions as we saw at San Mames.
As I mentioned, Zidane is blaming the lack of goals, and what is interesting if you look closer is that there has not been a single pass from Karim Benzema to Cristiano Ronaldo, or vice versa. There were only four shots on target on Saturday, exactly the same as Athletic Bilbao, who played poorly for the majority of the game. They had 65 per cent possession but that was not converted into clear chances.
Real have been held to a goalless draw on three occasions this season, two of which have come in their last two away games - contrast to last season when they scored in the 60 games they played. Ronaldo, meanwhile, has only scored two goals in La Liga this term. In fairness to Madrid, they were a bit unlucky because they hit the post twice. But all those stats suggest more than one problem.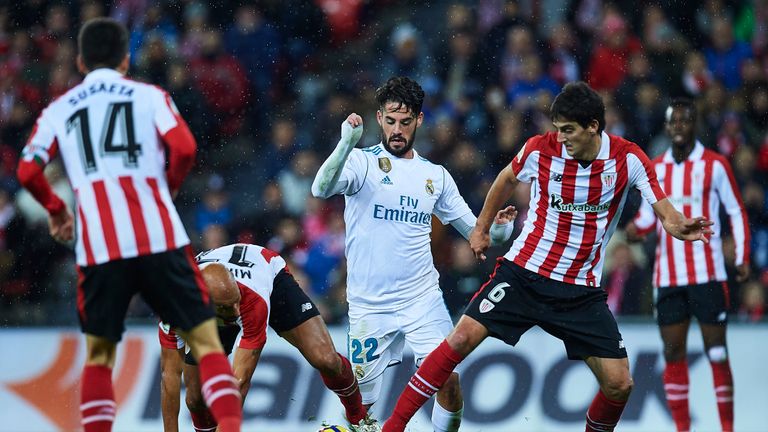 Interestingly, Isco added his thoughts to Zidane analysis, confirming that they are not effective as they were and that they lack quality with the final pass. If the final pass doesn't come it leads to players shooting when they shouldn't. Strikers depend mostly on the right service, and that is not arriving either. Isco and Zidane are right, Real are not getting the ball up to the strikers in the right positions and the goals aren't coming - those are the two things that are missing.
Real met an Athletic Bilbao team in deep depression after what's been a bad season and with doubts surrounding the future of (Jose Angel) Ziganda especially after they were dumped out of the cup by lowly Formentera, but they stopped Real Madrid and fans appreciated their effort. The case is it is easier than ever to stop Real Madrid at the moment.
Barca to bring in players?
We've seen perhaps the best Barcelona in terms of creative football against Valencia and Celta Vigo, but that was only converted into draws. If you look a little deeper and you see draws against Olympiakos and Juventus in the Champions League in recent weeks and the conclusion is that Barca are not as effective as they should be in both boxes to compete for all the titles.
They don't score enough and they concede goals easier than they should. So, after 18 consecutive victories at the Camp Nou, finally there was a draw against Celta, and it was a result they deserved. Before Iago Aspas' first goal, Marc-Andre ter Stegen made a stunning save with his foot to show he is at the level of David de Gea and Jan Oblak as the best three goalkeepers in the world.
Like Real Madrid, Barca were a little bit unlucky. They hit the post for the 19th time this season - 11 of them have been Lionel Messi shots - and there were a touch unlucky too with the referee's decision to rule out Luis Suarez's goal for offside.
Aside from the result, which was not capitalised upon by Real or Valencia, the bad news concerns the injury to Samuel Umtiti. That will be a real challenge for Barca because he will miss games away to Villarreal, Real Madrid, Real Sociedad and Real Betis - the kind of games you have to win if you want to win La Liga.
The club has to decide what they will do next. Ernesto Valverde is not particularly concerned about signing another centre-back, even though Barcelona may look for one. His concern is bringing in another creative midfielder, hence the interest in Arthur Melo, the Brazilian who took private pictures wearing a Barcelona shirt sat with his agents and representatives from Barcelona.
Those were leaked to the media and now his club, Gremio, are saying his €50m (£43.8m) buy-out clause must be matched, but that's a figure Barcelona do not want to pay right now. Another reported target is Philippe Coutinho, but Liverpool at this stage have not changed their stance on him, they are not negotiating with Barcelona.
All is well at Atletico
We've seen a better Atletico Madrid. After the Madrid derby they fell 10 points adrift of Real, but now they are six behind having gone 18 games unbeaten. There are three tactical changes Diego Simeone is employing that are making a difference for Atleti. The first has seen Koke play in the centre, while Saul Niguez played on the right but with the freedom to attack. He was fantastic. He has the ability to do anything he wants. He arrives from deep positions and has a great final ball, as well as a powerful shoot.
There was more encouragement with Antoine Griezmann scoring again. He has scored four goals in the last three games and those have come when he's had another reference up front like Fernando Torres or Kevin Gameiro and Angel Correa, as seen in one game, or Gameiro on his own. Simeone has said he is more comfortable and he has proven that is the case.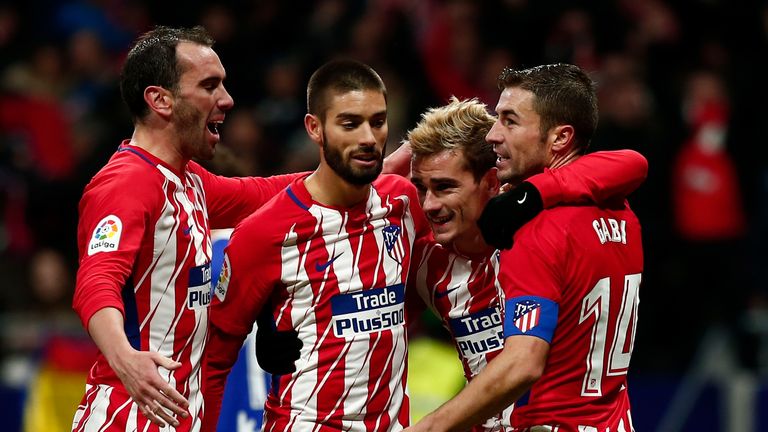 There was a conversation with Griezmann and the Atletico hierarchy after the Madrid derby where he was asked if he was committed to the club. Atleti were unhappy with Griezmann's comments about his future and how he flirts with other clubs. He was told he had to focus, to which he asked to be played alongside a strike partner up front. His suggestion has been listened to and now everyone is happy.
Berizzo on the mend
Eduardo Berizzo underwent surgery and was given the all clear to go home just before the game at the weekend. Everybody is very optimistic that the cancer has been found and removed in time and expect him to return after Christmas.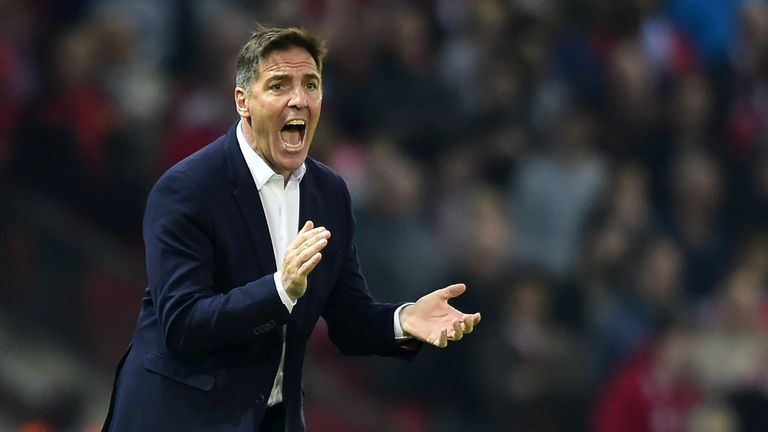 He will have no doubt been boosted in his recovery by Sevilla winning for the third game on the spin, a run which has seen them secure one more point than Jorge Sampaoli. Remember, at this stage of last season we were talking very highly of Sampaoli and the work he was doing at Sevilla, so to get a point more, albeit in a quieter way, on a weekend where only one of the top four teams won was encouraging.
Keep on dreaming, Valencia!
Valencia's limitations when their top players are not playing were exposed against Getafe. The absence of Goncalo Guedes, who is out for a month, played a key role in their defeat. They complained about the grass being very dry and that it didn't allow the ball to run as freely as it should. But that's the kind of excuse you get when the team doesn't function as it should.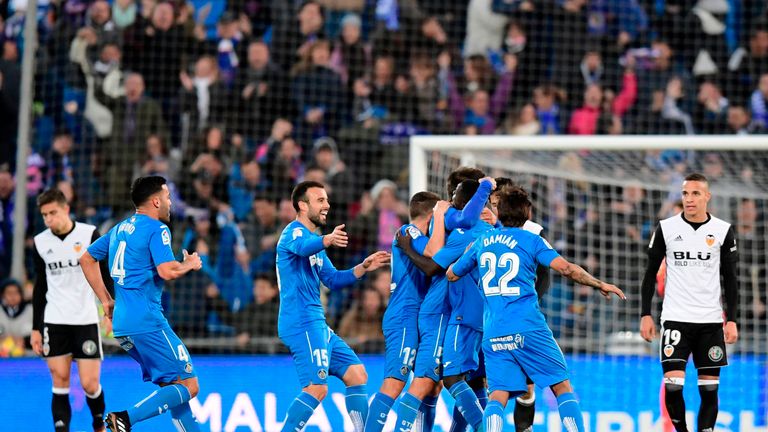 Getafe were very aggressive with the allowed limits, and of course they played with 10 men from 25 minutes, so it's disappointing for Valencia. But they have to keep dreaming of winning the league against Barcelona and Real Madrid, who clearly aren't at their best at the moment.
Guillem answers YOUR questions!
Eusebio Sacristan and Quique Setien are two managers I admire very much but they are having pretty average seasons so far. Possibly an unfair judgment on my part but what do you think, Guillem? (@luthoBen)
Setien started very well at Betis but they are conceding a lot of goals and injuries are affecting a squad that is very, very short. There has also been a lot of confusion decision from Setien who only has two points from 15 and is losing the confidence of the board.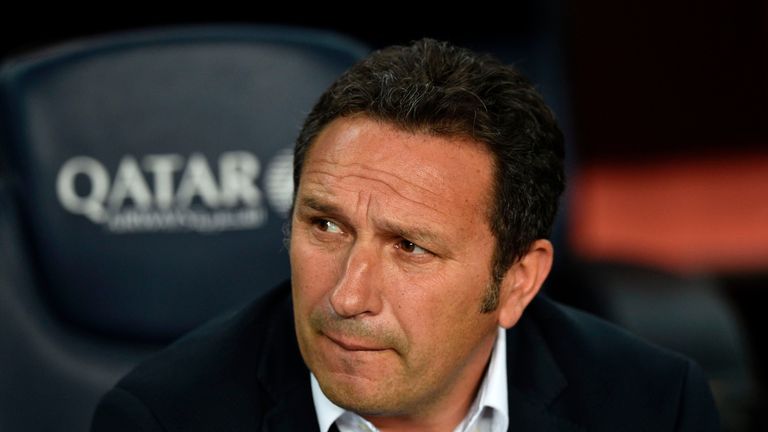 Eusebio is a different story. They showed against Atletico Madrid that they can compete against anybody. It comes on the back of being knocked out in the cup, but this team is still a team with a lot of quality. Igor Zubeldia was fantastic in front of the defence, while Alvaro Odriozola at right back is playing really well. They still have a lot of quality when playing the ball and they compete well. It hasn't happened in the cup but Eusebio has the total confidence of everyone and will get it right.
Who would Real Madrid prefer to buy, David de Gea or Thibaut Courtois? Or which one is more likely to happen? (@RaFkwondo)
Courtois is not renewing his contract at Chelsea for a reason, but Real want to sign Kepa Arrizabalaga from Athletic Bilbao either in January or the summer. Real would want to get him for free in the summer, but if he does not renew his contract, Athletic might not play him in the last four or five months of the season, which will stop him going to the World Cup. So Madrid might pay the €20m (£18m) of his buy-out clause now to get him.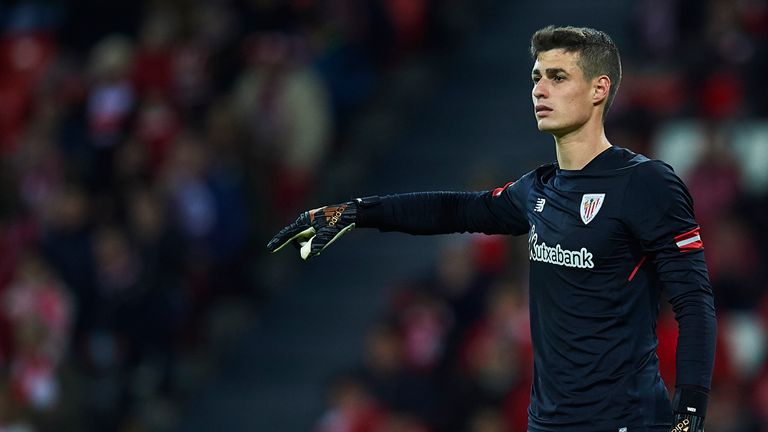 Kepa will contest for the No 1 position with either Keylor Navas or Courtois, if they are able to get him at the end of his contract. David de Gea has had two big opportunities to go to Real Madrid, for different reasons it hasn't happen, and right now he is not at the top of Real's agenda.
Should Zidane consider selling someone from the BBC and buy a new striker? (@therockparmar3)
Zidane is not the one buying at Real Madrid, it is Florentino Perez. What they are trying to get, either now or in the summer, as well as a goalkeeper, which possibly will be Kepa, is another striking possibility - a completely different idea to what was thought a few months ago. They are not looking for someone to go into the line-up but are after a player who will understand that if the BBC are fit they will play ahead of them. But the injuries to Bale keep affecting him and Zidane says he needs to look after him now, not only physically but mentally.
Do you think Liverpool could attract someone like Griezmann? (@IVennell)
Griezmann is thinking of different things. Liverpool have to prove they are genuine title contenders again to be able to attract the likes of Griezmann. I don't think Liverpool are on Griezmann's radar at this moment in time.