Charlie Nicholas returns with his Premier League predictions ahead of this weekend's action, a full card of top-flight fixtures.
Live Renault Super Sunday


Sheffield United should have got the three points. Whatever happened with the technology, it was a shambles. Thank goodness it happened though, as it was the only talking point from the game. I went for Villa to win but I expected Sheffield United to graft, and they did just that. Oli McBurnie grafted and Billy Sharp worked his socks off, as did the whole of Chris Wilder's side. Jack O'Connell was missing at the back and John Fleck was absent - you could tell that it was not quite the same.
Steve Bruce will be trying to prove a point, and Newcastle will be sold, but whoever buys the club, Bruce needs a chance and he will be wanting to show that he can match it. Newcastle are sitting in 13th, and they should be all but over the line, but they can be awkward.
Miguel Almiron and Allan Saint-Maximin are the ones to look out for. They are talented players, but not the greatest in front of goal. Joelinton is anything but confident at the minute, but they are a handful. You break up Sheffield United by two or three players and suddenly the system gets disrupted. I will go for a Newcastle win here.
CHARLIE PREDICTS: 2-1 (12/1 with Sky Bet)
Live Renault Super Sunday


All of a sudden the relegation picture can change massively at the weekend. If Bournemouth win and West Ham earn a point Villa will have to take a bit more of a risk. Jack Grealish played well against Sheffield United, while John McGinn got 60-65 minutes under his belt.
There is absolutely nothing inspiring either up front or on the wings. Grealish can pick a pass, but you need people to work and run in behind.
McGinn can do that, and so can Conor Hourihane. He works well with Grealish. Get them two to make the runs in behind and it will give them a chance.
Chelsea are not the greatest at defending that scenario but they can counter-attack. Villa need to gamble. Mason Mount and Billy Gilmour could stay in the team, Tammy Abraham will be fit and fresh, and Olivier Giroud will want to do something, but there is nothing at the end of the summer to play for, so it is a sprint finish. I can see Chelsea picking Villa off.
CHARLIE PREDICTS: 1-3 (11/1 with Sky Bet)
Live Renault Super Sunday


You want fans every time in this, but there is no way Everton will be happy with this scenario. They were humiliated by a young Liverpool side in the FA Cup.
Everton probably should have won that game but they didn't, and the Evertonians were disgraced and embarrassed. There is no way that even without fans, players will not be aware of what is going on and what is at stake here. They will be up for it.
With Man City, you saw it took them a bit of time to get going, against an Arsenal side with the strength of plasticine. Liverpool will get into gear, but referees in the Bundesliga have been giving cards out more frequently, as they are not under pressure from fans. Everton will get at them and get in their face.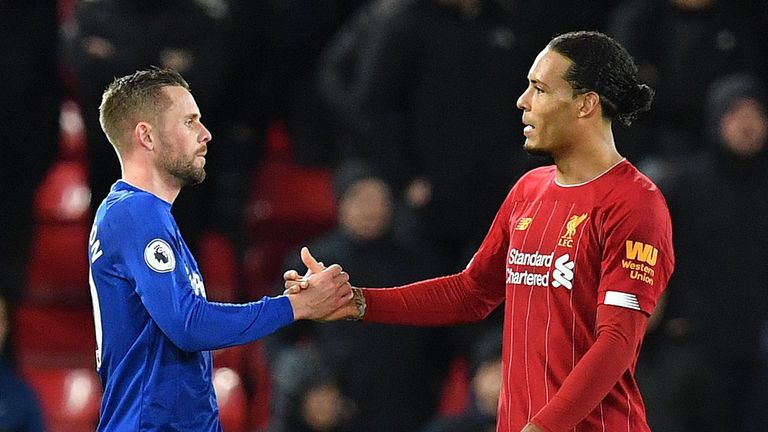 They need to stop the balls through to front three and into Roberto Firmino. I could see it being riddled with mistakes with the combination of some quality. How high will Everton allow Liverpool's full-backs to play? That is the key for Liverpool. Will Richarlison work back and will Carlo Ancelotti have blockers in place for both of those? Everton will play a cautious and physical game. They both need a game in their system but I am expecting a thrill of a Sunday night match.
CHARLIE PREDICTS: 2-2 (14/1 with Sky Bet)


Arsenal were atrocious but my goodness, Kevin De Bruyne was unbelievable. Appreciation of other people's qualities is key. Raheem Sterling could have scored three or four, but De Bruyne was on a different planet. His timing and weight of pass, running with the ball, awareness of positions was all second-to-none. Arsenal were dreadful in defence but he can take advantage in a second.
I was embarrassed when he was sat in the stand after he was substituted, and I thought I saw a bead of sweat on his head! He did not need to break sweat, he was brilliant.
Burnley will be far more physical than what Arsenal were. Any silly free-kicks, the referee will be on top of them immediately. He is not under scrutiny to protect anybody, but he will be booking them and letting them know who the boss is. It will play a pivotal part in the Merseyside derby and here, too.
The likes of Leroy Sane and Sergio Aguero looked hungry when they came on. It was great fitness for them without any real trouble. The pace and fluency was back quickly and I am expecting that to continue against Burnley.
CHARLIE PREDICTS: 3-0 (13/2 with Sky Bet)
Watch the Premier League with Sky Sports
Sky Sports are broadcasting 64 live Premier League games for the 2019/20 season resumption. In addition to the 39 matches already scheduled to be broadcast exclusively live on Sky Sports before the coronavirus interruption, 25 more matches are being broadcast on both Sky Sports Premier League and Sky's free-to-air Pick channel, allowing the whole nation to be part of the return of live sport.
To celebrate the return of the Premier League, Sky Sports have also launched a host of innovative new features and updates to give fans an even more immersive experience and share the moments live with family and friends on virtual platforms.