Lionel Messi's nightmare start to the World Cup against Iceland
Last Updated: 17/06/18 7:22am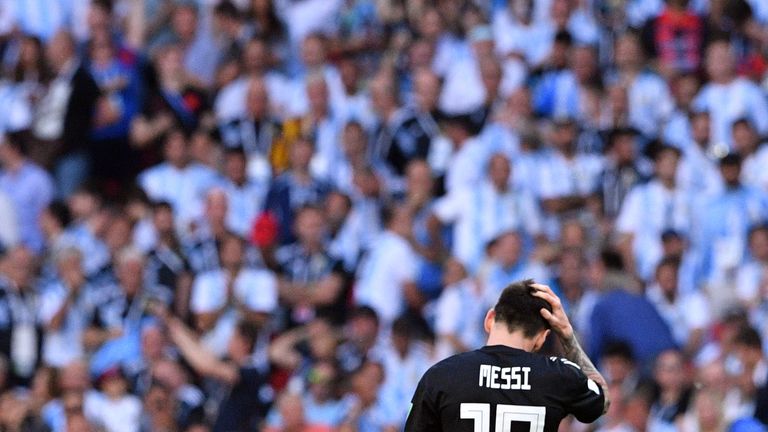 After Cristiano Ronaldo's heroics, Lionel Messi endured an awful start to his World Cup as Argentina drew 1-1 with Iceland in Moscow.
It was unfortunate enough that Lionel Messi should have to endure the ignominy of seeing his penalty saved as Argentina were held by Iceland in their World Cup opener. That it should happen within 24 hours of Cristiano Ronaldo's heroic hat-trick for Portugal against Spain only adds to the ever-increasing pressure on his shoulders.
Messi will long since have reconciled himself to the fact that his every action will be seen through the prism of their famous rivalry. On this occasion, even those not obsessed with that individual battle could hardly fail to spot the contrast. While Ronaldo curled his late free-kick into the top corner, Messi's last-gasp effort found the wall.
Anything Ronaldo can do, Messi can do better? Not this time. And, in truth, the feelings of frustration had already given way to fatalism well before that free-kick. The fear for Argentina fans - and perhaps even for Messi himself - is that this World Cup business never will fully bend to his will.
He had to be coaxed back out of international retirement after Argentina's defeat to Chile in the centenary version of the Copa America in 2016 but returned to fire his country to this World Cup. Some say he dragged them to Russia on his own. But nobody thought that Argentina's problems had gone away and that was apparent here. Ideas were lacking.
The coach Jorge Sampaoli had toyed with instituting the team ethic that had worked so well for him with Chile. But he soon abandoned some of the key components of his earlier success - three at the back, high pressing, intensity - when Argentina were exposed badly by Spain in Messi's absence. Instead, he has opted to put it all on his No.10.
Sampaoli has described him as untouchable, claiming that there is nothing he can teach him. "We have to try to understand him and generate play where he feels most comfortable," he said on the eve of the tournament. "We have to also build a team that is related to this concept." But teams built around one man - however good - can be easier to stop.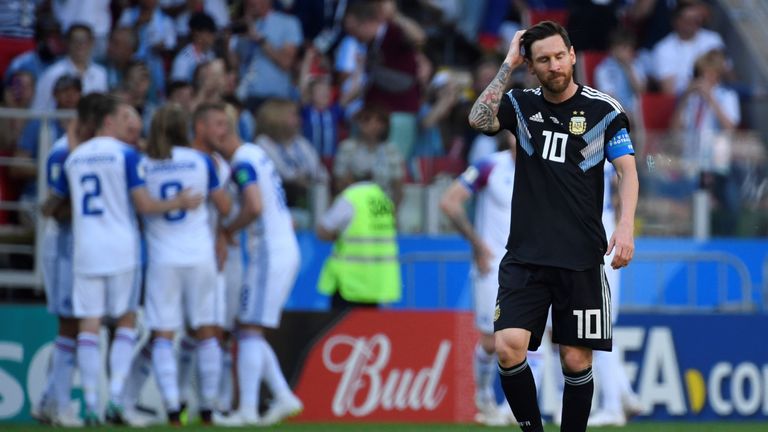 Swamped for space, that should have freed up others. But while Sergio Aguero scored a fine early goal, Argentina did not have the runners ahead of Messi. In the rare moments when he did find pockets of space between defence and midfield with space to run into, the pressure on him to make it count was palpable at times.
Again, the comparison with Ronaldo is difficult to ignore because he had been faced with similar issues of his own one night earlier. The circumstances were slightly different because Portugal were operating on the counter-attack, while Argentina dominated possession. But both men had limited opportunities to shine. Ronaldo relished it more.
Perhaps that naturally reflects their strengths. Ronaldo remains a soloist at heart - something that is apparent even when he is among the many stars at Real Madrid. He is better equipped to be the main man whether his side is strong or weak. He can still fire off his long-range efforts to good effect. He can still make set-pieces count.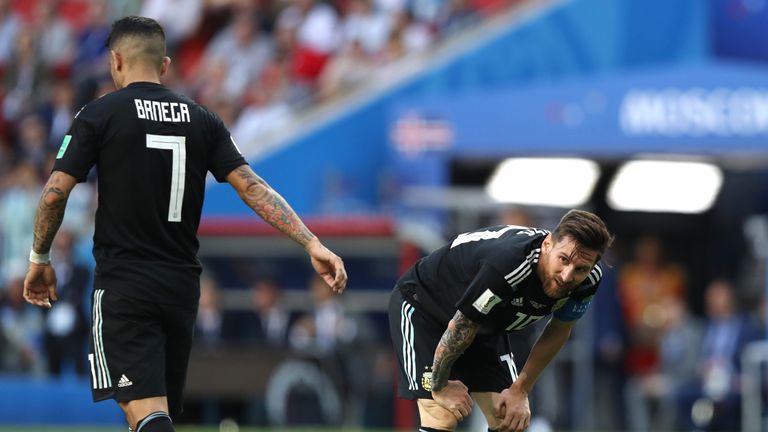 Messi's strengths lie elsewhere. When he is described as more of a team player, it is often interpreted as a reference to his selflessness. It would be more accurate to see it as a reflection of his use of on-pitch partnerships, looking to play one-twos in tight areas. He is the conductor of the orchestra and that can go wrong when others are out of tune.
He had a total of 11 shots against Iceland. That tally is not only more than in any of his previous World Cup appearances but more than twice as many as any other player in this year's tournament so far. He also completed nine dribbles, three more than anyone else has managed in this World Cup. Messi's 'nightmare' games are a bit different.
Those statistics are a reminder of the small margins. This is just one game, after all. Argentina face Croatia on Thursday with Nigeria still to come. There will be other chances to shine. But this was not the start that Messi wanted. Something will need to change for him if this World Cup is to have a different ending to his previous ones as well.