FA asks football fans to share LGBT+ solidarity message
Image produced in conjunction with charity Stonewall as England kick off their World Cup challenge in Russia, where LGBT+ people continue to face discrimination
By Sky Sports News
Last Updated: 18/06/18 5:55pm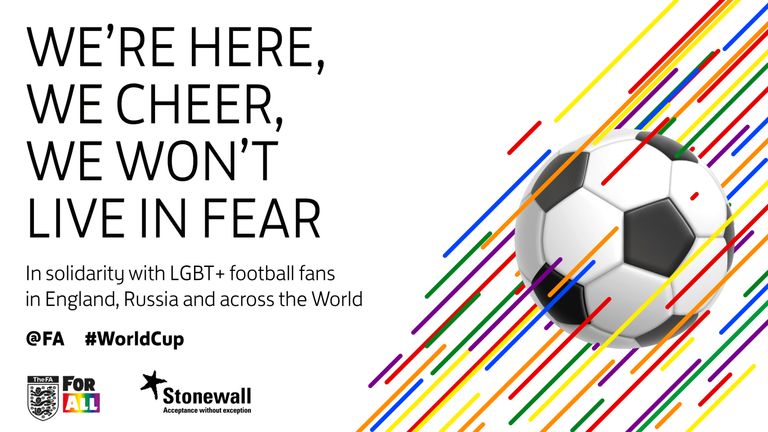 The Football Association is calling on fan power through social media to spread an LGBT+ inclusion message for the World Cup.
As England begin their quest for glory at Russia 2018, the FA has teamed up with the LGBT+ charity Stonewall to produce a message of "solidarity" with football supporters across the globe who are lesbian, gay, bisexual and transgender.
LGBT+ inclusion has been a major talking point around the tournament due to Russia's 'gay propaganda' law, introduced into legislation in 2013 with a stated purpose to protect children from learning about "non-traditional sexual relationships". Among the effects of the law has been widespread discrimination and abuse against LGBT+ people at all levels of society in the country, with many of the worst incidents occurring in the republic of Chechnya.
In Moscow on the first day of the World Cup, FIFA officials attended the launch of a Diversity House established by the equality organisation Fare. The designated 'safe space' venue will be open throughout the tournament, while a similar venture has now been launched in St Petersburg too, after several days of setbacks due to late permission withdrawals of building operators.
The FA's own 'For All' initiative champions inclusion across football, "regardless of gender, sexuality, ethnicity, ability or disability, faith or age". The governing body works with various organisations to ensure LGBT+ people feel welcome whether playing or watching the game, and has recently assisted in the creation of '3 Lions Pride' - an England supporters group for fans who are LGBT+, several of whom are attending games at the World Cup in Russia.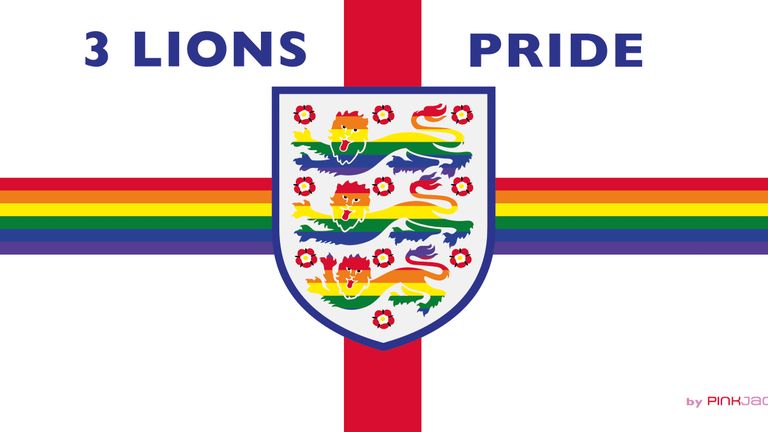 In addition, the FA are one of the many governing bodies that backs Stonewall's Rainbow Laces campaign, which carries the slogan 'make sport everyone's game' and which is supported by Sky Sports as part of TeamPride.
The image has been published on the social accounts of both the FA and Stonewall, with a call to action to all fans - whether they identify as LGBT+ or not - to demonstrate fellowship through football by sharing widely.
An FA spokesperson said: "The FA has collaborated with Stonewall, the UK's largest lesbian, gay, bi and trans (LGBT) charity, to launch a shareable image in solidarity with LGBT+ Russians and LGBT+ football fans across the world.
"We are reaching out to fans to share the image to amplify English football's support of LGBT+ inclusion across all levels of the game."
To share the image, go to the FA's Twitter account (@FA) and retweet.