Luis Suarez back to his tenacious best as Uruguay beat Portugal
Uruguay progress to World Cup quarter-final after 2-1 win in Sochi
Last Updated: 01/07/18 1:26pm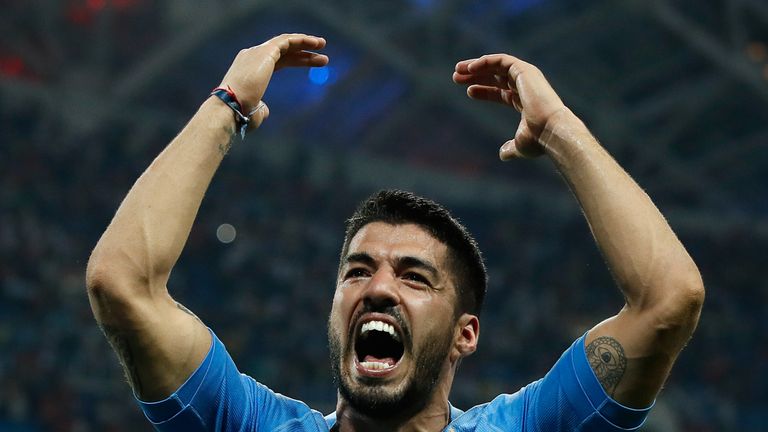 After Uruguay's opening World Cup win over Egypt, Luis Suarez was slammed for a sluggish performance, looking off the pace and as if he was "towing a caravan" around the pitch in Yekaterinburg.
This however, was Suarez back to his best. Uruguay's 2-1 win over Portugal sends them to the World Cup quarter-final for only the second time since 1970, and though Edinson Cavani stole the headlines with two goals, he could not have done it without the Barcelona man.
"It was a masterclass from the two strikers," said Gary Neville on ITV. "Everything you'd ever want in a performance from two people."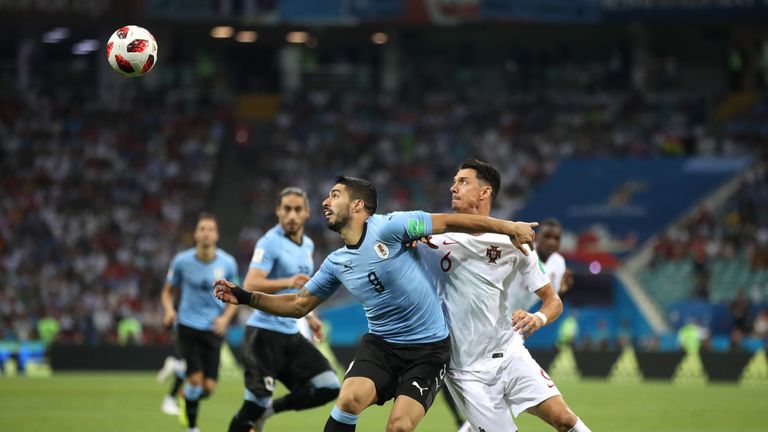 For anyone with hopes of winning this World Cup, Uruguay will be up there among the most feared. Their concrete style starts at the back, an animal-like defensive line including Atletico Madrid pairing Jose Gimenez and Diego Godin, arguably the best central defensive duo in world football.
Via an industrious midfield, it ends with Suarez, as deadly on the ball as he is hard in the challenge. That talk of Suarez looking drained and frustrated is firmly in the past as he showed the tenacious qualities we have become accustomed to.
The highlights of Uruguay's pulsating win will show Suarez's superb assist for Cavani's opener, but his all-round play was just as key.
Receiving the ball on the left, Suarez glanced up just briefly, and saw Cavani lurking outside the box before whipping in a ferocious cross to the back post for his team-mate turn home. The delivery was world class - a cross with such pace it completely stumped the Portugal defence - even if the finish off the cheek was unorthodox.
He even subtly played a part in Cavani's second, a fine curling effort. Jumping for a long ball, Suarez knew he would fail to win the header against Pepe, so merely made sure the defender did not get clean contact himself. His presence then meant Portugal's right-back Ricardo Pereira squeezed, allowing Cavani the space to score.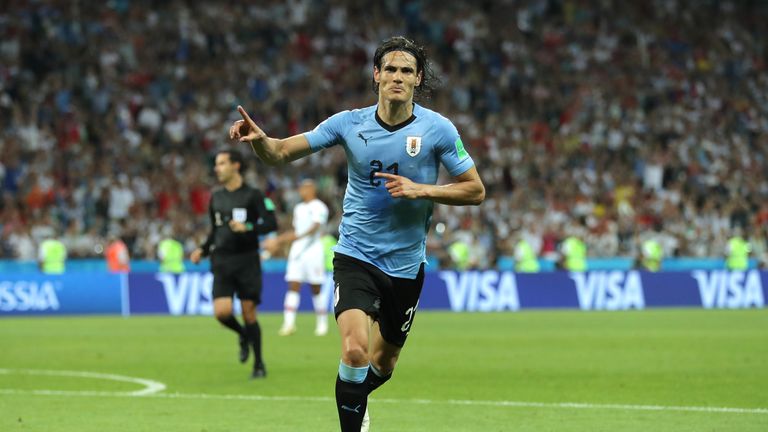 Suarez is a pest, and defends from the front with the same ferocity as Godin and Gimenez 70 yards further back. As Uruguay were often forced to clear their lines and go long, Suarez was constantly there to hold the ball up.
That "look" at an opponent before challenging for an aerial ball wins him countless fouls and loose balls, allowing Uruguay to get their shape back as they come under the inevitable pressure their style permits.
By the end of the first half, he was exhausted, but as we have seen so often for Liverpool, Barcelona and his country, Suarez kept going.
There are of course parts to Suarez's game we could do without. Twice he held his head on Saturday after aerial challenges, forcing the game to stop when he had in fact been impacted elsewhere, and his past suspensions speak for themselves.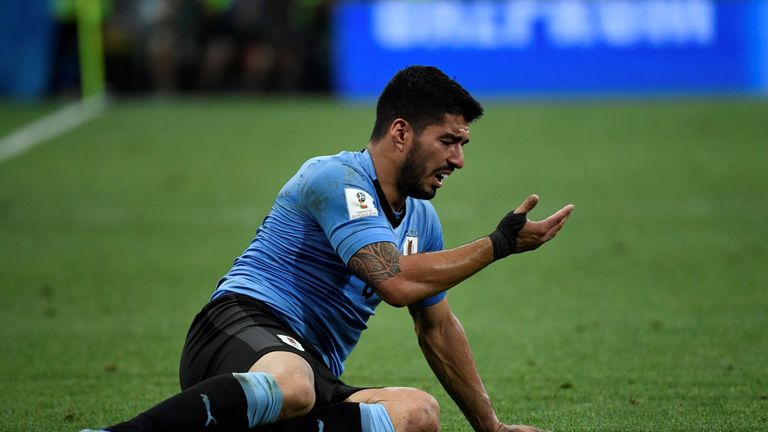 But he is key to everything Uruguay do, and his desire cannot be questioned. Suarez is an unselfish team player who will run channels from minute one to 90.
At one point before the break, Suarez darted past two players before laying the ball out wide. He signalled to Nahitan Nandez not to give him the ball back, gesturing that he was tired, but as his marker then took a mental break of his own, Suarez had him fooled, sprinting 40 yards down the flank to show for the return pass. He won it, found a team-mate, and then allowed himself a five-second break, resting his hands on his knees as Uruguay played around him.
It summed up the 31-year-old's attitude: do everything to take anything. It's a style which reverberates throughout this Uruguay side as they look for World Cup glory. For a country of 3.5m, it would be an amazing feat, but it's a realistic aim as they prepare for France in the last 16.