Turkey expect 'transparent' Euro 2024 bid after UEFA reform
By James Dale
Last Updated: 09/11/17 2:57pm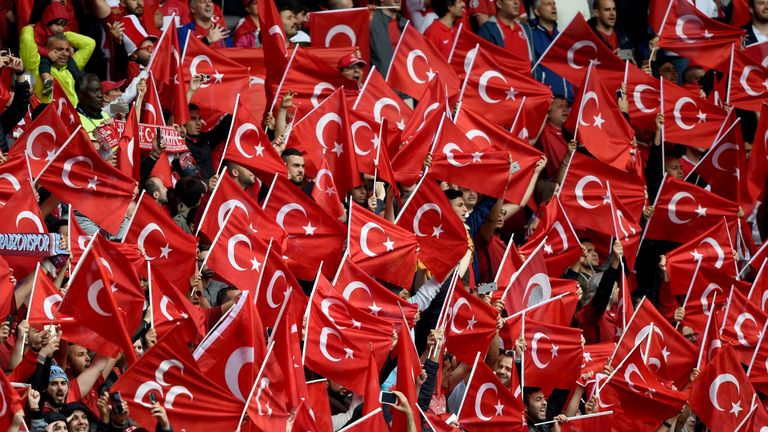 Turkey expect their Euro 2024 bid to be reviewed with "transparency" under new UEFA leadership.
France were awarded the 2016 European Championships by a single vote ahead of Turkey when Michel Platini, who previously managed France and played for Les Bleus 78 times, was president of the European football governing body.
Platini has since been banned from football for four years over an unrelated £1.3m "disloyal payment" he received, authorised by then FIFA president Sepp Blatter.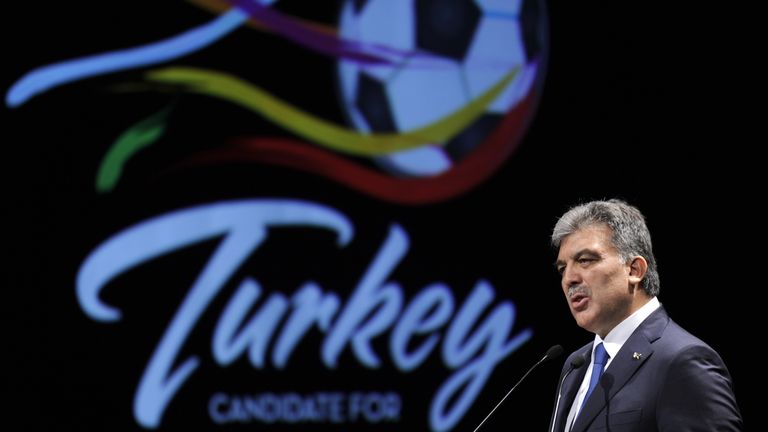 Turkish Football Federation (TFF) vice president Servet Yardimci, who is also a member of UEFA's executive committee, is leading the nation's bid to host Euro 2024 against their only challengers, Germany, and insists Turkey will accept the result of a "fairer" bidding process under Platini's successor, Aleksander Ceferin.
"It will be more transparent, it will be fairer under the new president's leadership," Yardimci said. "He [Ceferin] is very serious, very strong, pushes reforms ahead and he is taking every step possible at all levels to bring the organisation into further transparency.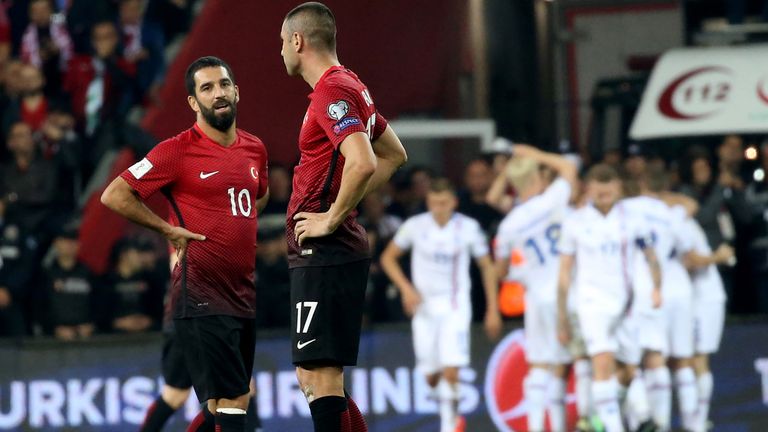 "I hope this time our bid will be considered with openness and transparency.
"Whoever deserves it, deserves it. Germany has hosted these tournaments in the past. The opportunity should be given to new territories, new areas, for the good of football."
'Great stadium leap'
Since Yardimci took charge of the TFF's dealings with UEFA and FIFA, the governing body's budget has increased from 83m USD (£63m) in 2007-08 to 182m USD (£139m) in 2017-18.
Turkey president Recep Tayyip Erdogan has backed the nation's bid to host major footballing tournaments with government funding, including a 1bn euro (£884m) total investment in a nationwide renovation of the country's football stadiums.
In total, 38 modern stadiums will be in operation within the next three years, according to Yardimci, with the average age of Turkey's football grounds set to be just 1.3 years old - the youngest in world football.
"We're so fortunate that Mr Erdogan has been an active football player," said Yardimci. "He really recognises the importance of football.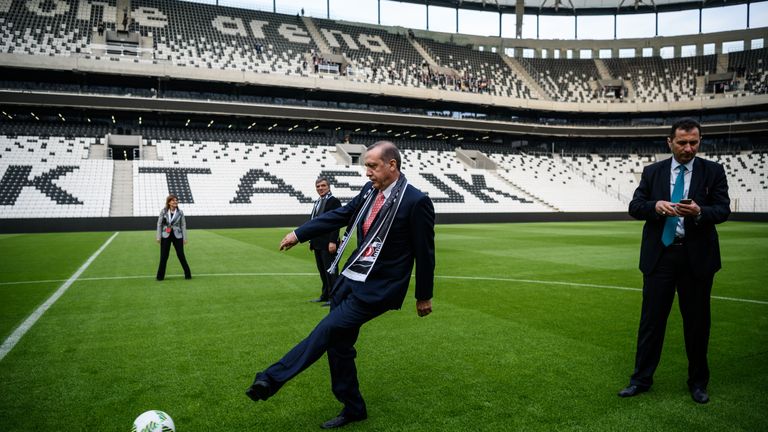 "He is always encouraging us to participate in bids for hosting future tournaments and finals in Turkey. Without the government, no one could afford this investment."
Turkey has never hosted a major football tournament and may find it more difficult to comply with UEFA's new human rights bid rules, based on the United Nations' "Guiding Principles on Business and Human Rights".
Amnesty International has criticised President Erdogan for overseeing "a massive government crackdown on civil servants and civil society" after a coup attempt in July 2016.
United Nations' "Guiding Principles on Business and Human Rights"
The duty of the state to protect human rights
The duty of businesses to protect human rights
Access to remedies if these rights are not respected
Yardimci insists he is unconcerned by the demonstrations of unrest in Turkey and believes hosting a major football tournament can help unite the nation.
"Football is important in building bridges in problematic situations," he said.
Security a 'very serious' issue
More than two decades on from the infamous 'Welcome to hell' banners which greeted Manchester United fans ahead of their Champions League tie against Galatasaray in Istanbul in 1993, the TFF has invested 55m USD (£42m) into a new e-ticketing system in an attempt to stem the country's problems with safety at football stadiums.
Supporters must now register online for an e-card to purchase tickets to any game in Turkey's top two domestic divisions, with security teams able to check each fan's identity against the card owner's before entry through turnstiles is allowed.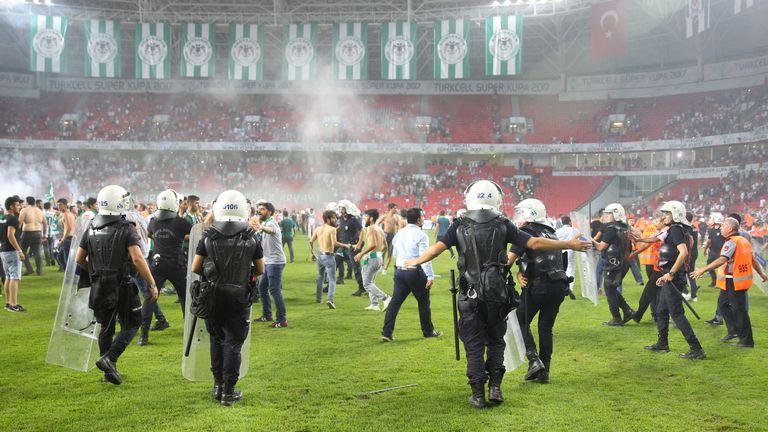 From centrally-operated CCTV rooms, security teams are able to zoom in on any supporter inside the stadium in high resolution to identify trouble.
"We take security very seriously," said Yardimci, who admitted clubs had been hesitant to adopt the new scheme, which now has 3.3m registered users.
"It is an important issue for us. We would like our stadiums to be comfortable, welcoming, family-friendly. It's an issue that the whole country - including our government - take very seriously.
"It was not easy to convince the clubs, the supporters, to stray from old habits. We had to take the initiative to financially support it. We had to push it. We made it compulsory for clubs to implement it."
Turkey are hoping to harness the country's reputation for passionate fans into a positive light ahead of UEFA's decision on the Euro 2024 hosts in September 2018, with Super Lig champions Besiktas embarking on an impressive run in the Champions League and with a long-term target of a global fan base of 100 million.
More than 40,000 spectators watched as Turkey beat England 2-1 in Istanbul to win the European Amputee Football Championships in October.
Yardimci believes the growing interest in Turkish football makes the country an ideal setting to host the European Championships for the first time.
"This is what we are good at," he said. "We love football. It's unique when you compare us to European countries."