After Paul Pogba's arrival, Manchester United's previous top 10 transfer-record signings
By Peter Smith
Last Updated: 09/08/16 2:50pm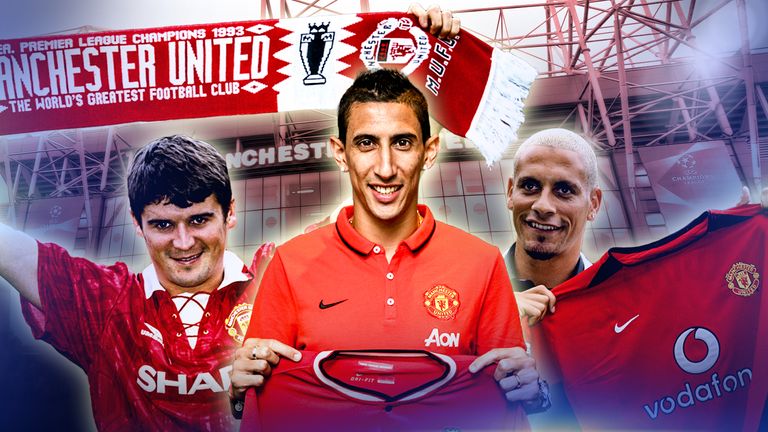 As Manchester United pay £89m to bring Paul Pogba back to Old Trafford, we look at 10 deals that previously broke their transfer record...
The summer saga was finally settled in the early hours of Tuesday morning, the world-record fee paid to Juventus for Pogba eclipsing United's previous club record by almost £30m. 
But who were the players who previously joined United for landmark figures - and what happened next?
10. Roy Keane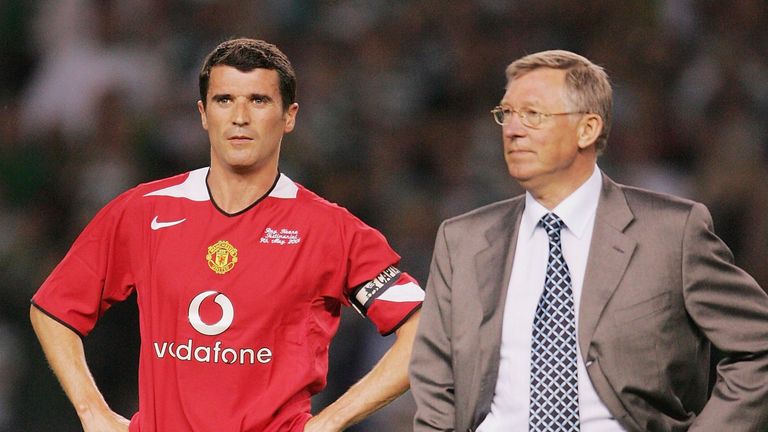 Fee: £3.75m
Signed from: Nottingham Forest
Date: 19 July 1993
What they said: "I met Kenny Dalglish, agreed a contract with Blackburn and a pay rise. They said would I come back on the Monday when the offices were open again and I said yes. I went back to Cork for a few days and on Sunday morning I woke up and got a phone call from Alex Ferguson asking to go and meet him. I met Brian Kidd and Alex Ferguson, played a game of snooker with them and had the usual small talk, they told me how great I was and I believed them. I decided I wanted to go to United. Kenny Dalglish phoned up and I said I had agreed to go to United. He was fuming!" - Roy Keane, speaking in February 2016
What happened next:
Blackburn's loss was Manchester United's gain, as Keane went on to become a legendary captain at Old Trafford, an icon of the club's success through the 1990s and into the 2000s under Ferguson. The record transfer fee paid for the Irishman turned out to be a bargain - he won seven Premier League titles, four FA Cups and the Champions League with United before a surprise departure in November 2005.  
9. Andy Cole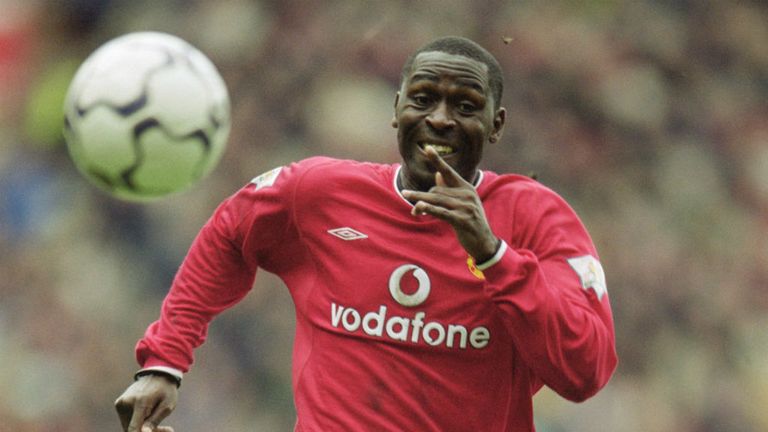 Fee: £6m + Keith Gillespie
Signed from: Newcastle United
Date: 12 January 1995
What they said: Cole's British transfer record switch left Newcastle boss Kevin Keegan stood outside St James' Park trying to calm an angry group of protesting fans but, over in the North West, the striker was licking his lips at the prospect of combining with Manchester United's talented squad. "I wouldn't have gone to any other club than Manchester United," said Cole. "I am excited about the prospect of playing at Old Trafford. There are lots of world-class players here and lots of chances which I hope to get on the end of."
What happened next:
That's just what he did in the remainder of the 1994/95 season, scoring 12 times in 18 league appearances as United narrowly missed out on the title to Blackburn. However, the striker struggled to replicate that goalscoring form in the next two seasons, as Eric Cantona and Ole Gunnar Solskjaer came to the fore, and Cole was almost part of a deal to bring Alan Shearer to the club in 1996. It wasn't until the 1997/98 season he refound his touch and went on to bag 17 and 19 league goals in 1998/99 and 1999/00, as he struck up a stunning partnership with Dwight Yorke. By the time he left the club in December 2001, Cole had won five league titles, two FA Cups and the Champions League.
8. Jaap Stam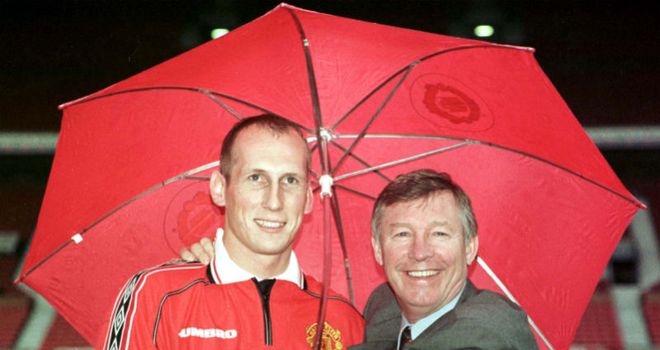 Fee: £10.75m
Signed from: PSV Eindhoven
Date: 1 July 1998
What they said: "I was a United fan and at the time they were the biggest club in Europe, so when they came in I wasn't going anywhere else." - Jaap Stam in March 2016
What happened next:
A key part of Ferguson's rebuilding work in the summer of 1998 as United aimed to recover from a trophyless 1997/98, Stam became the most expensive defender and Dutch player ever. The move paid off, with United winning three league titles during his three seasons with the club, as well as an FA Cup and Champions League. However, the centre-back was surprisingly sold to Lazio in 2001, with Ferguson later admitting it had been a mistake to let the 29-year-old go.
7. Dwight Yorke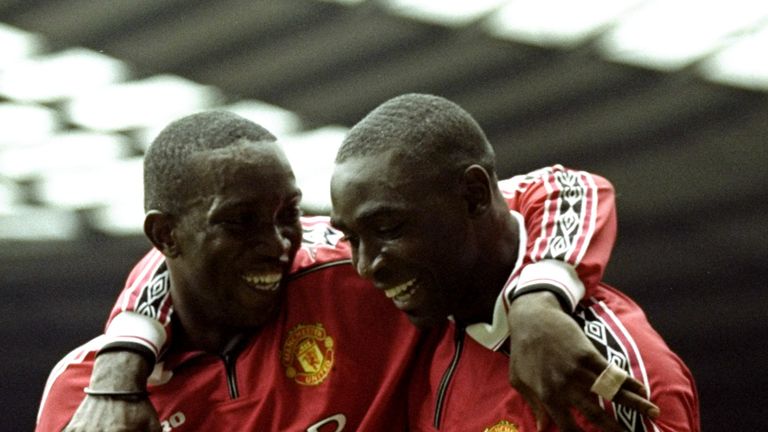 Fee: £12.6m
Signed from: Aston Villa
Date: 20 August 1998
What they said: "The journey is over now. This is what I always wanted - the chance to play for the greatest club in the world." - Dwight Yorke in 1998
What happened next:
Just a month after signing Stam, Ferguson broke United's club record transfer fee again with the acquisition of Villa striker Yorke. The Trinidad and Tobago international was an instant hit, finishing joint-top scorer in the Premier League with 18 league goals for the treble winners in 1998/99 before hitting 20 the following year as United retained their Premier League crown. However, Yorke's game time dwindled in the next two seasons and he was sold to Blackburn for £2m in 2002.
6. Ruud van Nistelrooy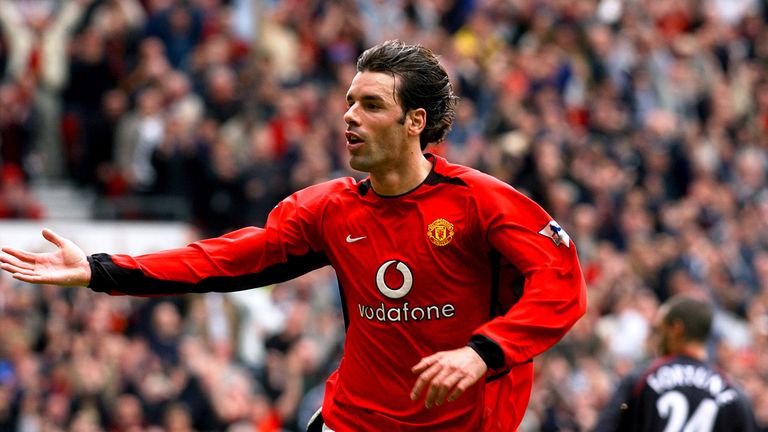 Fee: £19m
Signed from: PSV Eindhoven
Date: 1 July 2001
What they said: "'My heart has been with United ever since I first heard they were interested. I have never thought of my future being anywhere else and I am overjoyed it has finally happened." - Ruud van Nistelrooy in 2001
What happened next:
After a failed medical the previous year - and subsequent cruciate injury - Van Nistelrooy finally joined United in July 2001 and went on to become one of the club's most prolific strikers, scoring 150 times in 219 appearances, and top scorer in European competition. The Dutchman lifted the Premier League trophy just once during his five seasons with the club, though, before a bust-up with Cristiano Ronaldo preceded his sale to Real Madrid in July 2006.   
5. Juan Sebastian Veron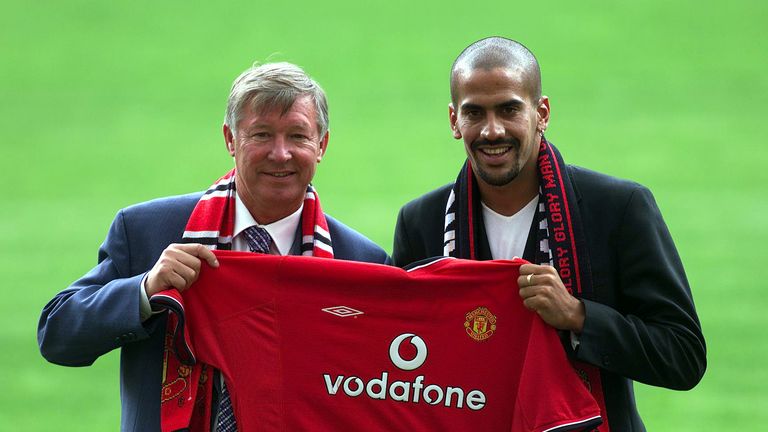 Fee: £28.1m
Signed from: Lazio
Date: 21 July 2001
What they said: "I never thought the day would arrive when I spent this much money on one player. But it is the kind of thing Manchester United should do." - Sir Alex Ferguson in 2001
What happened next:
Just 20 days after signing Van Nistelrooy, United smashed the British transfer record by signing Argentina international Veron for £28.1m - £13m more than Newcastle had paid for previous record holder Shearer. However, the move was far from the success many expected it to be. Veron struggled with the pace of the English game and wasn't helped by injury problems. Despite winning the Premier League in 2002/03, Veron was sold to Chelsea the following summer for around half the amount United had spent on him.
4. Rio Ferdinand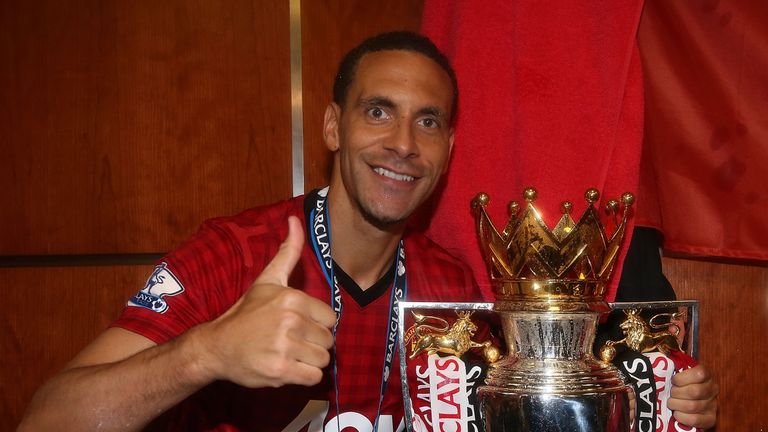 Fee: £29.1m
Signed from: Leeds United
Date: 23 July 2002
What they said: "I tried to get him when he was 17. Now he's here, he will develop and will learn great authority. He'll be a great signing." - Sir Alex Ferguson in 2002
What happened next:
Ferguson had tracked Ferdinand since the West Ham academy graduate's loan spell with Bournemouth in 1996 and eventually landed the 23-year-old for £29.1m - making the centre-back the world's most expensive defender for the second time in his career. Ferdinand was worth the wait, playing an integral role in United's success through to Ferguson's retirement in 2013. He left United for one season at QPR before retiring, having won six league titles, three League Cups, one Club World Cup and one Champions League while at Old Trafford.  
3. Dimitar Berbatov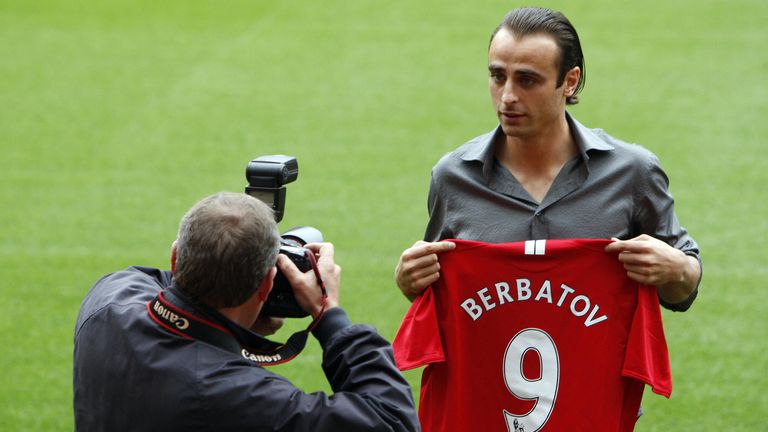 Fee: £30m
Signed from: Tottenham
Date: 1 September 2008
What they said: "This is a key signing. Dimitar is one of the best and most exciting strikers in the world. His style and ability will give the team a different dimension and I'm sure he will be a popular player with the fans." - Sir Alex Ferguson in 2008
What happened next:
United's signing of Berbatov has gone down as one of the most dramatic transfer deadline day deals, Sky Sports News' footage of the forward completing the move just before the window closed capturing the drama of his £30m switch from Tottenham. The laid-back Bulgarian struggled to consistently find top form in his first two seasons with the club but did so in emphatic fashion in 2010/11, finishing as the Premier League's joint-top scorer as United won the title. There had been hat-tricks against Liverpool and Birmingham and five goals in a 7-1 rout of Blackburn. Aged 31, he was sold to Fulham in August 2012.
2. Juan Mata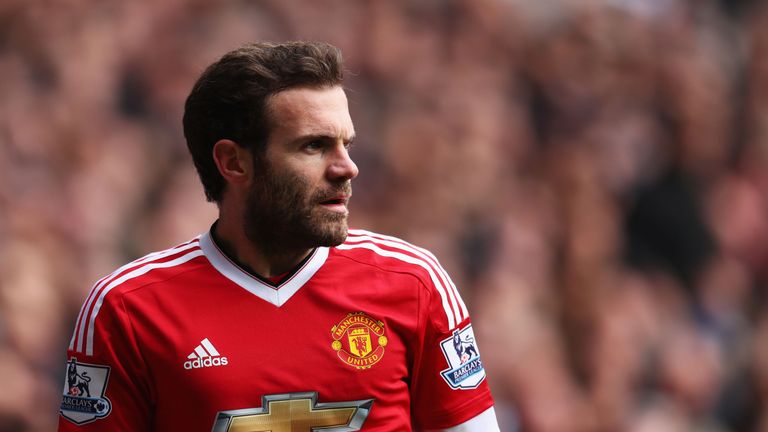 Fee: £37.1m
Signed from: Chelsea
Date: 25 January 2014
What they said: "I am excited at the chance I have to be part of the next phase in the club's history. Chelsea is a top club and I have many friends there but you cannot turn down the chance to join Manchester United. I look forward to helping the manager and the team be successful in the coming years." - Juan Mata in January 2014
What happened next:
Despite his optimism at the move, Mata has been unfortunate to see his spell at United coincide with one of their least successful eras in modern times. United have failed to qualify for the Champions League in two of the three seasons he's participated in. Mata has had his moments - a brace against Liverpool in a 2-1 win at Anfield in March 2015 capped a particularly impressive performance. The Spaniard also found the net in United's FA Cup final win over Crystal Palace last season. However, with Jose Mourinho - the man who sold him from Chelsea to United - now in charge at Old Trafford, his future is once again uncertain.
1.Angel Di Maria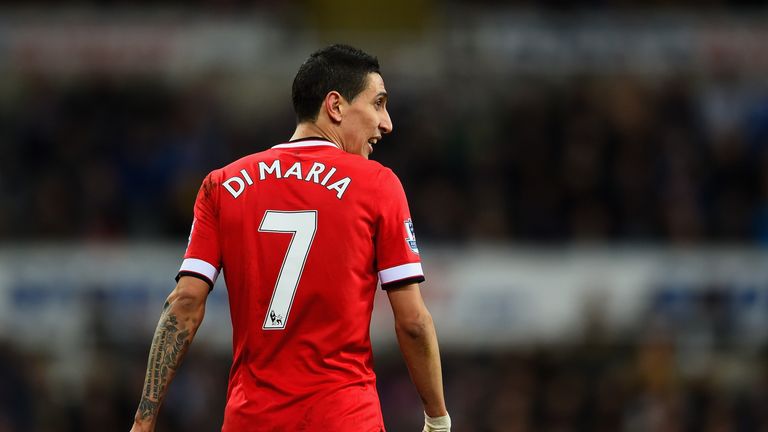 Fee: £59.7m
Signed from: Real Madrid
Date: 26 August 2014
What they said: "Louis van Gaal is a fantastic coach with a proven track record of success and I am impressed by the vision and determination everyone has to get this club back to the top - where it belongs. I now just cannot wait to get started." - Angel Di Maria in August 2014
What happened next:
Manchester United made Di Maria the fifth-most expensive player in history in August 2014 and he excited from the start, scoring a free-kick in a man-of-the-match performance against QPR on his Old Trafford debut before netting a stunning lobbed goal against Leicester City. However, a hamstring injury in November was the first of a string of problems for the Argentina international as fitness struggles, poor form and the after effects of an attempted burglary at his home all took their toll. After a disappointing second half to the season, Di Maria was sold to Paris Saint-Germain at a loss.