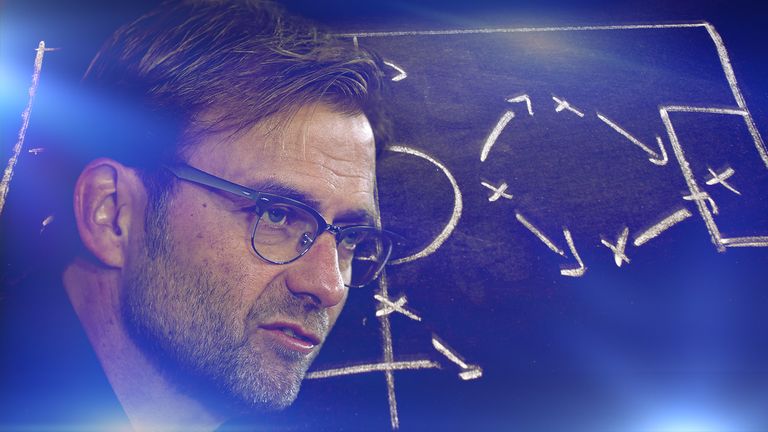 What formation will Klopp use at Liverpool? What sort of style can we expect?
Which players could be set for a change of role and who could thrive under the new boss?
By delving into Dortmund's past, Jonathan Wilson assesses what we can expect from Klopp at Liverpool and is predicting more flexibility than some might anticipate…
Will he change things?
It was very noticeable at his press conference last week that Jurgen Klopp didn't refer to philosophy and he didn't refer to process. It was almost as if he was trying to set himself apart from his predecessor Brendan Rodgers.
But he does have a very clear and defined way of playing. Most famously, he was the pioneer of 'gegenpressing', but it's also important to remember that his style has evolved over time. There isn't a one-size-fits-all approach for Klopp.
However, he very rarely uses a back-three, so it seems certain there will be major changes for Klopp's first game against Tottenham on Saturday.
Does that mean counter-attacking football?
The perceived wisdom at the moment is that it's about the transitions and that the counter-attack is hugely important in football.
But if you look at the Champions League, in 2005/06 the number of goals scored in open play from counter-attacks was 40 per cent. That's dropped to 21 per cent last season. So actually, the counter-attack has become less and less important and the reason for that is 'gegenpressing'.
What is gegenpressing?
It's about countering the counter. That's what Klopp is so good at; that's what he was a pioneer of. What that means is that wherever you lose the ball, you immediately rush to win it back.
The idea is that the player who has won the ball has just expended energy which makes him vulnerable, he's probably off balance which makes him vulnerable and he probably doesn't have a clear idea of where other players are on the pitch and that makes him vulnerable.
So what we'll see is players hounding the man with the ball. However, if you don't win the ball back straight away, what happens is that those players drop back into a very traditional shape.
It's something Roy Hodgson commented on after the Champions League final in 2013. People thought he was being provocative by saying it was 4-4-2 but it was just two banks of four.
It's about trying to keep as compact as possible, allow no space and try to absorb pressure that way. At the same time, if you do then win the ball back then these (wide) players have to get forward very quickly and that's the rapid transition for which Dortmund were famous.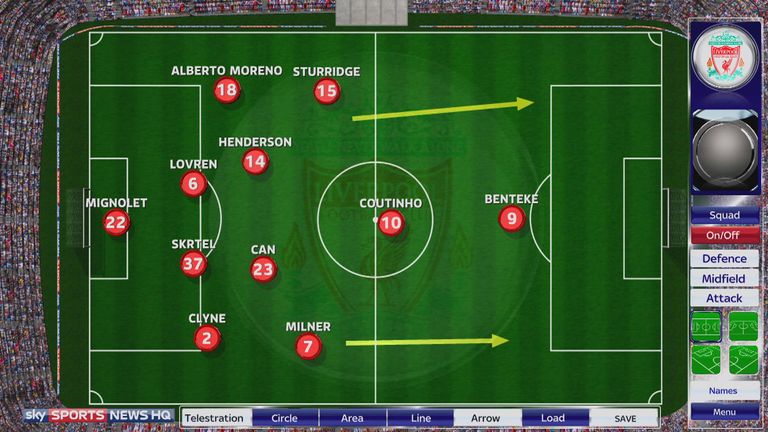 What will the defence look like?
If you look at how he lined up at Dortmund, almost invariably it was a 4-2-3-1 so I think we can see that coming. What's important is that the full-backs can both get forward.
The role of the full-backs is the key feature of the Klopp defence. So I think we're likely to see Nathaniel Clyne on the right and Alberto Moreno on the left.
They will push forward just as Marcel Schmelzer and Lukasz Piszczek did for Dortmund. Moreno and Clyne push on naturally so maybe that means that Joe Gomez drops out for a while.
What about the centre of midfield?
At the back of midfield, he always liked one player who could pass the ball around. So Nuri Sahin, for instance, or Ilkay Gundogan. Maybe Emre Can can fulfil that role.
Alternatively, it may be that Lucas comes in as a safe holding player who is not very mobile. That's how Sebastian Kehl played in 2012/13.
That was partly because of injury but he also fulfilled a very useful role in terms of protecting his centre-backs, which is particularly important if the full-backs are pushing on.
Then there is a more energetic, shuttling player alongside him. Sven Bender was a player who filled that role and Jordan Henderson would seem a natural for that.
Where does that leave James Milner?
While he prefers to play in the centre and that was one of the reasons why he moved to Liverpool, it might be that he ends up playing on the right.
Klopp has always liked a workmanlike wide player who he could trust and who would get up and down and someone who is absolutely key to gegenpressing.
At Dortmund, while we think of them having Jakub Blaszczykowski and Marco Reus wide, if you think back to their 2010/11 season when they first won the Bundesliga, they had Kevin Grosskreutz wide.
He's probably not as good as Milner so it's slightly unfair to put Milner in that bracket but he's essentially a functional player.
He's someone who works very hard and can be relied upon to keep the discipline and keep the shape, and someone who is going to be very important to gegenpressing and winning the ball back.
What about the other wide man?
On the other side, this is where it starts to get a bit difficult with Liverpool's squad. If he wants to play Daniel Sturridge, he probably plays there in a slightly tucked in role as we saw Mario Gotze at times but as a wide player cutting in.
If we assume Philippe Coutinho is safe in that No 10 role, Roberto Firmino could also cut in from the flank and offer that striking threat from wide. So the width comes from the right and the goal threat from someone tucking in on the left.
So who will he prefer as his striker?
It's almost a toss-up for that central striking role. With Sturridge's injury problems, Christian Benteke is still going to get games even if Sturridge is the first choice.
Klopp never really had a target man up front. He never had a Benteke type of player at Dortmund. But what you see is quite an interesting change.
In 2010/11, Dortmund only won around seven aerial balls per game. By 2012/13 that was up to 17 per game. It may be that with Benteke he's able to change.
But is he flexible?
I think that really is an important thing to remember. Klopp did evolve from the intense pressing style he played in 2010/11.
He found that exhausted his players when they were trying to play in the Bundesliga as well as the Champions League. He changed to a slightly more possession-based game by 2012/13 so he is capable of change.