Arsenal's poor finishing could cost them the title. That's a clear conclusion from the Gunners' shooting stats in the Premier League this season, following another night of missed chances.
Wednesday's 2-1 defeat at home to Swansea saw Arsenal pass up a golden opportunity to boost their title hopes, amid a midweek fixture list which saw all of the top-four drop points.
Familiar problems resurfaced at the Emirates and left Arsene Wenger conceding he could not even contemplate his side's chances of lifting the trophy in May. His immediate issue, surely, must be to address his team's wastefulness in front of goal.
Arsenal have missed more clear-cut chances than any other Premier League team this season, failing to convert a remarkable 57 opportunities which Opta deem they should reasonably be expected to score.
Of course, when you produce the number of openings Arsenal do - and no team has created more than their 85 clear-cut chances in the top flight so far this term - opportunities will be missed. But it's the frequency with which Arsenal are passing up goal-scoring chances which is the problem.
Arsenal have missed 67.1 per cent of their big chances this season. Only relegation battlers Newcastle (65.7 per cent), Swansea and Norwich (both 63.9 per cent) come close to finishing so poorly.
The Gunners wasted one clear-cut opportunity against Swansea and hit the woodwork three times. Their overall performance may not have matched the standards they would have liked, but they had chances to at least salvage a point.  
Arsenal's missed chances
Arsenal have missed 57 clear-cut chances this season - more than any other Premier League team
However, when you match up Arsenal's missed opportunities throughout the season with the other games in which they've dropped points, it's remarkable how much their finishing has to been to blame for poor results.
Arsenal have drawn or lost 13 Premier League matches this season - in nine of them they've missed enough clear-cut chances to have won. Only against Swansea, Southampton, Chelsea and West Ham did they fail to create enough clear-cut openings to better the number of goals they let in at the other end.
The cost of Arsenal's missed chances
| | | |
| --- | --- | --- |
| Swansea | 2-1 L | 1 |
| Man Utd | 3-2 L | 2 |
| Southampton | 0-0 D | 5 |
| Chelsea | 1-0 L | 2 |
| Stoke | 0-0 D | 1 |
| Liverpool | 3-3 D | 3 |
| Southampton | 4-0 L | 1 |
| Norwich | 1-1 D | 1 |
| West Brom | 2-1 L | 2 |
| Tottenham | 1-1 D | 3 |
| Chelsea | 2-0 L | 1 |
| Liverpool | 0-0 | 2 |
| West Ham | 2-0 | 1 |
So which Arsenal players are to blame?
Theo Walcott has scored four goals in 22 Premier League appearances this season. He's passed up 10 big chances and has converted just 23 per cent of his major openings this term.
Aaron Ramsey has the next-worst conversion rate of clear-cut chances, scoring just a quarter of his.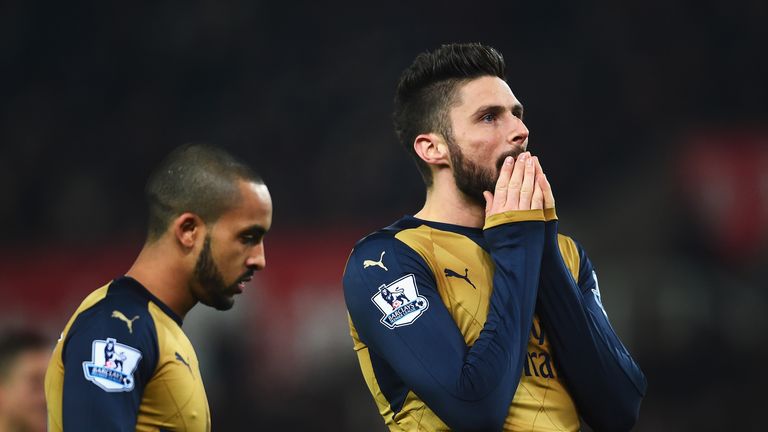 Then there's Olivier Giroud. The Frenchman is the club's top scorer with 12 Premier League goals this season - but Arsenal fans will tell you he could have had a whole lot more. The striker has missed 68.4 per cent of the clear-cut chances to fall his way.
Of Premier League strikers to have scored over seven goals this season, Giroud has the worst big-chance conversion rate of them all.
When that measure is extended to include players who have scored more than three times in the Premier League, the prolificacy of Giroud, Walcott and Alexis Sanchez (who has missed 66.7 per cent of his big chances) means Arsenal players represent three of the top six.
Percentage of big chances missed (forwards, min 3 PL goals)
| | | |
| --- | --- | --- |
| Cameron Jerome | Norwich | 81.8 |
| Christian Benteke | Liverpool | 80 |
| Theo Walcott | Arsenal | 76.9 |
| Bafetimbi Gomis | Swansea | 75 |
| Olivier Giroud | Arsenal | 68.4 |
| Alexis Sanchez | Arsenal | 66.7 |
| Arouna Kone | Everton | 66.7 |
| Rudy Gestede | Aston Villa | 66.7 |
Arsenal's finishing woes have not escaped Wenger's attention. Much maligned by fans and pundits for not adding to his strike force last summer or in the January transfer window, Wenger is now seeing his team's progress limited by their lack of quality in front of goal.
After a 0-0 draw at home to Southampton in February, Wenger described his side's finishing as "poor". "At the end of the day, we paid for that," he said. "We cannot fault our focus, desire and energy levels, but when you create the quality of chances we did tonight you have to win the game and that's what we didn't do."
The point was reiterated after the 2-0 Champions League defeat to Barcelona, when Wenger bemoaned Alex Oxlade-Chamberlain's failure to convert an "unbelievable chance in the first half".
"In the final third at the moment we are missing something," he told the press, after accepting Barca were "95 per cent" through after their first-leg win.
Something Arsenal are missing in front of goal is certainly a little bit of luck. They have hit the woodwork 17 times this season, more than any other Premier League team.
But, the statistics around Arsenal's consistent failure to finish their clear-cut chances highlights a major problem. And it could be one big enough to cost them the league.  
Do you think Arsenal will still win the Premier League? Let us know using the message boards or by tweeting @SkyFootball