Hector Bellerin has become a key player for Arsenal but he is an injury doubt ahead of Saturday's trip to Manchester United. Nick Wright explains why a spell on the sidelines would be such a big blow...
If there was ever a game to epitomise the rise of Hector Bellerin, it was Arsenal's clash with Pep Guardiola's Bayern Munich in October last year. The Spaniard was twisted inside-out by Douglas Costa in a punishing first half at the Emirates Stadium, but rather than crumbling in the face of relentless pressure, the youngest player on the pitch held his nerve.


Bellerin gradually got on top of Costa, and Arsenal began to turn the tide. Olivier Giroud bundled home the opening goal from a free kick, and then there was Bellerin, pouncing on a loose pass from David Alaba and racing into Bayern's box to cross for Mesut Ozil to seal the win. The Emirates erupted. Bellerin's redemption was complete.
The young right-back has made a habit of coming through tough moments. He was dropped during a loan spell at Watford in 2014 and struggled badly on his Arsenal debut against Borussia Dortmund a few months later, but every setback has only added to his determination. Every challenge has become another leap forward.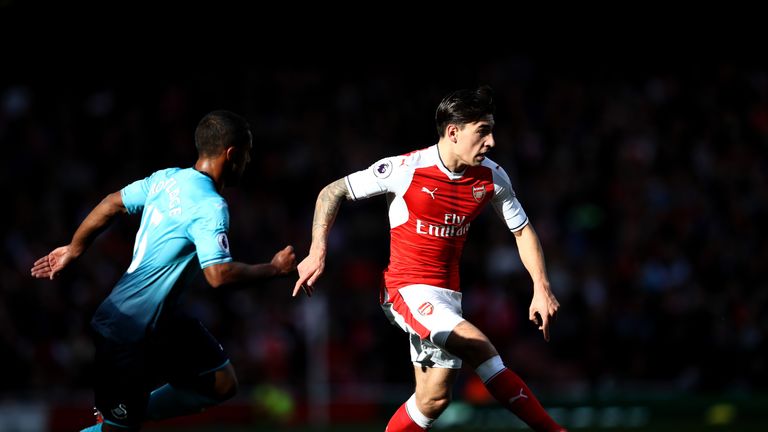 A year on from that night against Costa, Bellerin is close to signing a new contract which is expected to place him among Arsenal's highest earners. The 21-year-old is the only outfield player to have played every minute of their Premier League campaign, and it is testament to his importance that news of the ankle injury that forced him to withdraw from Spain U21 duty last week prompted such anxiety among supporters.
It is rare for a young player to reach such lofty heights in such a short space of time, but Bellerin has always been different. In fact, to Andres Carrasco, the man who signed him for Barcelona when he eight years old and coached him right up until he was 15, it is no surprise at all.
"It's always difficult to know which players will make it, but if I'd had to bet on one, it would have been him," Carrasco told Sky Sports. "Mentally, he was very strong. That is a very important aspect for a young player. The psychological aspect is crucial. Hector was a boy who seemed 20 when he was 15."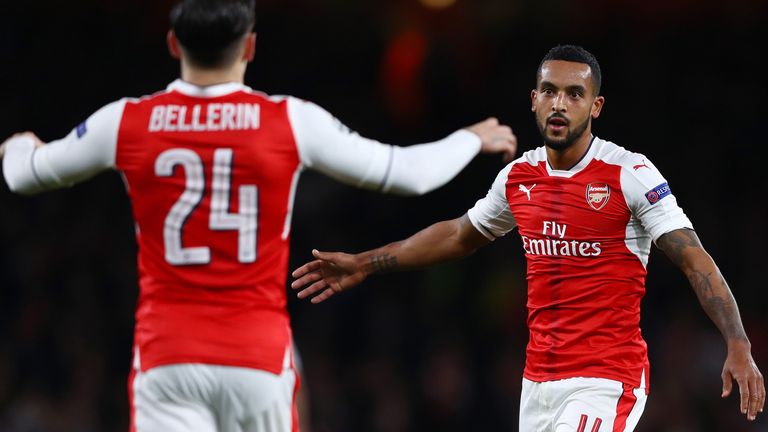 Carrasco is not the only coach to have been struck by Bellerin's maturity. "He has been absolutely fantastic," said Arsene Wenger last month. "His first game was a nightmare. The season before he was at Watford where he didn't play. His progress has been brilliant because he has absolutely top mental strength."
Bellerin can often be seen geeing up team-mates and offering instructions on the pitch. He is an old head on young shoulders and Wenger trusts him implicitly. "I think he loves being here and he has responsibilities already in the dressing room for such a young age," added the Frenchman. "It's something remarkable. I think he is a real Arsenal player."
His emergence has already seen the £16m Calum Chambers sent away on loan and France international Mathieu Debuchy frozen out altogether, and his status as the Premier League's outstanding right-back was confirmed when he was named in the PFA Team of the Year last season.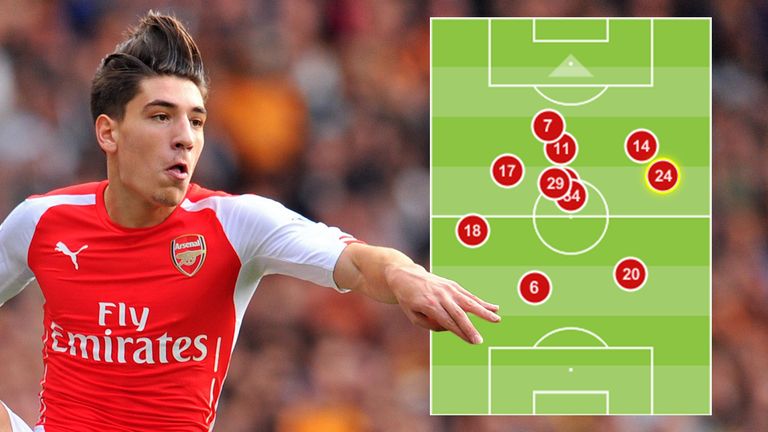 It's little wonder supporters are nervous about facing Manchester United without him this weekend. Bellerin keeps getting better, and this season he has become increasingly important to how Arsenal play. With left-back Nacho Monreal providing defensive balance on one side, Bellerin essentially operates as an auxiliary winger on the other.
Bellerin's average position has been in the opposition half in 10 games out of 11, according to Opta. His overlapping runs on the right flank have allowed Theo Walcott to rediscover his scoring touch in central areas, and it is also revealing that Bellerin has had 32 touches in the opposition box himself. It's more than any other Premier League defender, and nearly twice as many as any other full-back.
Touches by defenders in opposition box - Premier League 2016/17
| | | |
| --- | --- | --- |
| Hector Bellerin | Arsenal | 32 |
| Scott Dann | Crystal Palace | 21 |
| Ryan Shawcross | Stoke City | 20 |
| Gary Cahill | Chelsea | 18 |
| Branislav Ivanovic | Chelsea | 18 |
It highlights the unique nature of his role. No other full-back plays with such attacking adventure because they can't match his electrifying pace. He showed his extraordinary recovery speed with his last-ditch tackle on Pedro in Arsenal's win over Chelsea, and there was a similar intervention to deny Tottenham's Heung-Min Son last weekend. Bellerin can venture high up the pitch without exposing vulnerability at the other end.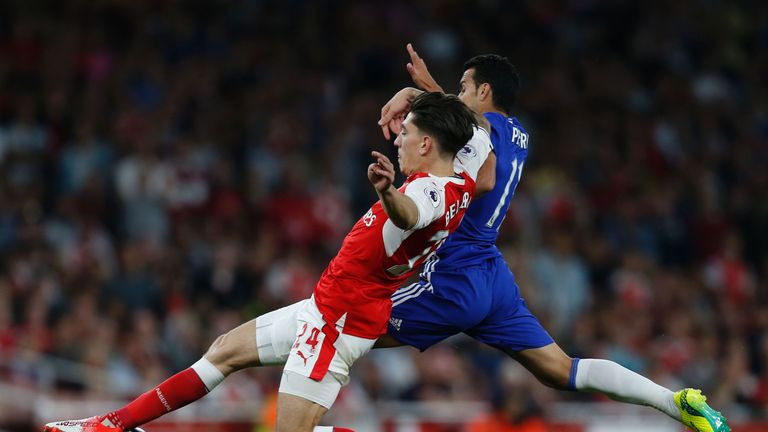 He is also accomplished when defending with his back to goal. The statistics show a pattern of constant improvement in one-on-one situations over the last four seasons, and this year he looks more assured than ever having struck up a strong understanding with Shkodran Mustafi on the right-hand side of Arsenal's defence.
Hector Bellerin's one-on-ones (league games only)
| | | |
| --- | --- | --- |
| 2013/14 | Watford | 1.3 |
| 2014/15 | Arsenal | 0.8 |
| 2015/16 | Arsenal | 0.6 |
| 2016/17 | Arsenal | 0.5 |
It remains to be seen exactly how long Bellerin will be missing, but what's certain is that Arsenal will have to change the way they play without him. Carl Jenkinson is the obvious choice to deputise, but he has only recently returned from injury, and he can't match his team-mate's rare combination of speed, attacking threat and defensive awareness.
Few players can. Bellerin has always been different. He showed it with Carrasco in Barcelona's academy and he showed it that night at the Emirates Stadium against Douglas Costa. Wenger deserves great credit for fast-tracking the youngster into his starting line-up. The upshot, however, is that it won't be easy adapting to his absence.