Sky Sports Premier Predictor: Arsenal have 13 per cent chance of top-four finish
By Harry Carr
Last Updated: 18/05/17 5:16pm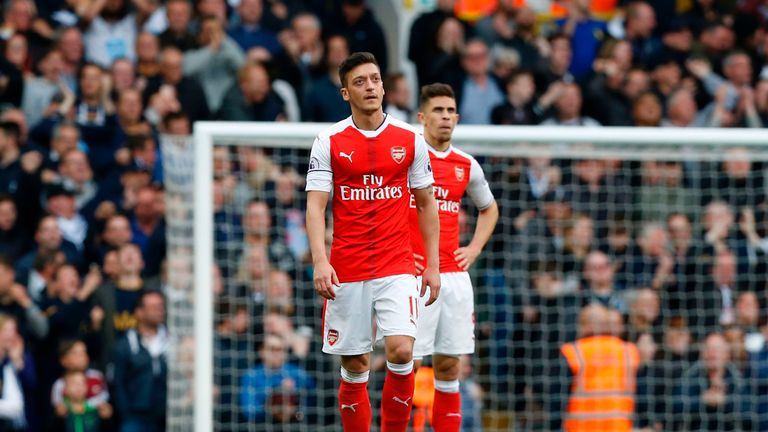 Manchester City and Liverpool will beat Arsenal to the final Champions League qualifying spots, says the Sky Sports Premier Predictor.
The Gunners need either third-placed City or fourth-placed Liverpool to slip up on the final day of the Premier League season to continue their run of always qualifying for the Champions League under Arsene Wenger's management.
However, that looks like an unlikely prospect and the Sky Sports Premier Predictor - which uses an algorithm to rank results, previous performances and the difficulty of upcoming fixtures - reckons Arsenal have just a 13 per cent chance of finishing in the top four.
Read on to see how the Sky Sports Premier Predictor expects the Premier League table to finish.
The Sky Sports Premier Predictor also predicts match results - and is tipping all of the top six to enjoy final day victories, as well as Burnley, Leicester, Southampton and Swansea.
You can see the full list of predictions at the bottom of the page - and then download the latest Sky Sports Stat Attack podcast for stats, facts and Premier League discussion here.
Premier Predictor Premier League table 2016/17
| Team | Title chances | Top 4 chances | Relegation chances | Simulated points total |
| --- | --- | --- | --- | --- |
| Chelsea | 100% | 100% | 0% | 92 |
| Tottenham | 0% | 100% | 0% | 85 |
| Man City | 0% | 99% | 0% | 77 |
| Liverpool | 0% | 88% | 0% | 74 |
| Arsenal | 0% | 13% | 0% | 73 |
| Man Utd | 0% | 0% | 0% | 67 |
| Everton | 0% | 0% | 0% | 63 |
| West Brom | 0% | 0% | 0% | 47 |
| Leicester | 0% | 0% | 0% | 47 |
| Southampton | 0% | 0% | 0% | 47 |
| West Ham | 0% | 0% | 0% | 44 |
| Bournemouth | 0% | 0% | 0% | 44 |
| Stoke | 0% | 0% | 0% | 43 |
| Watford | 0% | 0% | 0% | 43 |
| Burnley | 0% | 0% | 0% | 41 |
| Crystal Palace | 0% | 0% | 0% | 41 |
| Swansea | 0% | 0% | 0% | 39 |
| Hull | 0% | 0% | 100% | 35 |
| Middlesbrough | 0% | 0% | 100% | 29 |
| Sunderland | 0% | 0% | 100% | 25 |
Premier Predictor weekend predictions
| Home team win | Draw | Away team win |
| --- | --- | --- |
| Arsenal - 57% | Draw - 26% | Everton - 17% |
| Burnley - 41% | Draw - 30% | West Ham - 28% |
| Chelsea - 93% | Draw - 3% | Sunderland - 4% |
| Hull City - 17% | Draw - 16% | Tottenham - 67% |
| Leicester - 58% | Draw - 25% | Bournemouth - 17% |
| Liverpool - 86% | Draw - 9% | Middlesbrough - 6% |
| Man Utd - 74% | Draw - 16% | Crystal Palace - 9% |
| Southampton - 54% | Draw - 27% | Stoke - 19% |
| Swansea - 40% | Draw - 30% | West Brom - 30% |
| Watford - 18% | Draw - 20% | Man City - 62% |