After seemingly settling for an easier life Down Under, Emile Heskey changed his mind and returned home. The Bolton striker tells Pete Hall about why at 37 he fancied one last hurrah in England, telepathy with Michael Owen, a famous night in Berlin and 'Heskey Cam'.
With the world being a much smaller place, European players have an opportunity to finish their careers in warmer climes, and have one final swansong in the sun.
Former Liverpool and England striker Emile Heskey seemed to have taken the same path as the likes Alessandro Del Piero, Robbie Fowler and William Gallas in enjoying the twilight years of his career in the Australian A-League.
The 37-year-old was a big hit Down Under, with the Australian TV coverage featuring a 'Heskey Cam', where you could follow the Newcastle Jets striker's every move throughout a match, but all this furore didn't faze a man used to being in the spotlight.
"You don't really take it (Heskey Cam) into account, you just play your game, you don't think about a camera being on you 24/7. I was aware of it," Heskey told Sky Sports.


"They had me, Shinji Ono and Del Piero as the bigger players, and they just wanted a bit more hype around the A-League itself. They came up with the concept, and to be honest, I didn't mind it.
"The league was good, with a similar sort of structure to the MLS with a salary cap.
"They looked after me really well, the fans were unbelievable. As you see with the tours that Liverpool and Man City have done over there, they are football fanatics even though Rugby League is their number one sport."
Despite admitting that he was enjoying a different experience in the southern hemisphere, a surprise call for a return to England tempted the former England international, and he took the opportunity to link up with a familiar face again, despite his advancing years.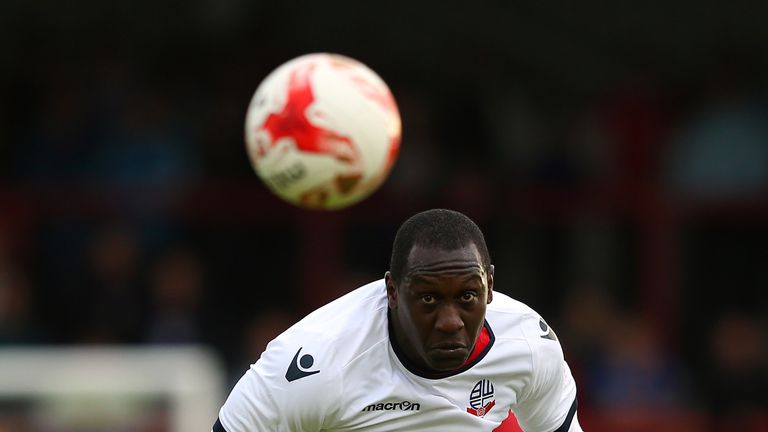 This is me, this is what I do. I started playing at 16, and this is all that I know, and it is great I can still carry on doing it now.
"The gaffer (Neil Lennon) himself was the main attraction," Heskey added. "Obviously I have played with him many years ago, he asked me to train, and see how things go, and I was excited about it.
"I just wanted to be back in England. We all know it is the best place to be as a footballer, and I wasn't going to turn down the opportunity to come back to somewhere I loved playing so much.
"I love being back. This is me, this is what I do. I started playing at 16, and this is all that I know, and it is great I can still carry on doing it now."
Liverpool saw Heskey reach the peak of his powers. Alongside former Anfield favourite Michael Owen, Heskey formed an almost telepathic relationship, and that link-up propelled Liverpool to 'treble' success, after capturing the FA Cup, League Cup and UEFA Cup in the 2000/01 campaign.
A then club record acquisition, Heskey never replicated the personal or collective success that first season on Merseyside brought, but he still looks back fondly on his time in Red, with his understanding of strike partner Owen a particular highlight.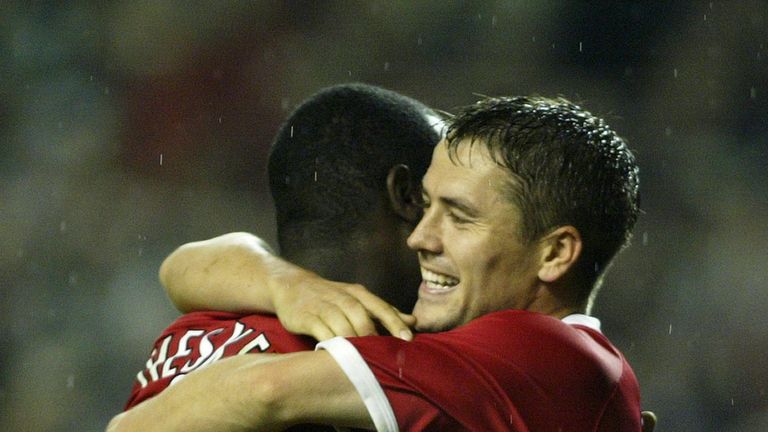 "It didn't start at Liverpool. I played with Michael when he was 16 and I was 18 for England U18s, and we had it from then," Heskey said.
"Everyone has that connection with one player, and it just worked that way with him. I don't why or how, but we just knew what we were going to be doing at any given time.
"The club record was nothing to do with me, it was down to the club. I just wanted to go out and play for a big club with excellent fans like Liverpool.
"When you are winning trophies, winning games, we played about 60 games that season, and doing well for so many games gives you a buzz."
Despite winning 62 England caps, as well as breaking three clubs' transfer records and winning numerous trophies in a long, successful career, Heskey has often been criticised for his lack of goals for a striker, but he insists such remarks didn't affect him.
"Critics are going to be critics, people are always going to get on your back, but as long as you go out there and do your job, then that's all you can do," Heskey added.
"You can score as many goals as you want, but you are always going to have your critics."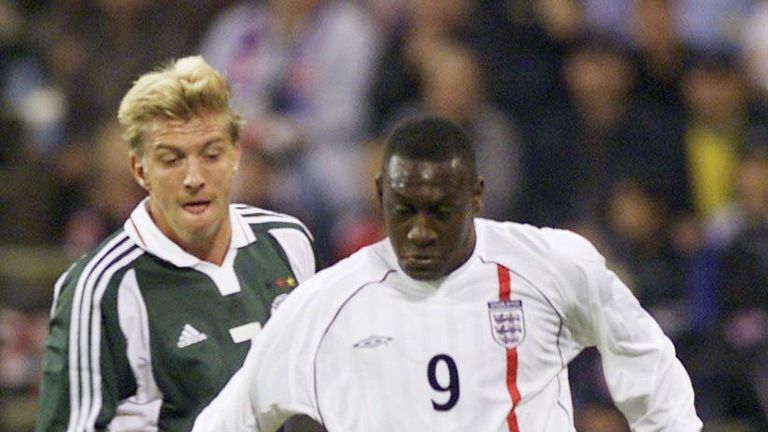 Reminiscing about his time with England is a subject that brings great joy to Heskey, with one famous night in Munich in 2001 never far from his mind.
"Working under Sven (Goran Eriksson) was amazing," Heskey said. "He got the most out of everyone we had in the squad, and everyone enjoyed working under him.
"The 5-1 in Germany was the obvious highlight. We knew we were capable of a result like that, we had some wonderful players playing in that squad, not just in the team.
"We could have been 2-0 down after seven or nine minutes, but when you have players like (Steven) Gerrard, (Paul) Scholes and (David Beckham) Becks in the team, you know you have half a chance."
His latest adventure is not going to plan. Heskey found the net just once in 16 appearances last season as Bolton struggled, and going into Friday's derby clash with Blackburn, live on Sky Sports 1HD, the Trotters sit rooted to the bottom of the Championship after four games, with just one point and one goal to show for their efforts.
Bolton and Blackburn have had some feisty affairs over the years, and even in a short space of time he has had in the area, Heskey is aware of the significance of clash, and how victory could be a huge boost to the faltering Trotters.
"We have not started well, but we have had a tough start," Heskey said.
"I'd be more worried if we weren't showing promise, but we've played some good football, passed the ball well, but we need to sharpen up a little bit in the final third. We just need to get them goals that will move us up the table, and there is no better time to do that than in a derby match."
"It is great that you can keep the fans so happy, and that is what a win will do on Friday."
Heskey turned 37 in January, and has just embarked on his 22nd season as a professional footballer.
Naturally, you would assume the seasoned veteran is planning on hanging up his boots, and considering the next phase of his life, but with the desire still evident, Heskey is doing nothing of the sort.
"Nothing ever comes easy," Heskey added. "I have been playing this game since I left school at 16, I'd rather carry on as long as possible"
"I spoke to a lot of people about it, and they all told me they wished they'd carried on playing a little bit longer, and as long as I can play, I will."
And in their current predicament, Bolton will be praying that Heskey can draw on those years of experience to turn their season around, starting with three points against their rivals on Friday.
As proud sponsors of the Football League, Sky Bet are giving all customers a £10 free in-play on every televised Sky Bet Football League match this month when you place a £25 bet on that match.
To claim your free bet, go to: https://www.skybet.com/10free (Terms and Conditions apply)