Who will come out on top in the Premier League this weekend? Paul Merson is back with his predictions...
Merse got one perfect score last weekend - he successfully tipped Bournemouth to beat Brighton 2-1 - but just three correct results as teams including Tottenham and Liverpool slipped up at home.
Who is the Magic Man tipping to win this weekend? Read on to find out...
Last weekend's results
| | |
| --- | --- |
| Bournemouth 2-1 Brighton | 2-1 |
| C Palace 0-1 Southampton | 1-1 |
| West Brom 0-0 West Ham | 1-0 |
| Watford 0-6 Man City | 0-3 |
| Spurs 0-0 Swansea | 3-0 |
| Huddersfield 1-1 Leicester | 1-2 |
| Liverpool 1-1 Burnley | 2-0 |
| Newcastle 2-1 Stoke | 1-1 |
| Chelsea 0-0 Arsenal | 3-0 |
| Man Utd 4-0 Everton | 3-0 |
West Ham v Tottenham - live on Sky Sports Premier League, Saturday from 11.30am
West Ham have turned a corner after good performances against Huddersfield and West Brom but I can't look past Tottenham here.
They have been very good away from home - what they did at Everton was brilliant - and I can see them scoring three again.
The Hammers were good against Huddersfield and solid at The Hawthorns but Tottenham are a cut above both. Spurs need to sort out their Wembley problem because it will ruin their Premier League chances if they aren't careful.
PAUL PREDICTS: 1-3 (Sky Bet odds 11/1)


Brighton v Newcastle - live on Sky Sports Premier League, Nissan Super Sunday from 3.30pm
I know it's only five games but Newcastle have done superbly to get into the top four - not many people saw that coming!
Their fans will be full of confidence and looking for another win but Brighton make it difficult for opponents at the Amex. Man City were made to work hard and West Brom were dispatched 3-1.
A draw would be a good result for the visitors, they should take that all day long.
PAUL PREDICTS: 1-1 (Sky Bet odds 9/2)


Arsenal v West Brom - live on Sky Sports Premier League, Monday Night Football from 7pm
When West Brom visit you expect it to be a hard, tight game. The Baggies will look to frustrate Arsenal and pick off set-plays where they can.
The Gunners did very well at Chelsea, they should be proud of the way they played and the way they worked hard for each other.
Hopefully that's a base for them to work from and it's important they keep that momentum going into this game. I can't look past a home win.
PAUL PREDICTS: 2-0 (Sky Bet odds 11/2)


I was pleased Everton put in a strong display to beat Sunderland in the Carabao Cup - for me they should be aiming for cup success this season.
That result should give them a little bit of a boost after the Spurs and Manchester United drubbings and I think they beat Bournemouth.
This fixture is the second of four consecutive home games and they need to get on a roll in front of their fans to shake off this poor start to the season.
Bournemouth have won two on the spin - against Brighton in league and Carabao Cup - so they may fancy their chances. I even heard one of their players mention Europe. I'm sorry, no.
PAUL PREDICTS: 2-0 (Sky Bet odds 13/2)
Southampton produced a big performance at Crystal Palace. They are a funny team, winning that came quite easily after flopping at home to Watford.
Their problem is obviously the lack of goals and that will be an issue against a quality team like Manchester United.
I've not completely bought into the United hype just yet - people are raving about them but I thought Everton were bang unlucky for 20 minutes at the start of the second half at Old Trafford.
In the end United produced a flurry of late goals, like they did against Swansea, and the score looked much better than the game suggested.
This is a big test for United but I think they pass it.
PAUL PREDICTS: 0-2 (Sky Bet odds 13/2)
Chelsea were poor against Arsenal - bar the Pedro chance they didn't create much - and it just highlighted how much they miss a fully-fit Eden Hazard.
This is a match they have to win because they cannot give the two Manchester teams any more of a head-start. If they lose at Stoke and City win, that's a six-point gap in September.
I have been disappointed in Stoke this season, the Newcastle game was a bad result. But what really gets me is they lost 2-0 to Bristol City in the Carabao Cup. That's a joke.
Stoke aren't going to challenge for the league and they aren't getting relegated. It's another mid-table season. So why not go for it in the cup? It was a shocker.
PAUL PREDICTS: 1-3 (Sky Bet odds 13/1)
It should be a really good game. Whichever team wins this match is set-up perfectly for the rest of the campaign.
I like the way Huddersfield play. I watched their game against Leicester and for the first half the Foxes didn't know what day it was. The Terriers squeezed and hurried - they tired slightly after the break - but it was very impressive.
The only knock is they didn't turn up at West Ham and I think they could be a little Jekyll and Hyde away from home.
Burnley have that little bit more Premier League experience and they are very strong at Turf Moor.
PAUL PREDICTS: 2-0 (Sky Bet odds 15/2)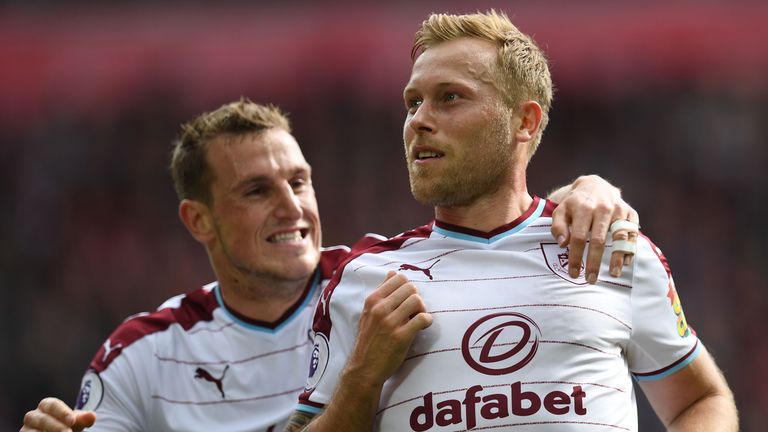 This is Roy Hodgson's sort of match. I was worried about the Southampton fixture when he arrived because he's not very good at setting up teams to win. He's not the type of manager to chase a result.
He's more tactical in terms of trying to stop his opposition playing. That's where he is more comfortable, so these three games - against City, Man Utd and Chelsea - are probably more suited.
Having said that, City are playing in a different league at the moment. Look what they did to a Watford team that seems pretty good this year.
Pep Guardiola's side look irresistible and even if they goal 1-0 down, they just bring on the big guns and go for it.
PAUL PREDICTS: 4-0 (Sky Bet odds 7/1)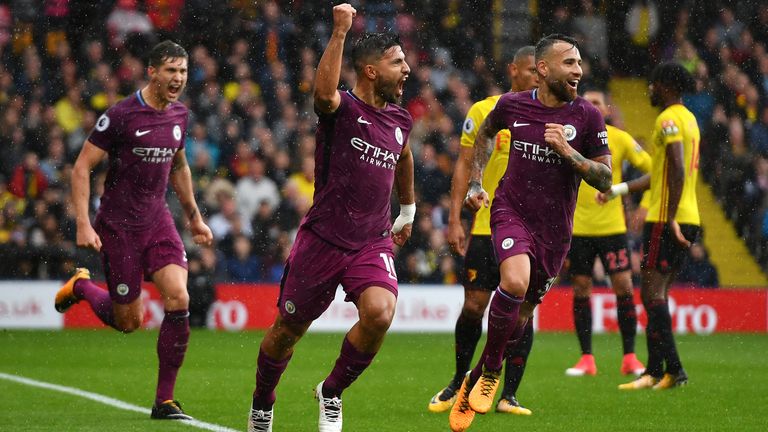 That 6-0 defeat at home to City will really knock Watford's confidence. They had been doing alright and were probably thinking, 'we're a good team'. Then all of a sudden they were ripped apart and that will hurt.
Swansea got a great result at Wembley but they need to win this game. It's the sort of match they will have highlighted before the season as winnable.
The problem is Watford have been good away from home, they have wins at Bournemouth and Southampton already, and they should get a point at the Liberty.
PAUL PREDICTS: 1-1 (Sky Bet odds 9/2)
If Liverpool put their chances away, they win this match and they will need three points because the Manchester clubs are getting away from them already.
They were unlucky at the King Power in the Carabao Cup - they dominated the first half - and I think they bounce back with a victory on their return.
I can't say they'll keep a clean sheet - their defence is nowhere near good enough - but if they score two that should do the trick.
PAUL PREDICTS: 1-2 (Sky Bet odds 7/1)