Paul Merson says Liverpool's Premier League title tilt has 'every chance'
Joe Gomez praised for his form having kept Dejan Lovren out of the team
Last Updated: 04/09/18 3:30pm
Paul Merson believes Liverpool have "every chance" of winning the Premier League title, and says resolving their defence and goalkeeper issues means it's "game on".
Liverpool have won all four of their league games this season under Jurgen Klopp, signing Alisson to replace Loris Karius and implementing Joe Gomez in defence alongside January signing Virgil van Dijk.
Speaking on The Debate, Merson is confident Liverpool will mount a serious challenge to champions Manchester City, and says Van Dijk looks world class at the moment.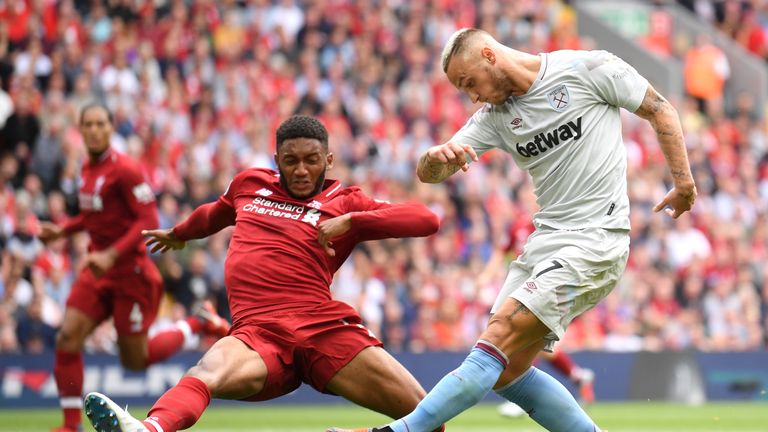 "I'm very, very confident. I think they look a real good team," Merson said. "Joe Gomez is a big plus, and the three up front are always going to cause problems. They've got every chance.
"Last season I think their Achilles heel was defending on the counter-attack, but with Gomez and Van Dijk, and with the goalkeeper, it's game on now.
"Van Dijk's concentration levels now, he just looks world class. If you want to win Premier League titles - yes, they got to the Champions League final over a short amount of games - you need to churn it out over a lot of games.
"I'm a big fan of this Liverpool team, I think Klopp has got it right at the moment."
Gomez has been superb so far this season, with Croatian defender Dejan Lovren yet to play a minute having made 43 appearances last term.
Craig Bellamy echoed Merson's thoughts, saying Gomez has added balance to the team, and believes Lovren was one of Liverpool's weak links last season.
"They look good," Merson added. "Of course we all talk about Van Dijk, just how dominant he is and that a lot of their attacks are off the back of him winning that first contact. Gomez being alongside him; what a player for him to learn from. He's raw, but has out-and-out pace.
"I'm so impressed with Gomez, the balance of the team is so much better now, with so much pace, they can defend one-versus-one, because at times they are going to have to.
"As Sir Alex Ferguson used to say at United, you can't be a Manchester United player if you can't handle one-versus-ones. Liverpool can do that now.
"Lovren got to a Champions League final, a World Cup final, and he'll tell you he's one of the best defenders in the world. I'm not so sure about that. Watching Liverpool closely, and even going into a Champions League final, my two biggest concerns were Lovren and Karius.
"Obviously I didn't envisage what was going to happen with the goalkeeper, but I have always felt teams were looking to play on Lovren's side, counter-attack on the back of him. He was vulnerable to that, and was Liverpool's weak link."
Watch The Debate on Tuesday evening with guests Tony Adams and Stuart Pearce from 10pm on Sky Sports Premier League