Jamie Redknapp sat down with Kevin De Bruyne in a Match Zone special for an in-depth look at the player's many traits ahead of Manchester City's clash with Arsenal at the Emirates on Sunday, live on Sky Sports Premier League.
De Bruyne joined City from Wolfsburg in August 2015 for a fee of £54.5m and has become a standout performer, contributing 25 goals and 46 assists in just 105 games in all competitions.
The Sky Sports pundit caught up with De Bruyne in the Nissan Match Zone booth to dissect his new position, his sublime passing skills, why he likes assisting more than scoring and how Pep Guardiola has taken his game to a new level...


'Pep hates the word possession'
On Guardiola's brand of football
"It is possession with a meaning. He [Guardiola] hates the word possession where we just play it at the back with the goalkeeper.
"He does not like it where you just pass it to pass it, only at the end to kill games off, and for the rest there is really something behind it."
De Bruyne's favourite position
Is the playmaker better on the flanks, as a No 10, or in a deeper midfield role?
"As a kid, I mostly played as a No 10. When I was really young, I played as a striker. But I grew a lot when I was older and when I was 15, 16 I had a big growth and so I changed a little bit and became slower.
"But I always had a feeling when I was younger it is going to be the No 10 or a little bit where I am playing now (deeper).
"When I was first at Genk they asked me, 'what position are you thinking?' And I just gave three options: On the left, where I was playing that time in a 4-4-2, in the No 10, or where I am playing now.
"I always said that the older I get, I will go more backwards and it is becoming that way!"
Role reversal?
The Belgian used to play higher up the pitch, but is now getting the ball off his own back four and starting attacks from a deep position...
"The main thing that changed is before I had more waiting, but now I am more creating. You can swap positions, but everybody has to be in his position again. So that is clear.
"And now you can do whatever you want, you can go inside, outside. He [Guardiola] just likes you to finish, shoot or create something, not that you get a chance like a counter against you."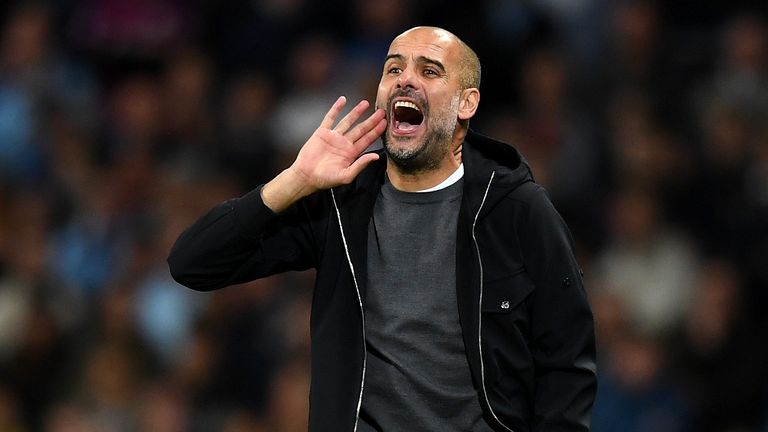 'I like to assist more than scoring'
De Bruyne has 24 Premier League assists since joining City in August 2015 - more than any other player
"It brings a lot of enjoyment because it means you are doing good things. I always like to assist more than scoring, it gives me another feeling, I cannot explain it.
"When you score, it is obviously a great feeling, but to give a great pass is also something special for me. I think it is also very under-rated sometimes what we do."
'Like LeBron, I try to make the best play for the team'
De Bruyne's favourite pass this season was for Sane in City's 7-2 thrashing of Stoke in October
"It is one of my favourite passes because the difficulty of that pass is very big because you have to bend it round the player. I see Leroy running and I think there is an open space.
"It is also very difficult for the goalkeeper to come there because the ball is going in the other direction. And if Leroy goes before [Jack] Butland, it will probably be a penalty. If it is a straight pass, then you will not be able to make it and sometimes it is about making choices.
"I am a big NBA fan where a lot of players play on physicality. But I am a big LeBron [James] fan and he can do whatever he wants. But he always tries to make the best play for the team and that is what I want to do."
'With the amount of goals we are scoring, I do not care!'
De Bruyne scored seven goals in total last season and has only two so far this campaign
"I try to get more goals, but I am not particularly looking at that. The first season I was here, I scored 16 and I never did that. I came in a lot of situations where I had the opportunities to score.
"Now it is more difficult because it is long-range shooting and last year all my long-range efforts hit the post or bar. And then it is more like luck or no luck if it is the inside or the outside of the post.
"It happens, I try to chip in, but I also know that with the amount of goals we are scoring, I do not really care!"
'This is Guardiola's masterpiece of football'
De Bruyne has more successful passes in the final third than anyone else this season
"We always play boxes (in training), five v two, or six v two, and for him [Guardiola] this is the masterpiece of football. If you can do that good, then you can play good in a game because it is small based.
"We are not allowed to do back heels, so it is always good, simple passes and he wants the guys in the middle to let them run. If you get 60 passes, they are going to run and he loves it. And it is something that is very important for him to put in our game."
Average number of forward passes by De Bruyne
| | |
| --- | --- |
| Season | Ave no of pasases |
| 2015/16 | 29 per game |
| 2016/17 | 33 per game |
| 2017/18 | 46 per game |
See the exclusive Nissan Match Zone interview with Kevin De Bruyne at 8pm on Sky Sports Premier League on Friday and watch Man City versus Arsenal on Sky Sports Premier League from 1pm on Sunday