After sitting down with Kevin De Bruyne for this week's Match Zone analysis, Jamie Redknapp explains what makes the Manchester City star such a special player...
There are certain players who operate on a different level in terms of the way they see the game and the way they talk about it. I spoke to Thierry Henry this week and he told me he has only ever come across two. The first was Lionel Messi and the second was Kevin De Bruyne.
Having spent an hour and a half with De Bruyne ahead of Super Sunday, I know exactly what Thierry was talking about. De Bruyne has amazing ability - he has been the player of the season by a mile - but he is also a student of the game. It was fascinating to sit down and talk to him about it.


What really stood out to me was that he genuinely gets more out of providing assists than scoring goals. I've not spoken to many players like that. I enjoyed making goals for others, of course, but in my mind there is nothing like hitting the back of the net yourself.
I think it says a lot about his character. He is all about the team. He is always looking for a forward pass. His priority is to set someone up and make a difference in the game.
In his new deeper role, he is getting on the ball a lot more and running games from back to front. When you've got a great player and you play them out wide you make them reliant on service, but in the new position he is able to dictate the game himself. He can make it flow exactly as he wants.
All aspects of his game are improving by playing there. He's playing more passes but he's also making tackles and interceptions. He told me he is really enjoying it, and Manchester City are obviously thriving as a result. It's a young squad and he's the key to it all. He's the man making it all happen.
It must be a dream for Sergio Aguero and Gabriel Jesus playing in front of him. They know that every time De Bruyne gets the ball, he will look to play them in. His pass completion rate in the opposition half is not as high as some of his team-mates' but that's because he takes risks.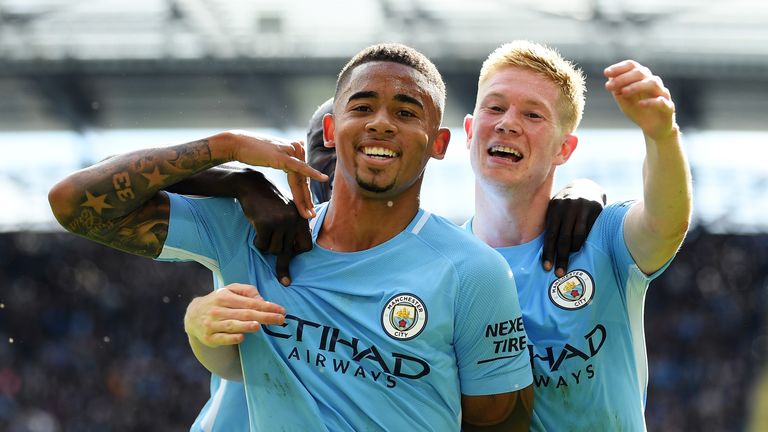 He told me that he loves to take those risks. If he gives it away he doesn't mind because he knows that next time he will make that pass and it could lead to a goal. We've seen that time and again this season. Some of his passes have been incredible.
I think Pep Guardiola deserves a lot of credit for his recent form, and when meeting De Bruyne, it was certainly clear how much he loves playing for him. Guardiola works his players hard in training but they get a lot of time off as well, which is interesting.
He knows they can't work at 100 per cent every day so they get a bit of freedom to enjoy themselves, which is why they are so fresh. The age of the squad has come down dramatically in the last couple of years and you can see how much the players have bought into Guardiola's methods.
I love watching De Bruyne and David Silva together in midfield and it was striking how complimentary he was about his team-mate. Again, it summed up his character. We were there talking about his own performances but he really wanted to make the point of how important Silva is to City.
He's a lovely lad. He's super down to earth and he's loving it at City. He told me things couldn't be going any better and it's easy to see why he's getting the success he is. He loves it at City and it's certainly the right environment for him to keep developing.
It will be interesting to see how he fares on Sunday. Arsenal are a very difficult team to predict. Their record against City is good and they have obviously got very dangerous players, but when I look at the midfield I just don't see how Arsene Wenger is going to match up to De Bruyne and Silva.
Granit Xhaka still struggles with the pace of the Premier League, and the problem for Arsenal is that even if they do shut down De Bruyne, they still have to worry about Silva. Usually a team can only afford to have one playmaker in the team, but those two work so hard.
I fancy Manchester City to win it. They just have too much know-how and too much confidence at the moment. And when you've got a player like De Bruyne pulling the strings, it's difficult to stop.
Watch Manchester City v Arsenal live on Sky Sports Premier League HD from 1pm on Sunday