Football Expert & Columnist
Jurgen Klopp has transformed Alex Oxlade-Chamberlain, says Jamie Redknapp
Last Updated: 27/12/17 11:31am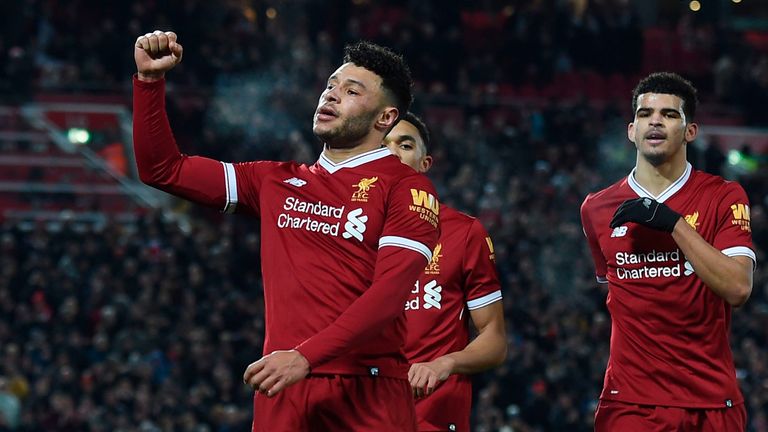 Jamie Redknapp thinks Alex Oxlade-Chamberlain looks like a player transformed under Jurgen Klopp, saying he looks "fitter and stronger" than he did at Arsenal.
There were some questions asked in the summer when Oxlade-Chamberlain left Arsenal to join Liverpool in a £35m deal.
But, after a slow start, the England international has impressed lately and scored on Boxing Day as Liverpool beat Swansea 5-0 at Anfield.
"I wasn't sure about the move for him to start with and I was wondering how he was going to do, but he has surprised me," said former Liverpool midfielder Redknapp on Sky Sports.
"I looked at him at Arsenal and it was like he was treading water and going nowhere, but under Jurgen Klopp I am seeing a completely different player. I am seeing he is fit, with a great attitude and wanting to win tackles.
Look at how much he is improving, he has got fitter, stronger, and he is a different player than he was at Arsenal.
Jamie Redknapp
"It's probably unfair to question how he was coached under Arsene Wenger but I watched him play and I didn't feel he developed for years. It looked like he was standing still. I feel a lot of players at Arsenal are in a similar situation.
"You can go and sign a new contract and say 'OK, I'll be on the bench', but he has taken a risk in his career. He could have stayed at Arsenal and signed a new contract but he wanted to challenge himself and has gone to live up north and given himself a chance to play in the first team.
"He wasn't guaranteed a spot but he is in now and it will be hard to dispossess him of the shirt.
"It was a really bold move for him and one that is really paying off. Look at how much he is improving, he has got fitter, stronger, and he is a different player than he was at Arsenal."
Redknapp also highlighted how Oxlade-Chamberlain has been able to play more at Liverpool because he has not been injured as much as he sometimes was at Arsenal.
"There's a reason why you get injuries, and I had plenty, it's because sometimes you are not fit enough and when you come back from one you don't get fit enough to play again," he said.
"But he has all the attributes and is playing really well."
Reflecting on Liverpool's win, which saw them move up to fourth in the Premier League, Redknapp said: "They frustrate you because they are so good at times, you think if they could find a way of stopping those silly goals they concede they could theoretically be the team to challenge Manchester City in years to come.
"It's just the defence that worries me because going forward they are a dream. They have so much pace going forward and are as good as anybody, when they are purring they are amazing to watch, and they have options, they didn't even have [Sadio] Mane today. They have players that can do special things."