Football Expert & Columnist
Manchester United and Jose Mourinho problems tough to repair, says Jamie Redknapp
'United players must show character for the fans'
Last Updated: 27/08/18 7:30pm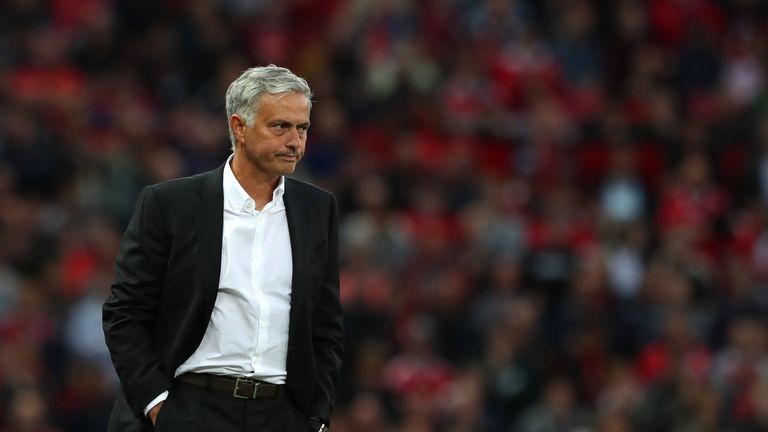 Ahead of Manchester United v Spurs, Jamie Redknapp assesses the problems at Old Trafford and the relationship between Jose Mourinho, his players and the board...
Tottenham have an awful record against big-six sides away from home - but they will be going to Old Trafford thinking 'this is a big chance for us'.
There are things which are not right in the Manchester United dressing room. You can see it. Jose Mourinho looks unhappy when this should be a dream job for him.
I think the writing was on the wall as soon as the board did not give him the funds at the start of the year.
In fairness, they had already given him fortunes and he's bought a player in pretty much every position. It is his team - but we still do not know how they play. You have to make the players you have better.
But that's when you knew the trust was gone - and when it goes between the board and the manager and then the manager and the players, it is almost impossible to repair.
It looks like a really unhappy place, from the manager to the players. There are a lot of good players there, talented players - but they look like they are petrified to get on the ball and play.
There are a lot of good players at Man Utd, talented players - but they look like they're petrified to get on the ball and play.
Jamie Redknapp
That was evident in the 3-2 defeat to Brighton last time out and in situations like that I feel sorry for Jose. You expect a reaction when United go behind like that but there was no fight there.
You can always play badly - I had plenty of bad games - but there were not too many pulling their weight for the manager in that game.
We have seen it before at Chelsea and it looks like it's happened again.
Mourinho has a shelf-life. When he comes into a club, in terms of achieving an immediate impact, he's the best. Modern managers are about coming in for two, three years, make an impact and get out - and he's the man for that.
He's incredible at that, and you can't take that away from him.
But once that shelf-life goes, his position becomes very difficult. He goes public in his criticism of players and, with people like Paul Pogba, I just can't see how those situations can be repaired.
Compare that to the other top clubs. At Manchester City, every player bounces into training and cannot wait to work and learn from Pep Guardiola. It's the same at Tottenham with Mauricio Pochettino and Jurgen Klopp at Liverpool.
You do not get the feeling is the same at United with Mourinho.
The players seem to have lost that enjoyment. It's not that they're not trying but are they really giving their all?
The problem is, once you do not get backed in the transfer window and sign those centre-backs you have been saying you need, how do the players that are already in place feel right now? Their confidence must be at an all-time low.
For Mourinho to keep his job he needs some big results. He needs to beat Tottenham and go on a little bit of a run.
But which Tottenham will show up on Monday night?
In the past they have been spineless in these games. It should not be like that. They have got too many good players and too good a manager. That's mindset set Pochettino has to change - he has to turn his team into winners.
Too often they do not play with personality in these big away games. It's a big problem.
United beat them in the FA Cup semi-final when Pogba and Alexis Sanchez had good games - and the latter will be important on Monday, up against the team who were his rivals at Arsenal.
But Old Trafford will want to see all of the United players show character. It does not matter if they are on board with the manager or not, they have to do it for the fans.
The game is a very hard one to call. Normally Tottenham coming to town would be a good game for United to bounce back from that disappointment at Brighton.
But if United lose, the scrutiny on the manager will be huge and the pressure will come on.
It's pretty crazy for it to be edgy like this at United already and I'm sure people are thinking, 'hold on, we've only played two games,' but we've seen these signs before with Jose.
And if Tottenham have title aspirations, this is a big one for them, too.
I'm going for a draw - but it should be an intriguing match-up.
If you're reading on skysports.com comment below to get involved in the debate, but please adhere to our House Rules. If you wish to report any comment, simply click on the down arrow next to the offending comment and click 'Report'.