Football Expert & Columnist
Eden Hazard has become a leader for Maurizio Sarri's Chelsea, says Jamie Redknapp
Chelsea vs Manchester United, 11.30am Saturday, Sky Sports Premier League
Last Updated: 19/10/18 5:03pm
After speaking with Eden Hazard in the Sky Sports Match Zone, Jamie Redknapp explains why the Chelsea star has improved - and how Manchester United will look to stop him...
I had the chance to sit down with Chelsea's Eden Hazard at the Sky Sports Match Zone this week - and it was great to get an insight into his thought processes and approach when he's on the pitch.
He's had a great start to the season and is in fantastic form, so it was a good time to go through some clips with him to look at why he's been doing so well under new boss Maurizio Sarri.
I love the Match Zone and the players seem to embrace it, too. But what was interesting with Hazard this week was how he contrasts with a player like Kevin De Bruyne, who I spoke to last season.
With the Manchester City midfielder, he wants to understand every tactic, every detail and plays football like it's a game of chess. Whereas someone like Hazard is a genius who plays off the cuff.
You ask Hazard "what are you thinking here" and he says "well, I just want to get into the box and take someone on!" I love that. It's innocence, like a kid in a school playground.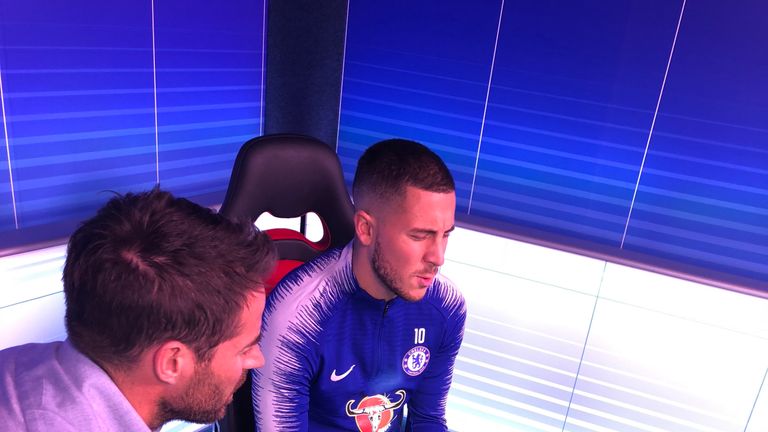 Hazard is a genius who plays off the cuff.
Jamie Redknapp
But actually Hazard's become a leader for that Chelsea team now. He took on more responsibility with Belgium at the World Cup, where he carried the burden for them, and he feels like that's what he has to do for Chelsea now.
Tactically, his action areas are far more central now, as he likes to get into that number 10 position, but he still loves to get there by coming in off the left-hand side, where he might find some space.
Watch Hazard in the Match Zone
Watch Eden Hazard in the Sky Sports Match Zone from 5pm on Friday on Sky Sports Premier League and look out for more on the Sky Sports app and website.
Sarri has given him the freedom to do that - but I don't think we should be branding him as a new version of Eden Hazard. When Chelsea last won the league he was brilliant then, too.
This season, though, he's getting goals - and he's not always had that end product. He's realised that to get on the back pages of papers you've got to score goals. That's what Lionel Messi and Cristiano Ronaldo do.
Sarri has said to him he wants 40 goals from him. After the start he's made it is not unrealistic - although it will take some doing.
Hazard was very complimentary of Olivier Giroud and the role he plays in setting up goals and the Frenchman seems to be the ultimate team player right now.
But it will have been Hazard giving Manchester United and Jose Mourinho problems as they prepared for their trip to Stamford Bridge on Saturday.
Mourinho has stopped him in the past by putting Ander Herrera against him, while Scott McTominay marked him last season. It's a tactic I wouldn't be surprised to see Mourinho use this week - but it's not a job I'd want!
Hazard will run you into areas you don't want to be in, he'll get you booked, he'll take you on. And in the form he's in right now it's going to be a really tough task for whoever has that role.
The other problem with having to stop Hazard like that is you inevitably leave holes elsewhere in midfield, which can be exploited by Chelsea's other good players. Ross Barkley, for instance, is in good form now, too.
United got that much-needed comeback win over Newcastle last time out but the international break came at the wrong time and may have stalled that momentum.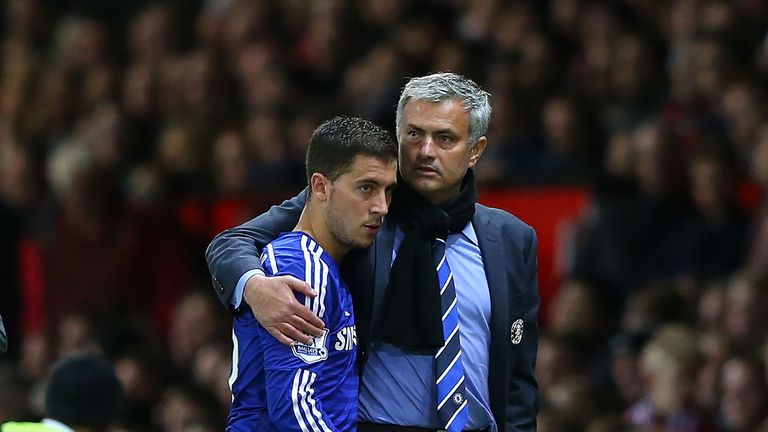 However, even at the time, I felt that result was a false dawn. Manchester United aren't back yet.
Mourinho needs what I call a blue-chip win. A big win against one of the powerhouses in the league to make a statement. But I don't know if they're capable of that at the moment.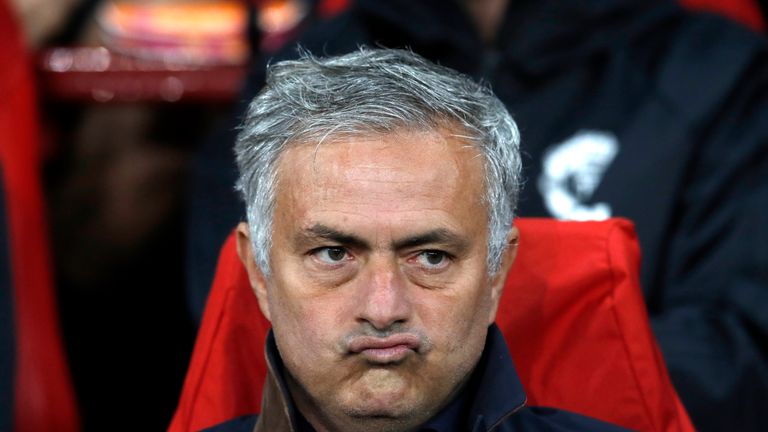 Mourinho needs a big win against one of the powerhouses in the league to make a statement. But I don't know if they're capable of that at the moment.
Jamie Redknapp
I don't think they're together as a team, I don't think they have that hunger to go and win one of these games. But more importantly, I don't think they have the quality.
Mourinho is a master of getting results from these types of games and setting his side up to get something out of tough fixtures.
We shouldn't criticise him for that approach - Sir Alex Ferguson would often mark Frank Lampard, for instance. But the difference was Ferguson would still have the players to go and win the game.
It's an intriguing game but I just think Chelsea will have that confidence and the know-how to win the match.
If you're reading on skysports.com comment below to get involved in the debate, but please adhere to our House Rules. If you wish to report any comment, simply click on the down arrow next to the offending comment and click 'Report'.