AFC Wimbledon boss Neal Ardley returns to Plough Lane
By Simeon Gholam
Last Updated: 12/11/17 1:09pm
It wasn't any normal afternoon stroll around south-west London for Neal Ardley.
The AFC Wimbledon boss returned to the site of Plough Lane with Sky Sports' David Craig, visiting the area where he used to serve as an apprentice for the Crazy Gang club in the 1980s.
"We used to have to do jobs on matchdays," he reminisced. "There was a gym next to the first-team changing room that we'd have to go into and it was quite intimidating! You know you had to grow up quite quickly if you wanted to get around those boys!"
Wimbledon was a character-building club on and off the pitch. Ardley made his way through the youth setup at the club and spent most of his formative years training in a concrete car park... that wasn't exactly the right shape.
"The pitch was almost a triangle! The way the coaches had to cope with that [I don't know]," he said. "I look at academies now and what they have compared to what we had is amazing. But you look at the players like Jason Euell, Chris Perry, myself, Carl Cort and Neil Sullivan and see some great players came through."
Ardley played for 11 years at Wimbledon between 1991-2002, leaving for Watford the same summer that permission was given to relocate the club to Milton Keynes. He has been manager at AFC Wimbledon for just over five years now, taking over when they were struggling in League Two before steadying them in that division and leading them to promotion in 2016.
But have there been any regrets during that time? One stands out for him. Not getting the chance to play for the first team at Plough Lane.
"I played FA Youth Cup games and some reserve games here but I never got on [in the first team]," he said, while ambling around the flats that now reside where the stadium used to be, with many of the blocks named after club legends.
"My debut was while we were at Plough Lane but it was away at Aston Villa, then the following season when I did start to get into the team we had moved to Selhurst Park. But I've still got really fond memories and I think I swept every step that was here on a Monday!
"It was a real old-fashioned ground with a tight pitch that suited the way we played back then and matchdays were always full of atmosphere. There was a pub out the front and a nightclub that used to get busy [after games].
"There was so much character and so many memories, and coming back here has brought them all back."
Memories are all well and good, but Ardley is also ambitious about the club's future and wants to lead the club forward into their own stadium back in Wimbledon. There are plans in place to build where the Wimbledon Greyhound Stadium is, following its closure in March.
"It's something that so many people have put so much work into getting to this point," said Ardley. "As always with these things, there's always another little problem so it's taken longer than we hoped, but we hope it'll be good news soon and we can get cracking, look forward and start planning.
"Wimbledon town centre is a fantastic place, very luxurious and full of life. If we can get ourselves back here and with the excitement it can create, there are so many things that can happen."
But will he be there to see it? The club have struggled on the pitch this season and head into the weekend hovering above the relegation zone on goal difference. By the time they host Peterborough on Sunday, live on Sky Sports Football, they could be in it if other results go against them.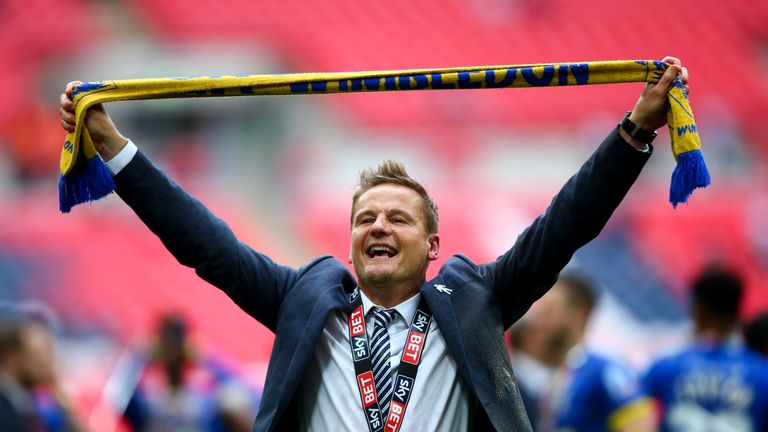 "Football management is a very precarious business these days," said Ardley. "But I'm privileged to be the fifth longest-serving manager for the club in the football league and I hope to continue and give myself the opportunity to do that. But obviously, we need to get the results.
"[This season] has been a little bit more of a struggle, but if we finished by our budget in the table we'd be relegated, so we need to overachieve just to stay in the league. Everyone needs to pull together because the season in 46 games, so we'll keep going and try and hit the target we want.
"When I took over we had some real tough times, we weren't the best team in that league by a long stretch and we really had to graft to stay up. But the whole time I had this faith that it was destiny for me to come back to this club and not get it relegated.
"I clung to that belief all the way through and I kept them up and then we had that wonderful day at Wembley. Now hopefully there's more to come because I don't want the story to end."
Don't miss the Sky Bet League One clash between AFC Wimbledon and Peterborough on Sunday, live on Sky Sports Football from 2pm