Niall Quinn
Football Expert & Columnist
Joe Hart wouldn't have made Claudio Bravo clanger against Barcelona, says Niall Quinn
Last Updated: 20/10/16 4:37pm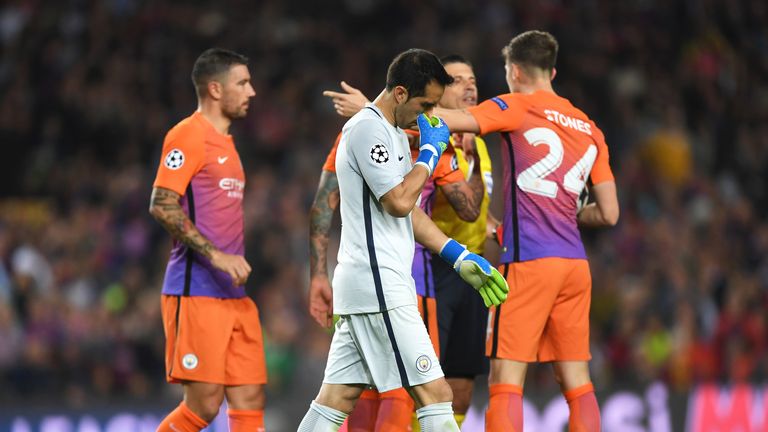 Niall Quinn says Joe Hart would not have made the "horrific" error that saw Claudio Bravo sent off in Manchester City's Champions League defeat to Barcelona.
Pep Guardiola's side were losing 1-0 in the Nou Camp early in the second half when their goalkeeper carelessly gave the ball to Luis Suarez and then handled his goalbound shot outside the area, earning him a straight red card.
With only 10 men on the pitch for the final 37 minutes, City went on to lose 4-0 as Lionel Messi completed his hat-trick and Neymar added a late fourth.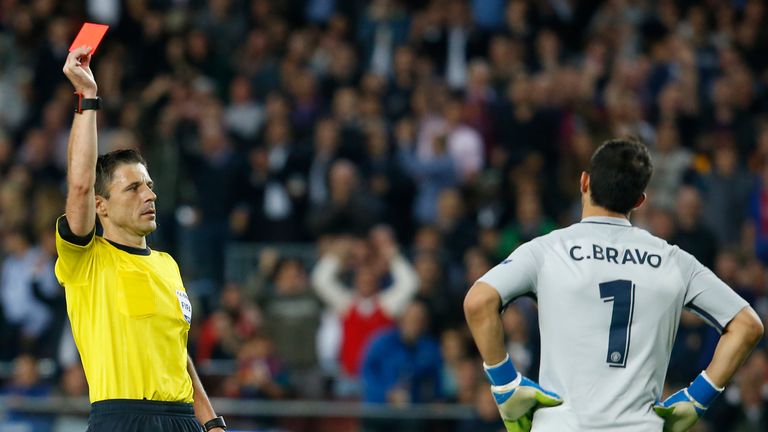 England goalkeeper Hart was loaned out to Torino last summer when Bravo was signed from Barcelona - and former City striker Quinn says he would not have dropped such a clanger.
"It was pretty horrific what he did," Quinn said. "He was in total control of the situation. He was well outside the box and you thought he was going to take it down, but he tried to play it first time.
"Suarez literally came to a stop waiting for it to be dealt with and couldn't believe his luck that it was kicked straight to him, so he controlled it and tried to play it with a bit of height around the goalkeeper into the goal.
"Bravo had to put his hands up and save it from going in. Having got back into the game and starting to look the better team, it was the death knell really to go down to 10 men.
"Although Barcelona were not at their best you could see they were going to have more space and time and the game was over as a contest.
"My first thought was 'would Joe Hart have done that?' Not in a million years."
On a night of errors from City players, Barcelona's first goal came after Fernandinho's slip, John Stones misplaced a pass for Messi's third and Aleksandar Kolarov gave away an 87th minute penalty that Neymar failed to convert.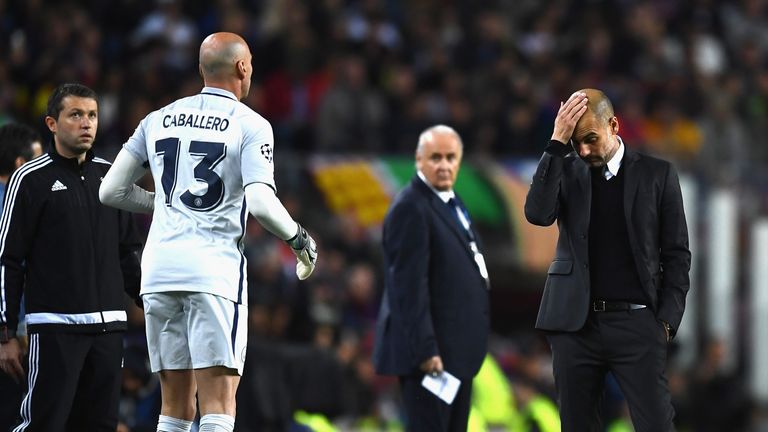 And Quinn says Guardiola's players will feel "hurt" after so many individual lapses.
"I bet Barcelona couldn't believe their luck," Quinn added on Soccer Special. "There was some really poor decision-making and some basic errors that you haven't seen Manchester City do for a long, long time. Maybe when I was there we did them, but it was incredible to see the scale of errors happening around the pitch.
"I don't know why it is. I don't think they got nervous. On the ball, Manchester City were actually quite good and created more chances.
"They had a belief about themselves and looked like they could get something out of the game - and then every so often someone would just make a horrific rick and they were punished.
"I feel for them in a strange way because there was some bright things happening, but they set it up for their own downfall. When you do that with the likes of Messi and Neymar out there, it's always going to end up bad for you. It's a real demoralising blow.
"They were so much the creators of their own downfall that this game will hurt more than if Barcelona has played magnificently and beat them 4-0. It wasn't a proper Barcelona spanking."
You can watch Chelsea v Man Utd, plus England's tour of Bangladesh and the US Grand Prix on Sky Sports. Upgrade now and enjoy six months at half price!