West Ham and England's Gilly Flaherty hails Rainbow Laces campaign
Gilly Flaherty says women's football "deserves credit" for being so welcoming for players who are gay or bisexual; West Ham captain says Rainbow Laces is a "wonderful campaign"
Last Updated: 04/12/18 3:30pm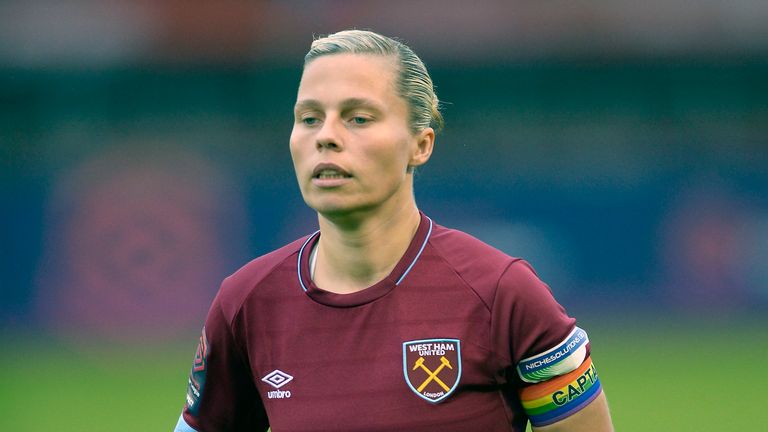 England defender Gilly Flaherty says her experiences of being a gay player in women's football have been nothing but positive, and has praised both West Ham and Stonewall's Rainbow Laces campaign.
Flaherty became captain of West Ham Women when she moved across London in the summer, having won the Super League and FA Cup Double with Chelsea. She made her 100th WSL appearance in Sunday's 1-0 victory over Brighton, a match in which both teams showed their support for Rainbow Laces.
The men's first team will do the same in their Premier League match at home to Cardiff on Tuesday night.
Flaherty says West Ham's inclusive approach is important to her and also reassuring, and mirrors that of her previous clubs, Arsenal and Chelsea.
"Here at West Ham, it's irrelevant whether you are gay or whether you are straight," the 27-year-old told the club's official website.
"The team welcome anyone with open arms, and we don't get judged because of it. No one's any different towards you.
"I personally wouldn't play for a team if I felt that was the environment that I was going to be judged for who I am. I wouldn't allow myself to be there. I've got more self-respect for myself than that.
"I can't fault West Ham or any of the previous teams that I have played for. It's never been an issue."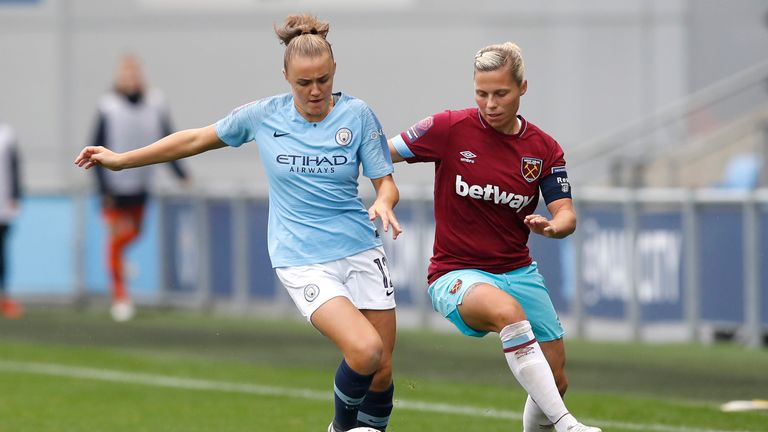 I think it's a wonderful campaign that everybody can be a part of together.
Gilly Flaherty on Rainbow Laces
Flaherty, who has won nine caps for her country to date, says the women's game has always felt like a welcoming space to her.
"I think women's football deserves credit because it's such an accepting place," she added. "In every team I've been a part of, I've never felt any discrimination from fans, or anyone at the club. Everyone has accepted me for who I am.
"Women's football is a sport where a player can be openly gay and no one acts any differently towards you because of it, which is a great thing."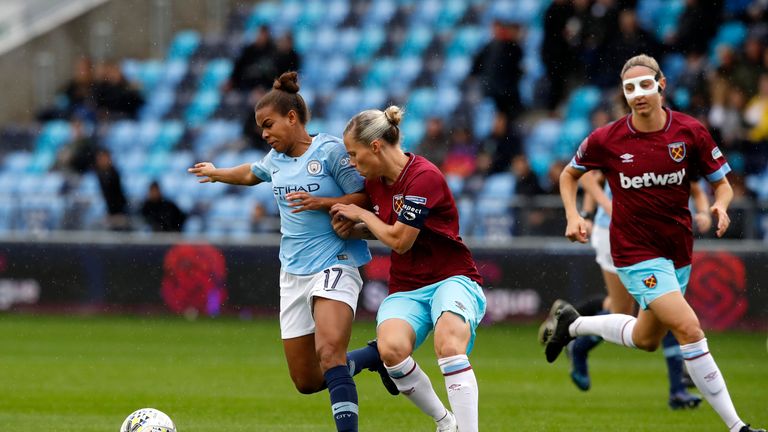 The annual activation of the Rainbow Laces campaign comes to a conclusion later this week after another strong show of support from across British sport.
Flaherty says the role of allies - people who are not LGBT themselves, but who play an active role in inclusion - are crucial to its success.
"For me, I think it's nice when you see straight players embracing it as well as gay players," said Flaherty.
"It's not like, as a gay player, you have an arrow stuck above your head. Everyone gets involved and supports the campaign by wearing the laces or, in my case, the rainbow captain's armband.
"[It's] a chance to show people that we embrace them for who they are, and an opportunity for us to support our team-mates, friends and family.
"I think it's a wonderful campaign that everybody can be a part of together."
Sky Sports is a member of TeamPride and supports Stonewall's Rainbow Laces campaign, which is currently receiving its annual activation across British sport until December 7.
Contact us at Sky Sports if you'd like to share a story to help raise awareness around LGBT inclusion.