Football Expert & Columnist
Jamie Carragher meets Mo Salah ahead of Manchester United vs Liverpool
Watch Manchester United vs Liverpool on Super Sunday on Sky Sports Premier League. Kick-off at 2.05pm
Last Updated: 22/02/19 5:28pm
In a Sky Sports exclusive, Jamie Carragher met Mohamed Salah to discuss Manchester United, his best position, criticism and a big week for Liverpool.
The Premier League's top goalscorer will likely lead the line once more for Liverpool when they travel to Old Trafford for their crucial Super Sunday clash, live on Sky Sports, where even a draw will take Jurgen Klopp's side back to the top of the Premier League.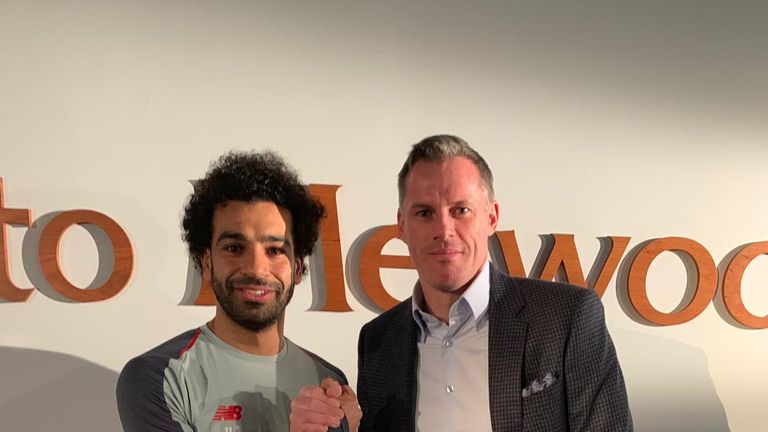 After scoring an incredible 32 Premier League goals last season, Salah got off to a reasonably slow start to this season, with many questioning whether he overperformed in 2017/18.
But the Egyptian has stormed back to lead the scoring charts again and - in an exclusive sit-down interview with Sky Sports' Carragher - opened up on handling criticism, why he still feels like a winger, how United have improved and how Sunday's blockbuster encounter is start of a big week for the club.
Salah on lack of plaudits/more criticism this season...
"This season is much more difficult for me than last season but I think there is misunderstanding from people as they always judge you one way. I don't like that much, but I don't care too much. At the end of the day, we are first and I am trying to help the team to win games. And I am still top goalscorer in the Premier League."
On his best position...
"I have played centre forward a lot, but I can still also play on the wing, I have scored many goals on the wing. I always call myself a winger as I don't like to call myself a No 9.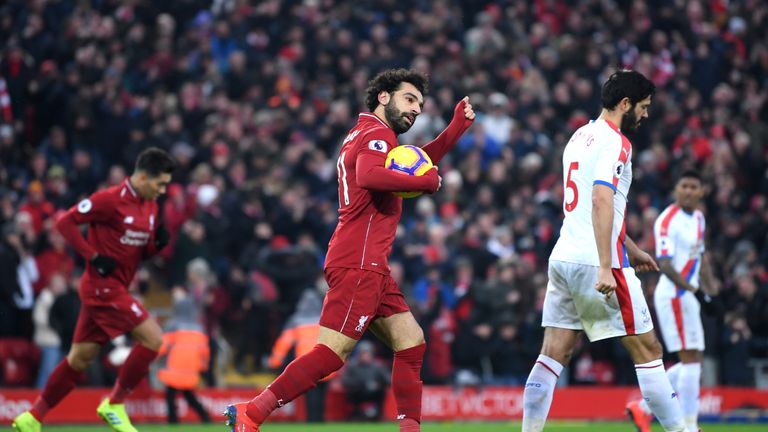 "My way, the way I play, it is never like hold the ball up and be strong. Even when I play striker, my position is different than any other player. Like Harry Kane, he has a different style. When I play No 9 I drop deep to play No 10 and get the ball and dribble, so I always call myself a winger.
"It depends on the game [where he plays] and the tactics that the manager wants. I can play as a No 9, but when I play as a winger I do my job. The manager doesn't say suddenly 'okay, now you are playing No 9', it doesn't work like that, he talks to me before the game."
On Super Sunday being part of big week for Liverpool
"It is a very big week, for us, and if we win three games and are top of the table, that is huge for us. When you have three games in a week or 10 days, you just need to win, win, win, then after that you have time to think.
"Even when we are not top of the league, I know how much United want to win against Liverpool and Everton the same. For me it is not a big deal. We just need to do what we have been doing for the last couple of months."
On playing United and how they have improved...
"They are different now because they have won 11 games. They have more confidence. With Mourinho it was different, but he is a smart manager, one of the best, everyone knows that. They were struggling a little bit but they are performing better now.
"From being a kid I know this is one of the biggest games in the world. I know Trent (Alexander-Arnold) is the only one from Liverpool but we all know the passion when you play for Liverpool against Man Utd, how big that game is for him. It is big for us too, but his huge for him, for someone who grew up in Liverpool. We play for the Premier League now."
On title pressure...
"You can feel it [the pressure] because you are still a human being. For me it is not a big deal if I win a game now or three weeks ago. I want to win each game, but for myself I said that we are playing for the Premier League, so there is pressure. Also there is pressure for Man City.
"I said in November that there is pressure and it will be there until the end of the season, because when you okay for the Premier League you have to accept that there is pressure. When you go home you can take it with you, but it can help you to work harder and focus on your game.
"To enjoy it is not enough, from my side. At the end of the day you have a target in your mind, you have a dream, you want to win the Premier League. I even said that two years ago when I came - it is a dream to win the Premier League."