In his latest column, Sky Sports pundit Jamie Carragher looks ahead to the Super Sunday clash between Southampton and Manchester United.
The former Liverpool and England defender has his say on United's recent form, how their summer signings have performed so far and how Southampton are shaping up for the season.
Read on for Carra's thoughts on the encounter...
What did you make of United's performances against Liverpool and PSV Eindhoven?
The first half against Liverpool was pretty poor from both sides but then it livened up and United had a brilliant second half. Ashley Young made a difference coming on and so did Anthony Martial with his goal, which was great for him and the club.
After that it was disappointing in midweek. PSV are not a top side in European football and to take the lead and then lose it will disappoint them because whatever you say about Manchester United's attacking play, in defence they have been excellent for a few months now - at the end of last season and the start of this one.
They will be very disappointed with the two goals they conceded but possibly the Luke Shaw injury has overshadowed the result. Their thoughts are probably with him more than the result.
What have you made of Martial in his two games?
He made a fantastic start to his Old Trafford career with that goal but it's difficult to judge a player so quickly. It's very early days and I think Louis van Gaal was right to say he won't play all the games and will be coming in and out of the team.
He played as the central striker against PSV and did ok but he's a player as much for now as for the future.
How do you think the summer signings have performed?
The signing of Matteo Darmian at right-back has been very good and Morgan Schneiderlin looks a very good addition. Bastian Schweinsteiger has come in and is improving and playing longer on the pitch now. He is starting more games.
I think Schweinsteiger and Schneiderlin will add to what United were perhaps lacking in central midfield, but in the striking department you are still not quite sure yet.


I think they are good signings but I don't think they are the players who will take the team where Louis van Gaal eventually wants to take them. Considering the money spent there are still areas that don't look strong enough to win the Premier League or Champions League, which is what Van Gaal is ultimately aiming for.
What have you made of Southampton's start to the season?
It was always going to be difficult for them to improve after such a fantastic season but I don't think they will have any problems in terms of fighting at the bottom of the league.
They are not performing at the same level as they were last season and have struggled to score goals but it might just take them time to get into their stride.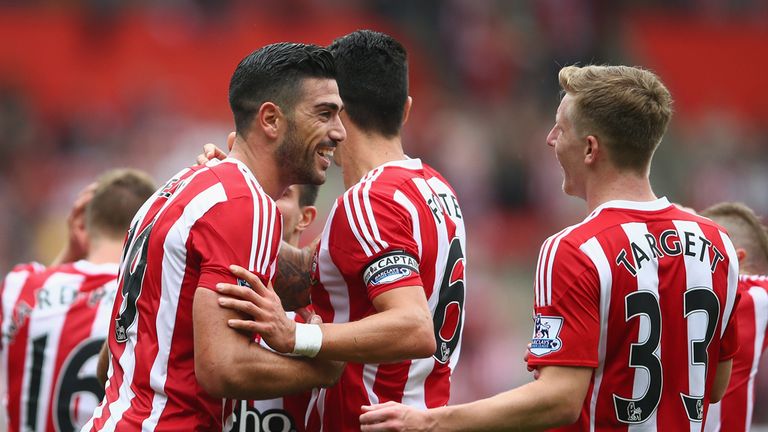 We saw them in the Europa League but it may help them in the long run going out of that competition as the Premier League is most important to them.
They have good players and a good manager but they have a lack of goals at the moment.
How important was it for them to keep Saido Mane and Victor Wanyama and sign Virgil van Dijk?
There was talk about Manchester United trying to get Mane and it was good for Saints that he did not go.
Wanyama is a great protection for the back four, although he has missed Schneiderlin and those two were vital for the great defensive record Southampton had last year.
Losing Toby Alderweireld was a blow for Saints and it was important to get someone in like Van Dijk to play alongside Jose Fonte. I haven't seen loads of Van Dijk but he has a reputation for scoring goals and his job will be to help Southampton keep clean sheets as they did last season.
Watch Southampton v Manchester United live on Sky Sports 1 HD from 3.30pm on Sunday.