Ahead of the Manchester derby, Thierry Henry met Sergio Aguero to discuss Manchester City's season so far, his best position, the emergence of Gabriel Jesus and more.
The striker has scored 12 goals in his last 12 appearances and will look to help City strengthen their top-four bid when they face rivals Manchester United on Thursday, live on Sky Sports.
Ahead of the crunch clash, Henry caught up with City's leading Premier League goalscorer...


HENRY: Thank you for having me first of all. Big game today, as you know. What does this fixture mean to you?
AGUERO: As a boy growing up in Argentina, derbies were always incredibly important. People over there are crazy and as a fan of the club where I started out, Independiente, I wanted us to win the Clasico so badly when I was young.
I didn't play, but I wanted to beat Racing so much. I was at Independiente and Racing were our rivals. That was my initial taste of derbies and I really wanted to win them, no matter what.
I was also thinking about something. People are happy for such a long time when you win a derby. It affects the whole city. People can calmly walk around the streets saying,"We beat you!"
That's the first thing I thought about derbies. I then went to Atletico Madrid and the derby was against Real Madrid. It was tough. I drew two or three of them, but I lost most. It was a similar story against United when I arrived here.
Luckily I've now won quite a lot more than I've lost. Tonight's game is so important because we need to win to strengthen our position and boost our chances of qualifying for the Champions League.
HENRY: I imagine you know that you're Man City's top goalscorer in this fixture in the Premier League era. Did you know that?
AGUERO: I didn't know. I found out through you about three minutes ago. I know that I've scored a lot of goals in the derby, well, maybe not "a lot".
HENRY: A lot. It has to be said!
AGUERO: I knew something about that, but I didn't know I was number one in City's history. I'm happy about that and I hope we win. If I manage to score, even better. But if I don't, it doesn't matter. I prefer winning over scoring.
HENRY: We've spoken about the derby, but I'd like to ask you what has happened this year? It hasn't been terrible but what exactly has happened?
AGUERO: It has been quite a tough year. We made a very good start. Our form then dipped, but we managed to recover and had a few good performances followed by a few that weren't quite as good. I don't know if it's been bad.
We've always played the same way. I think what we've been missing this year is a bit more luck. There have been games that we were winning comfortably, and a mistake or lack of concentration cost us a goal.
In the Champions League, we knew that Monaco would be tough opponents. We produced a good performance at home, but in the away leg I think we gave them the first half. You pay dearly in the Champions League if you do that.
We reacted in the second half, but it was too late. It's called the Champions League because you're up against the best teams that can make it hard for you.
We came close in the FA Cup which I think is another example of a game where luck wasn't on our side. In the second half I think both Yaya [Toure] and Fernandinho hit the woodwork. If one of them had gone in, it would have been game over. Then we had a goal disallowed when the ball seemingly didn't go out.
It's been a tough year, as is always the case in England. I don't think luck has been on our side in many games.
HENRY: What can you tell me about the team's consistency? Whenever I watch City, your opponents seem to get into your box once and score, but you often need 10 chances to score yourselves.
AGUERO: In the Premier League, if you relax for five or 10 minutes, or even 15, which is a lot, teams can score two goals against you. That's what happens in the Premier League. We often dominate possession all game long.
There are moments when we might lose our concentration, give the ball away twice or three times and start showing some nerves.
The Premier League isn't easy, all the sides are very tough and full of good players. They press well, so it can be normal to have dips in game. We often play very well but football is rather strange, and sometimes we aren't as good in possession.
HENRY: Especially in this league. If you don't kill teams off, you give them encouragement...
AGUERO: Exactly, that's why Pep always says to us: "Come on, come on!" to make it 1-0 and then to make it 2-0. He always insists that games aren't over. It's true. You have to keep going until the 90th minute. That's also what is wonderful about the Premier League: you get attractive and exciting football.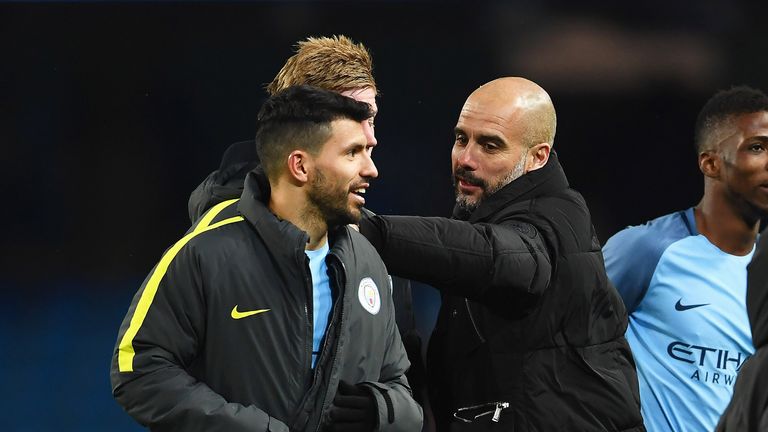 HENRY: You were speaking about Pep and now have been playing for him for almost a season. Obviously you know that he coached me when I was at Barca. I'd like to know what Pep has taught you in your game. When I was at Arsenal, I played up front and if I wanted to drift out to the left, I could. But when I got to Barca, I had to stay out wide and press. Sometimes doing that can be hard.
AGUERO: The thing I've found the hardest has been getting into my head the fact that I have to press the centre-back and the goalkeeper in matches. That's what Pep asks me to do. It may not be a big deal, but in terms of processing it, the two of us speak a lot. He knows what I'm like.
I've been gradually learning and adapting to that style of pressing over the last few months. The first thing he taught me was how to press and how to do it well. Obviously there are times when I might drift out of position or I might press in an area where I'm not supposed to be, which might make it hard for the wingers or midfielders.
In the game itself, I may not realise because I'm so immersed and you can't stop yourself. I've learnt a lot from him in terms of zones. He asks me to play as a No 9 and to stay in that position. I often drift out wide during matches and he looks at me and says, "If there's a player out wide who wants to cross it in, who's in there? Nobody."
HENRY: I know all about that, believe you me.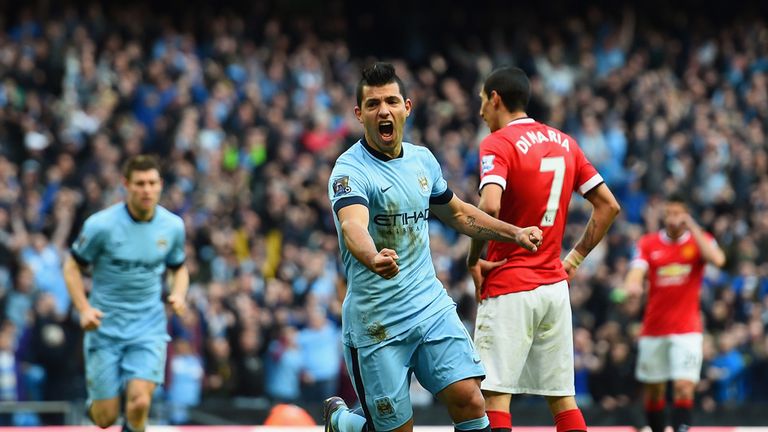 AUGERO: I've been adapting this year and so has the team. The team has adapted to a different style of play.
Every coach has his own style of play. The style under Pep is more attacking. Maybe I get more goalscoring chances and there's more for me to do. I always have to be ready to press and it can be tough because I can't see what's going on behind me and the centre-backs put pressure on me. It's very tough.
I have to focus on my distribution when I receive the ball and make sure that I lay it off well, while thinking about who is around me. There are many things going through my head. I've learnt a lot about that.
At the start, I misplaced a lot of passes to the players supporting me, which I've learnt from. That's how you learn. You learn more year-on-year even when you get older, and I'm already old.
HENRY: No, you're not old, I'm old! People in England might not know, but as someone who played against Atleti at the Calderon, I remember you played as a second striker. But when you speak to people here, they speak about Aguero playing up front on his own. I never liked playing up top on my own, so I'd like to know what you prefer?
AGUERO: Every manager has his own style of play. Some play 4-4-2, 4-4-1-1, Pep plays 4-3-3. At Atletico and Independiente as a youngster, I always played as a second striker.
During my five-year stint at Atleti I played with another striker. In the first year I played with Fernando Torres, then Diego Forlan and finally Diego Costa. When I joined Manchester City, in the first few games I scored a few goals and I enjoyed being in and around the box. I did still drop back.
Roberto Mancini was in charge and the other forwards were Carlos Tevez, Edin Dzeko and Mario Balotelli. I always played with Dzeko. Tevez had had a problem at the club and when he came back, we started playing together. I also played with Balotelli quite a lot. I was always alongside someone else up front.
I knew I needed to be in and around the box and I started to enjoy being closer to the penalty area. When you score goals, you always enjoy it. People don't know, they think that I'm a No 9, but I think I've only become a No 9 over the last two-and-a-half years at City.
Manuel Pellegrini often played me as a lone striker and it's been the same under Pep. I've been adapting to it over the last two-and-a-half years. Maybe people look at my goals and say, "What a No 9!"
HENRY: You've been doing so well and you had to adapt, but people didn't know you used to be a second striker. You can play as a No 9, but you had to adapt. Well done. There was lots of talk about Gabriel Jesus's arrival. I thought it was a good thing because it means you have to prove that it's your club and you've enjoyed success here. I think you responded very well. What do you think about it? Many things were said at the time about whether you were playing or not, but I saw it as a positive that would spur you on...
AGUERO: I think that in the last two years, I've been playing more as a No 9 and maybe there wasn't anyone else who could fill in for me. With Gabriel Jesus coming in - of course he's a very good young player which is why he's at City - I think he's going to settle in very well here.
It'll be tough, but he's already done well in the games that he has played in. I know there will come a time when I'll have to step aside. Other young strikers like Gabriel Jesus will be brought in. When you reach a certain age, the youngsters start putting pressure on you and you have to be even better.
I've always adapted to whatever the manager has decided. When I was on the bench, it wasn't a problem. Pep spoke to me and told me he was going with Gabriel Jesus. I just had to keep training hard and trying to do well when I got the chance to restore the manager's confidence in me.
Gabriel Jesus then picked up an injury against Bournemouth. I came on in the second half, after almost 25 days without playing 90 minutes. I had that initial feeling of distress and nerves linked to his injury. Gabriel Jesus was very unfortunate to be out for two months, so I had the chance to restore the manager's faith in me.
Luckily, things are going well for me. I'm happy that he's back now and that means I'll have to be much more focused and alert when I play. If I have to start on the bench once again, I'll have to accept it. That's football. I always respect my coaches and I certainly respect Pep. I just want to play and give my all until the end of the season.
Tune in to Sky Sports 1 at 7pm to see the full Aguero interview ahead of the Manchester derby