Craig Bellamy describes use of VAR as 'laughable' and a 'disaster' after Spurs' FA Cup win against Rochdale
Last Updated: 01/03/18 9:07am
Craig Bellamy described the use of VAR as "laughable" and a "disaster" following Tottenham's FA Cup win over Rochdale at Wembley.
Referee Paul Tierney and VAR Graham Scott at Stockley Park were regularly called into action at Wembley on a busy night for officials during which VAR dominated.
Spurs had a goal disallowed, a penalty awarded, and a penalty controversially disallowed through the use of VAR, with five additional minutes in stoppage time, and Bellamy thinks the use of technology is taking a part of football he enjoys out of the game.
Speaking on The Debate, the former Wales striker said: "It was laughable. It was a disaster.
"The Liverpool game stands out as well. I've watched games in Germany and Italy where it has been a farce. It really has because the supporters don't know what's happening. They're all standing around, waiting minute on minute and the players are having to do extra warm-ups. It's just taking so long.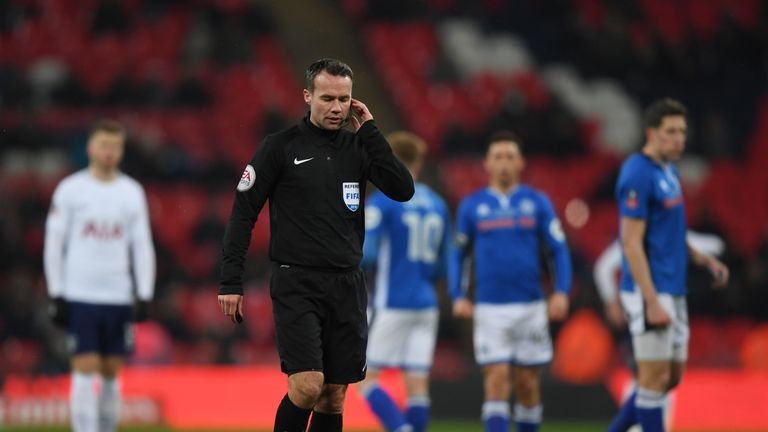 "Were the refereeing decisions in our game so bad that we have to get everything right? As a manager, as coaches and as players we are not going to get everything right. It's impossible because we make loads of mistakes on the pitch. We like to think we don't, but we do.
"Referees are exactly the same," he added. "They will make mistakes because they are human and human error in our game is brilliant, it's not a problem.
"Of course it's not nice when it's cost you a result, but that's the part of the game I really love. I like being sat there in the crowd sometimes when it should have been offside, but it's not and the referee has let play go on and there's a goal and the team have got away with it.
"That's the part of the game I really enjoy and if we are going to try and take that out it's something I'm not comfortable with. It's something I've never been comfortable with and it's something I really don't want to see in our game."
Meanwhile, former England caretaker boss Stuart Pearce, who was against the introduction of VAR from when it was first mooted, thinks there are too many grey areas in football for the use of technology to be a success.
Pearce, who was a guest on The Debate alongside Bellamy, said: "I was almost a lone voice when there was this clamour for VAR, saying no I'd prefer it not to come in.
"I come from non-league, I want the game to be the same in non-league as it is in the top echelons of our game. I want an identical game not a slightly different game.
"We've got one of the top managers in the world turning around and saying our referees are probably the best referees in the world, which is a fantastic pat on the back for our referees.
"You can watch certain situations time and time again. Handballs in the box, did he mean to do it? I've got no idea. Did he dive or not? I'm not sure and only the player knows.
"There are so many grey areas in our game. Let the guy in the middle of the pitch make a decision and respect that decision at the end of the game whether it goes your way or whether it doesn't. The game will then pan out.
"There would be opposing views and that's the beauty of the game."