Carlos Tevez: Is Shanghai Shenhua adventure already nearing an end?
By James Walker-Roberts
Last Updated: 21/08/17 4:16pm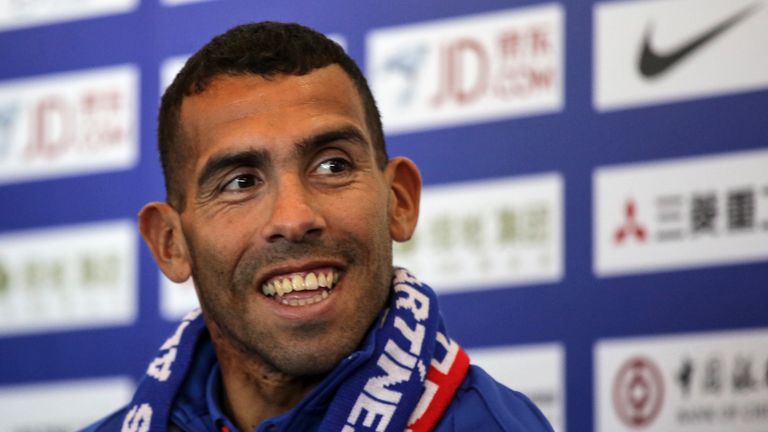 Carlos Tevez was supposed to be a superstar in the Chinese Super League, but more than halfway through his debut season with Shanghai Shenhua he has failed to shine. James Walker-Roberts looks at what has gone wrong and what the future might hold...
The fanfare was huge for Tevez's arrival in China in January, as well it might have been for a player signed on a contract worth a reported £650,000 a week.
Shanghai Shenhua called their new signing "the most outstanding striker in Argentina's history", and so many fans crammed into the airport that Tevez could barely make his way through the terminal, even with a police escort.
Having said just a month earlier that he "could not imagine" leaving his boyhood club Boca Juniors, now Tevez was declaring himself at a "new home" in Shanghai.
Yet things have not gone according to plan for Tevez, with the situation deteriorating to such an extent that he has only been allowed to return to Argentina this month after agreeing in writing to return to Shanghai.
But should we be surprised?
For all the goals he scored, and trophies he won, at Manchester United, Manchester City and Juventus, Tevez has also had off-field issues and sometimes struggled to settle.
At City, he angered Roberto Mancini so much by refusing to warm up as a substitute during a Champions League clash with Bayern Munich that he was told to "go back to Argentina". The order was taken literally and Tevez did not pull on a Manchester City shirt for another five months. The striker also later said about Mancini that they almost "exchanged punches" after a home game against Newcastle.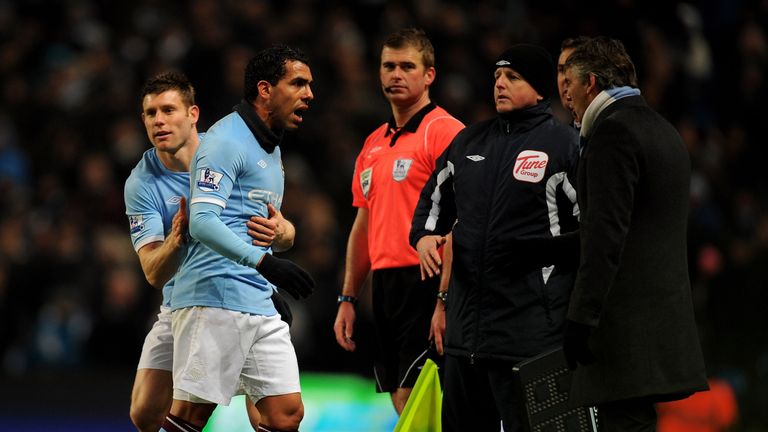 Tevez had previously submitted a written transfer request due to being homesick at City in December 2010, a year and a half after joining in a high-profile move from Manchester United, where he scored 34 goals in 99 league and cup starts.
There were also rumours of a fall-out with fellow Argentina star Lionel Messi - although Tevez said they "laughed together about everything that has been said" - while Sergio Aguero acknowledged that his club and international team-mate "sometimes has a short fuse".
Despite the off-the-field issues, Tevez was only 32 when Shanghai paid a reported £71.6m to sign him from Boca Juniors in late 2016, and he was expected to play a starring role in the Chinese Super League. But, for a player who has been homesick in the past, integrating into the Chinese way of life was never likely to be smooth sailing.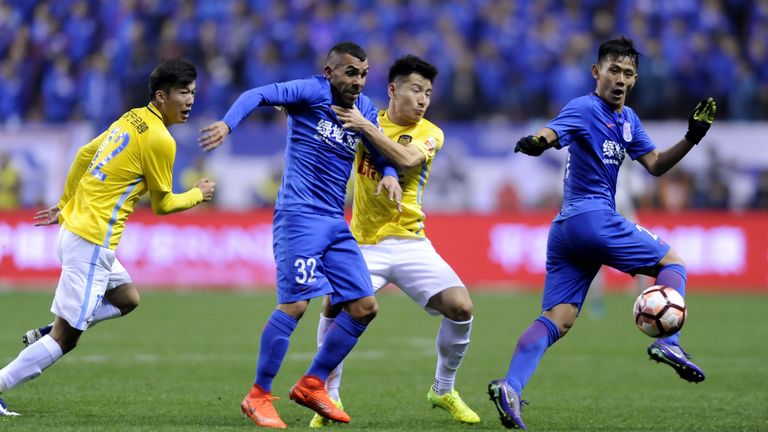 Shanghai manager Gus Poyet revealed that Tevez did "not eat almost anything" at the beginning of his time in China, and South American team-mates Fredy Guarin and Giovanni Moreno had to help out by making him an asado (grilled meat).
"We had a barbecue with Guarin and Moreno and we had to remove the Chinese food," said Poyet. "And for the language, you need an interpreter all the time and the interpreter cannot always transmit the message."
On the pitch, things didn't start well either. Tevez's debut was a humiliating 2-0 defeat to Brisbane Roar in an AFC Champions League qualifier. It was the first time a Chinese Super League side had lost an AFC Champions League play-off in 14 years, and Tevez was largely anonymous as Shanghai managed just one shot on target.
There was even a 'mocking' tweet from Brisbane Roar - who would finish bottom of their Champions League group with a goal difference of minus 12 - to rub salt into the wounds.
Things hardly improved in the Chinese Super League either. Tevez has scored just twice - one of which came on his league debut - and has missed half of this season's games with injury. In a game against Tianjin Teda, he was criticised by fans after a video clip emerged of him standing still around halfway as the opposition passed the ball around.
While it might be harsh to judge Tevez on that clip alone, certainly in China he has not looked the same energetic, all-action and passionate player that Premier League fans will remember.
And there have been other problems. He angered Shanghai supporters in April when he visited Disneyland on the same day he missed a match due to injury. "That was my day off. I'm a normal person and it is normal to have a good time with my family during my time off," was Tevez's reaction.
He also confessed that he "hasn't completely gotten used to" the Chinese Super League yet and needs to "adapt with the team and the CSL environment".
Tevez's absence has not been the only issue for Shanghai. At the current break in the season, which lasts until September 8, they are 11th in the 16-team Chinese Super League. Midfielder Cao Yunding was involved in a clash with fans after a 3-0 home defeat to Guizhou Zhicheng, while Poyet has faced calls to quit.
"Everything has its limit," said Poyet after the defeat to Guizhou. "I've tried my best, but there are some things that I shouldn't take the blame for, so I don't want to say anymore, because if I do so, I will have trouble."
The comments were later said by the Shanghai president to have been taken out of context, but there is no doubt that Poyet faces a tricky few months ahead.
As for Tevez, what does the future hold?
His agent Adrian Ruocco recently told Radio Continental that there is "zero" chance he will return to Boca while he is back in Argentina.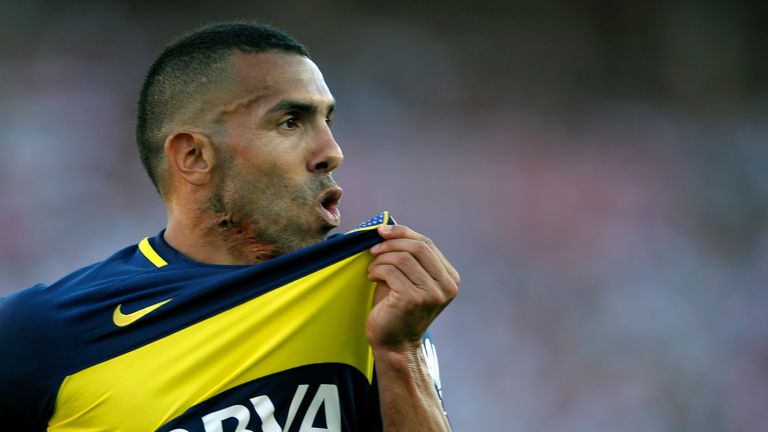 "Carlos is going to come to Argentina for a week because there is a 14-day break in the Chinese League," he added. "There is speculation that he is coming to stay, but that is not the case as he is just coming to see his family, his people."
Tevez himself seems to have mixed feelings about his future. "I don't regret anything, not even leaving Boca because it was the time to do so," he told Radio Mitre. "I wasn't enjoying myself that much and I wanted to think about my family. I'm content and happy here [in China]. I get to enjoy my family and live peacefully."
But he added: "I miss Boca. I miss the fans, wearing the jersey every Sunday and stepping on to La Bombonera. I would return for the Boca fans, for the people. These are things that I think of when considering whether or not to return."
Tevez signed a two-year deal when he joined Shanghai, but Boca seems to be calling again. It is the club where he made his debut aged 16 and the club where, when he returned from a trophy-laden stint at Juventus in 2015, he said he wanted to "write history".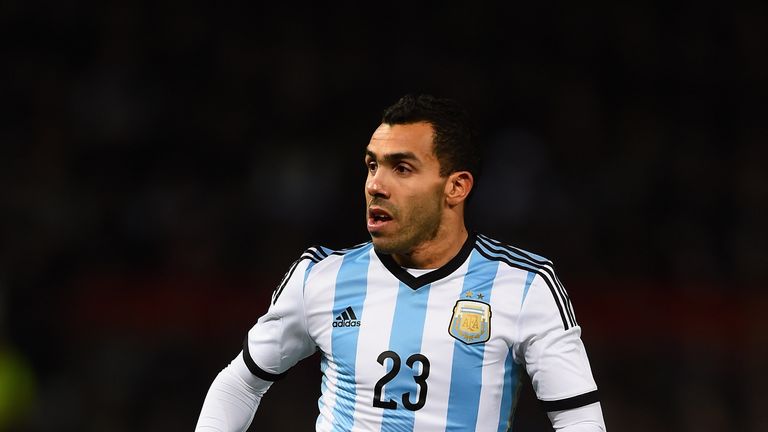 He achieved that in the same year by leading Boca to the league title and Copa Argentina, but with qualification for the Copa Libertadores secured for next season, there is now an opportunity to write more history and try to win the club's first continental title since 2007.
And what about the potential of playing in the 2018 World Cup? Tevez himself has acknowledged that in China he would have "no chance" of making the squad. "You are a step down, I have to be realistic," he added.
If Tevez is to step back up, the signs suggest his Shanghai adventure might have to come to an end sooner rather than later...