England face two crucial UEFA Nations League matches after poor start
Last Updated: 11/10/18 1:59pm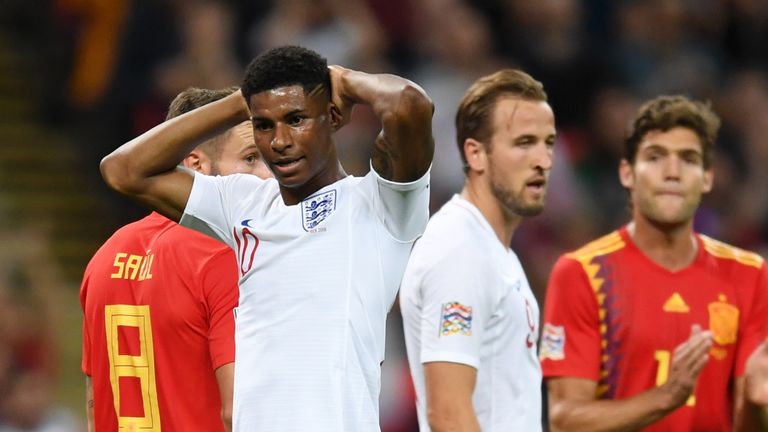 England face Croatia and Spain in the UEFA Nations League, both live on Sky Sports, with the threat of relegation looming - but what would a demotion mean? We take a look...
After such success in Russia, Gareth Southgate was brought back down to earth with a bump as England's first competitive match since the World Cup ended in defeat at home to Spain in the Nations League last month.
In such small groups, where the bottom side will be relegated to League B, England's upcoming double header with Croatia and Spain could start to have additional meaning - but what does it mean if England do lose both games and are forced to stare Nations League relegation in the face?
Is relegation avoidable?
Well, yes. There are three teams in England's group, where only the bottom team will drop down to League B for the start of the next Nations League in two years time.
Croatia suffered their worst-ever defeat as an independent nation against Spain in their Nations League opener, so are in a much worse position than England, but victory on Friday will change all that.
A third Nations League defeat in Seville next week would not relegate England, but it would leave them needing to beat Croatia in the last game, assuming Croatia lose to Spain again, to avoid relegation. Only the Group 4 winners will qualify for next summer's Nations League finals.
What does relegation mean?
In terms of qualification for the 2020 European Championships, the effects of Nations League relegation are not immediately obvious, but it could subtly make England's task all the more difficult.
In the new format, qualifiers for the next Euros will be crammed into 10 games played between March and November next year, with the top two qualifying for the 2020 tournament, as normal.
Where it could affect England is that relegation will damage their coefficient, which is how the seedings for the European Championship qualifiers will be decided.
This could therefore mean England are handed a rather difficult qualification group as a result, and find themselves with work to do during the next Nations League to repair the damage.
Qualification still possible through Nations League?
In the Euro 2020 Qualification groups, the top two of each group will qualify to the Europe-wide tournament, with the four remaining places decided by Nations League play-offs.
The format will be one-off play-off semi-finals, followed by a final, per league, with the winning team from each of leagues A, B, C and D taking the last four spots at the Euros.
If a country has already qualified by the conventional route, their place will go to the next highest-ranked team from their respective Nations League tier.
Complicated, right? England would therefore be in League B, but that could mean tricky play-offs against Sweden, Turkey or Wales.
Qualifying the usual way would therefore be preferable, but with the potential detrimental effect on the coefficient relegation could bring, that could well be a challenge, too. All to play for, then.