Robin van Persie's 'goal of the century' remembered as he returns to Manchester United
By Peter Smith
Last Updated: 20/10/16 10:10am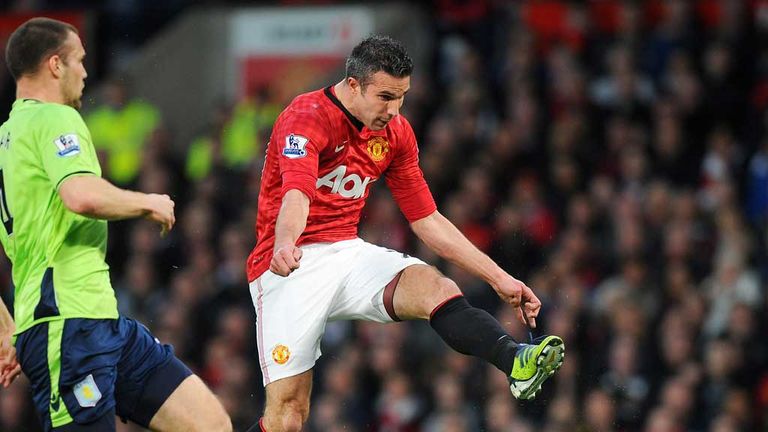 Manchester United take on Robin van Persie's Fenerbahce at Old Trafford this week - the scene of the Dutchman's best-ever strike. Peter Smith looks back at that defining moment from 2013...
Sir Alex Ferguson described it as the "goal of the century". In a recent vote, players who have scored 100 times in the Premier League named it the best strike in the past 25 years. For Van Persie, it remains his personal favourite.
The goal in question: Van Persie's stunning second against Aston Villa in 2013, which sealed a 20th Premier League title for United.
The striker returns to Old Trafford - the scene of that goal - on Thursday, with current club Fenerbahce in the Europa League.
Much has changed for both United and the 33-year-old since his crashing volley struck the net on April 22, 2013. The talk of sustained success for both club and player in the aftermath didn't materialise.
But, after a turbulent three years, both parties can reflect on a magical moment this week.
"What I like about that goal is the whole story that was behind it," Van Persie said recently. And it's quite a story.
After missing out on the Premier League title on goal difference to rivals Manchester City the previous year, United boss Ferguson was searching for a solution. "Of all the setbacks I endured, nothing compared to losing the League to City," he later wrote in his autobiography.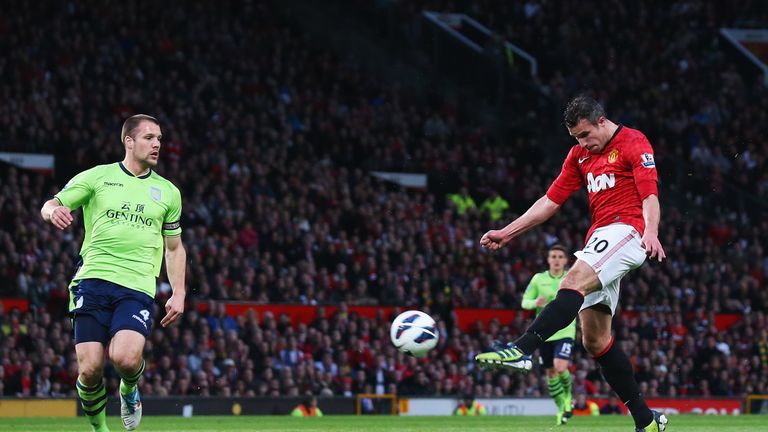 That solution was the league's top goalscorer, Van Persie. With his contract at Arsenal running down, Ferguson and United convinced Arsene Wenger to part ways with his captain for £24m. It was a move which Sky Sports pundit Jamie Redknapp later described as "giving United the edge".
In eight injury-hit years at Arsenal, the only silverware Van Persie got his hands on was the FA Cup, in 2005, and the Community Shield 12 months earlier. But in that 2012/13 season he set about firing United to the Premier League title.
By mid-February he'd scored 23 times across all competitions and propelled United to the summit, 12 points clear of second-placed City.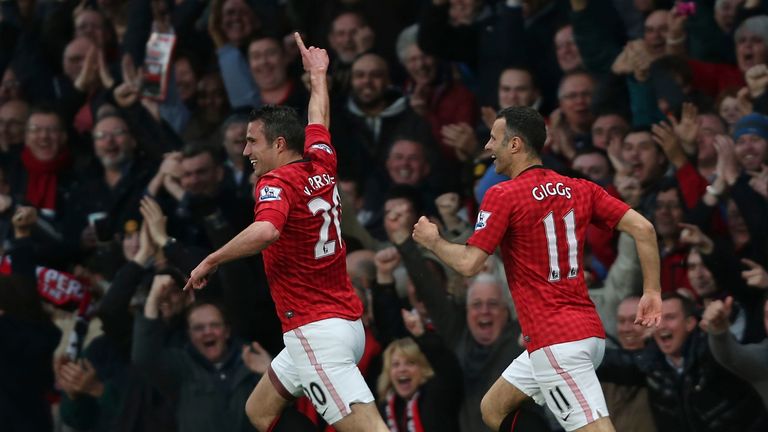 The striker then hit a dry patch, not scoring for two months, but United kept on winning and by the time Van Persie was back in his stride, with two in two against Stoke and West Ham, the club was on the brink of a 20th English title.
Struggling Aston Villa arrived at Old Trafford needing an unlikely result to boost their own survival hopes at the other end of the table. They were greeted by an excited home support, desperately eager for a victory which would seal the return of the Premier League trophy to the red half of Manchester.
Those fans had to wait just 83 seconds for Van Persie to open the scoring; the 30-year-old tucked in a Ryan Giggs knockdown at the back post. The crowd erupted - but the best was yet to come.
There were 13 minutes on the clock when Van Persie struck his unforgettable second.
Wayne Rooney, playing in a central midfield role, picked the ball up in his own half and launched a pin-point pass forwards to Van Persie. The striker met the ball on the full volley just outside the penalty box, and fired it across Brad Guzan and inside the goalkeeper's left-hand post.
"It was marvellous - the technique, with his head down, over the ball, and just perfect timing. It was a magnificent strike."
Sir Alex Ferguson
"It was the goal of the century for me," Ferguson said after the game. "It was marvellous - the technique, with his head down, over the ball and just perfect timing. It was a magnificent strike."
The manager also gave praise to Rooney for his 40-yard pass, which allowed Van Persie to lash home his volley without breaking his stride.
"Wayne had a gift for producing great moments in games," Ferguson later wrote in his autobiography. "In my final year, when he was left out a few times, and replaced in games, I felt he was struggling to get by people and had lost some of his old thrust. But he was capable of making extraordinary contributions. That pass to Van Persie in the win over Aston Villa that secured the title for us was marvellous."
Van Persie wasn't done there, though. He completed his hat-trick before half-time, coolly finishing off another United counter-attack from another Giggs assist. The Netherlands international then produced a second-half goal-line clearance to deny Villa's Andreas Weimann and keep the game at 3-0.
That's how it stayed until the final whistle, when United were free to celebrate a 20th league title - and the 13th and final one of the Sir Alex Ferguson era - with four games to spare.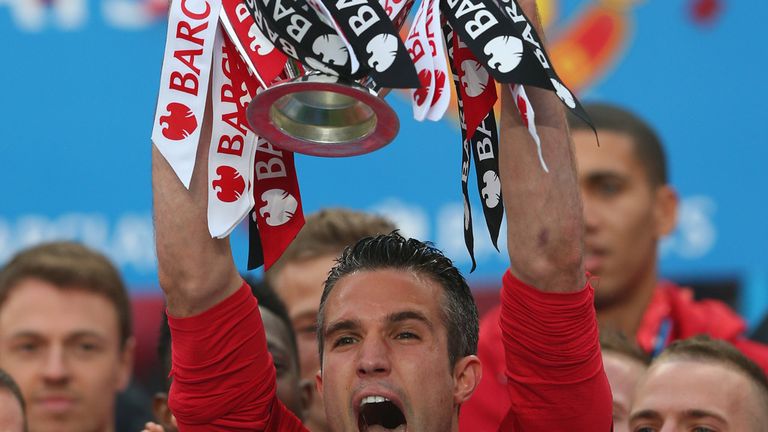 "I had to wait so long for my first title. It is a great feeling," Van Persie said after the game.
Asked about his strike by MUTV, he added: "Maybe if you look at the day, the occasion and the importance of the goal it was my best one. It was a great pass from Wayne for a start. He had to spot my run because I went in front of Ron Vlaar. It was straight into my path. The only thing I had to do was time it right and keep my body straight, level with the ball.
"You need to be a bit lucky with those goals because most of them go over or wide. That didn't, which was a big relief."
Van Persie's hat-trick put him ahead of Liverpool's Luis Suarez in the race for the golden boot and he went on to finish the campaign with a league-high 26 strikes. After that win over Aston Villa, Ferguson took satisfaction from his summer signing paying off.
If you look at the day, the occasion and the importance of the goal it was my best one.
Robin van Persie
"He has made as big an impact as any player I can imagine," said the manager. "He was sensational last year, but Arsene Wenger said he was better than I'd think after I'd done the deal and he was right. He has never disappointed us. He has been unbelievable. His early form was fantastic, he had a dry spell, as most strikers do, but he has come back from that and he was unbelievable tonight."
That goal was named the best goal of the Premier League era at the Legends of Football charity event earlier this month. But for United, Ferguson and Van Persie it was a milestone moment.
While the Scotsman talked up the ability of the young players in his squad and Van Persie spoke of "setting a standard" of success to follow, Ferguson's retirement that summer proved to be significantly damaging.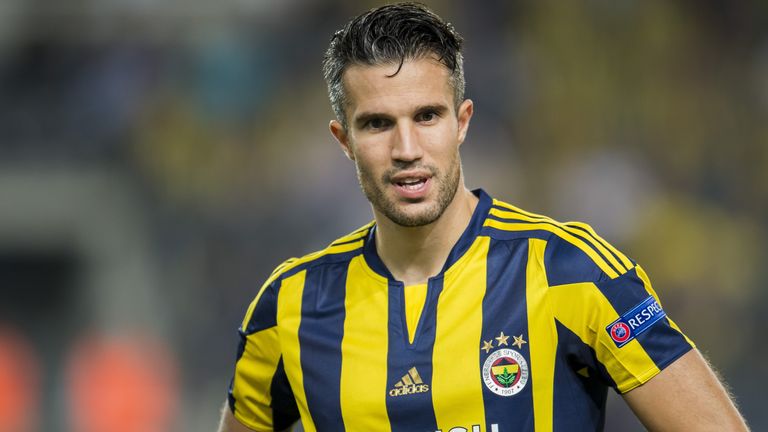 United haven't won a Premier League since and Van Persie - after failing to match his 2012/13 goal haul in the next two seasons combined - was sold to Turkish club Fenerbahce in 2015.
Van Persie endured a tough spell on the international stage in 2015, too, losing the Netherlands captaincy before scoring an own goal in a Euro 2016 qualifying defeat which confirmed they would not reach the France showpiece.
He responded with 16 goals in 31 appearances in his first season in Turkey, but has made just one start and four substitute appearances this term, with newspaper speculation linking him with another move on.
He will arrive at Old Trafford this week to face a team much-changed from the title-winning edition he was a part of, and United's supporters will see a player far from the ruthless "killer" Ferguson described in 2013.  
But the memory of that stunning strike against Villa - and Van Persie's impact at United - lives on.