Fabrice Muamba collapse has led to huge increase in heart tests among young
By Nadeem Badshah
Last Updated: 27/11/14 9:45am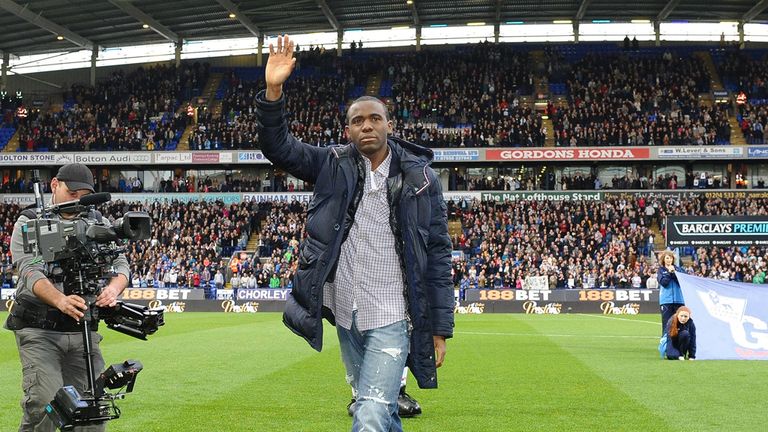 New figures reveal the number of young people having heart tests has nearly doubled since Fabrice Muamba collapsed from a cardiac arrest during an FA Cup match in 2012.
Charity Cardiac Risk in the Young (CRY) has told Sky Sports almost 16,000 people were screened in 2013/14 - compared with only 8,339 in 2011/12.
CRY said the huge rise shows there is now more awareness of undiagnosed heart problems since Muamba was given life-saving treatment while playing for Bolton Wanderers against Tottenham Hotspur at White Hart Lane.
Muamba retired from the game aged just 26 after recovering from the cardiac arrest where his heart stopped beating for 78 minutes.
Dr Steven Cox, CRY's Director of Screening, told Sky Sports: "After Fabrice Muamba's collapse in March 2012 we had  a year's worth of screening interest in the following month.
"His collapse resulted in a massive increase in the awareness of cardiac conditions in young people.
"In the two years following his collapse there were huge increases in the number of people being tested by CRY, to the point now where we are testing over double the number of people compared to before his collapse.
"Whilst better access to defibrillators is essential as well as wider training of CPR, so often the only chance of preventing a cardiac arrest is through knowing you have the condition."
CRY's programme across the country tested over 15,000 youngsters in the last year, a four-fold increase compared with the 3,500 screened in 2006/07.
The charity has warned that every week in the UK, 12 people aged 35 and under, die from undiagnosed cardiac conditions and 80 per cent of young sudden cardiac deaths will occur with no prior symptoms.
Symptoms include chest pain, passing out, palpitations, breathlessness and dizziness.
Dr Cox added the only way to identify people who are at risk is through cardiac testing.
"One in every 300 of the young people that CRY tests will be identified with a potentially life threatening condition.
"One in 100 will have a condition that is less serious but could cause problems in later life.
"Although screening will not identify all young people at risk as we saw with Fabrice, in Italy, where screening is mandatory for all young people engaged in organised sport, they have reduced the incidence of young sudden cardiac death by 89 per cent."
Anyone who is between the age of 14 and 35 and would like to be tested, should visit www.testmyheart.org.