Ashley Barnes should have been sent off for his foul on Chelsea midfielder Nemanja Matic, believes former Premier League referee Dermot Gallagher.
Speaking to Sky Sports News HQ, Gallagher gave his opinion on the controversial incidents from an exciting weekend of Premier League action - including a number of decisions from Chelsea's 1-1 draw with Burnley.
Ashley Barnes on Nemanja Matic
WHAT HAPPENED: Burnley striker Barnes appeared to catch Matic just below the knee with a challenge during Saturday's 1-1 draw at Stamford Bridge. The Chelsea midfielder was then sent off for his reaction as he pushed his opponent to the floor.
DERMOT'S VIEW: "On the replay, quite clearly, it was a red card. I think the referee saw it but I don't think he recognised the severity of it. I was watching the game live and the commentator didn't even recognise the severity of it. If you look at the reaction of the players, it's only Matic that realises the seriousness of the tackle. He reacts, but the other players don't. When you look at it without doubt it's a very bad tackle, it's a red card."
Matic's reaction that saw him sent off
DERMOT'S VIEW: "Everybody in the country will be saying how unfortunate he (Matic) is. But everybody knows you can't react like that. He's reacted badly and he's reacted violently towards his opponent, so the referee has sent him off. It is a red card for violent conduct."
Barnes foul on Branislav Ivanovic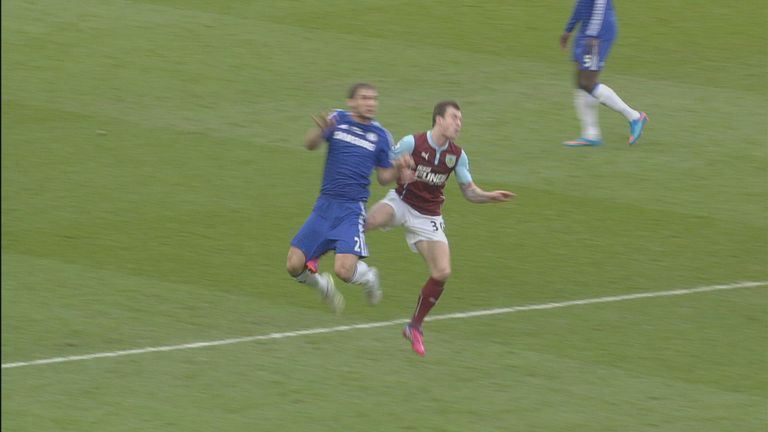 WHAT HAPPENED: Burnley striker Barnes appeared to catch Chelsea defender Ivanovic in an aerial challenge. Ivanovic rolled over twice before getting up in anger after realising that the referee was taking no action against him.
DERMOT'S VIEW: "I thought it warranted a yellow card. It was a reckless challenge. I didn't think it was dangerous or seriously endangering the safety of an opponent. Therefore a yellow card was sufficient on this occasion."
Michael Kightly handball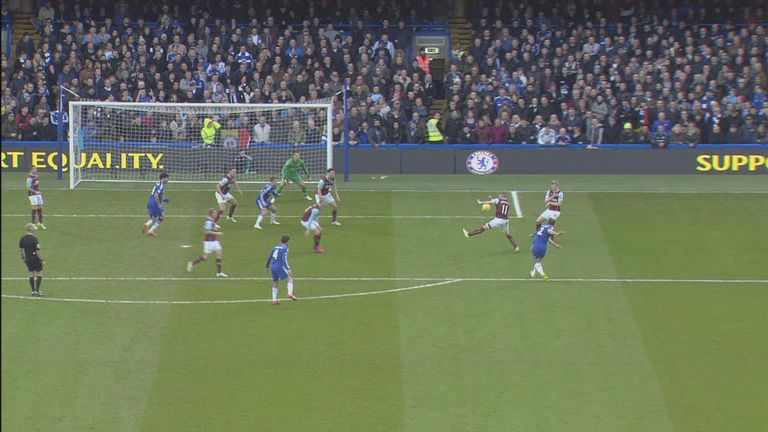 WHAT HAPPENED: Ivanovic shoots from the edge of the area, but the ball hits Kightly's outstretched arm after he turned his back to the Chelsea defender.
DERMOT'S VIEW: "I'm on the side of the referee here. Handball has got to be deliberate. Handball has become such an emotive subject, but I think on this occasion the balls hit at speed and it's travelled a very short distance, Kightly's turned away, for me I would say that there's enough doubt not to give a penalty."
Diego Costa penalty appeal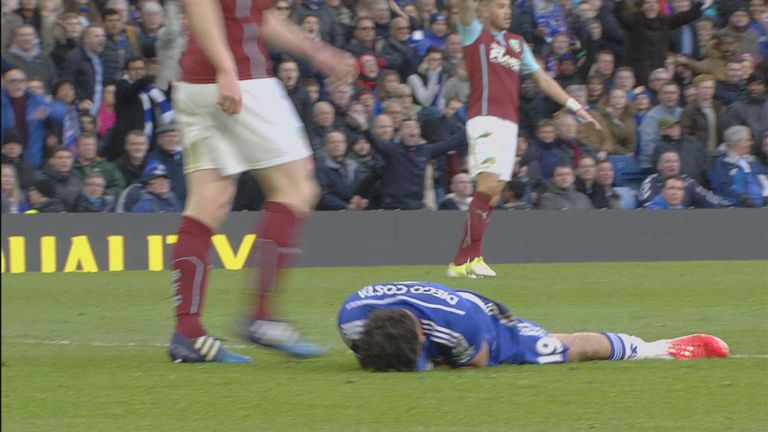 WHAT HAPPENED: Costa tumbles to the ground after Burnley captain Jason Shackell brings him down clumsily from behind. Again the referee Martin Atkinson turns down the appeals.
DERMOT'S VIEW: "For me it's a penalty. If you make a challenge like that and you knock the player over you've got to get the ball, and without doubt he didn't get the ball. He's taken a risk, and he's gotten away with it."
Southampton penalty appeal: Emre Can on Filip Djuricic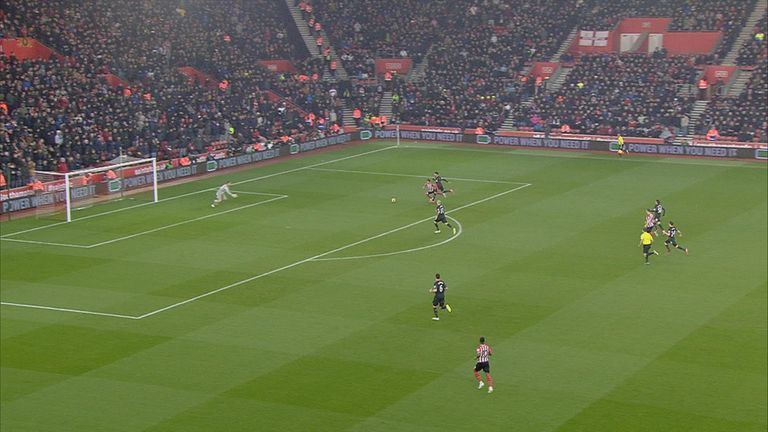 WHAT HAPPENED: Djuricic, making his first start for Southampton, burst through on goal after just 30 seconds, only for Liverpool defender Can to bundle the forward to the ground.
DERMOT'S VIEW: "No, there was not enough contact to put him down, for me it's a coming together."
Southampton penalty appeal: Joe Allen on Djuricic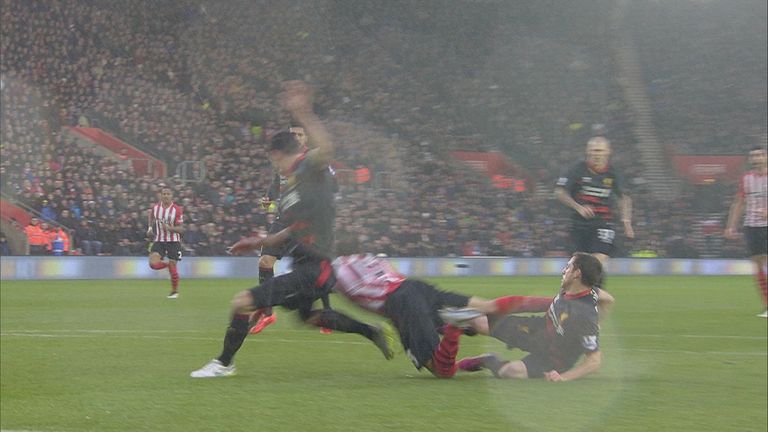 WHAT HAPPENED: The Southampton midfielder went through a few minutes after the Djuricic incident, this time being brought down by Liverpool midfielder Joe Allen. But once again the Saints' penalty appeals were waved away. The Reds went on to win 2-0.
DERMOT'S VIEW: "Yes, I think that was a penalty. On that occasion he (Allen) gets the man and not the ball. It was not a coming together and it's a penalty."
Liverpool penalty appeal: Jose Fonte on Raheem Sterling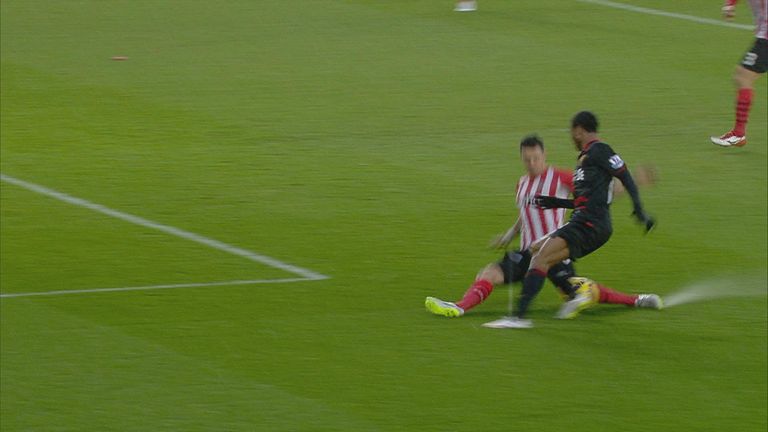 WHAT HAPPENED: Liverpool forward Raheem Sterling appeared to be tripped in the box by Southampton captain Jose Fonte, but penalty appeals were turned down by referee Kevin Friend.
DERMOT'S VIEW: "100% no, he [Fonte] definitely gets the ball. He slides in and his momentum takes him through because of the conditions. But, without doubt, he gets the ball first."