Nicklas Bendtner's Wolfsburg issues - Will 'the menace' ever learn?
By Jack Atchinson and Sam Drury
Last Updated: 06/04/16 9:31pm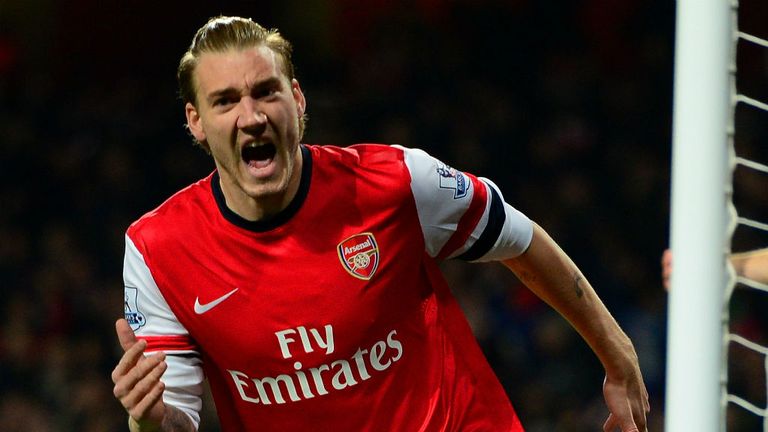 It is said that a leopard cannot change its spots. It appears Nicklas Bendtner follows this mantra.
The Danish international, who has suffered the ignominy of not starting a competitive game for his club Wolfsburg since February 6, has now been banned from the club's training ground. A series of off-the-field incidents and accusations of disrupting the changing room harmony has led to Wolfsburg Sporting Director Klaus Allofs to label Bendtner a 'menace'.
"What's happened with Nicklas is something different. There were concrete incidents, which I will not reveal here and now. We saw him as menace to the club. We had to take action," he told NDR.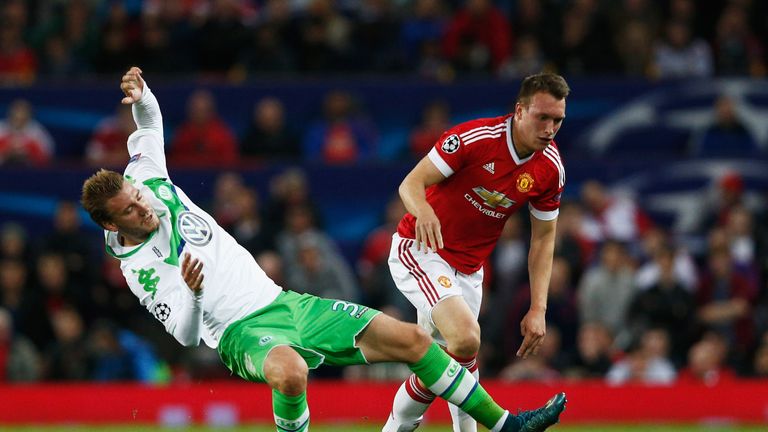 It's a career that looked so promising when, as an 18-year-old, he helped guide Birmingham City to promotion to the Premier League while on-loan from Arsenal. That was 10 years ago.
He returned to the Emirates surrounded by hype and hope from fans but over the next four years he never lived up to expecatation and the fans grew restless with his below average performances.
There was the occasional highlight, such as scoring the first ever European hat-trick at the Emirates Stadium in a 5-0 demolition of Porto.
These were all too few though and Arsenal fans are more likely to remember his error when through on goal against Barcelona in 2011. Or perhaps they will remember his on-field spat with Emmanuel Adebayor during a League Cup semi-final against Tottenham in 2008.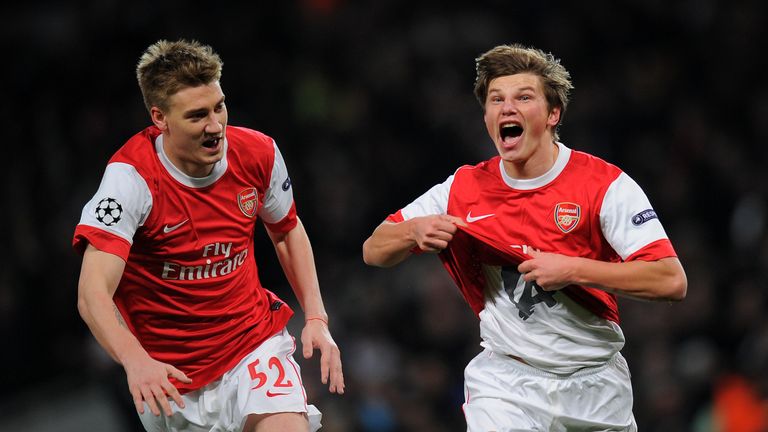 There were also a number of misdemeanours during his time in North London. There were disagreements with his fellow players, including another incident with Adebayor involving the wearing of trainers in the dressing room.
However, Bendtner was never short of confidence. "If you ask me if I am one of the best strikers in the world, I say yes because I believe it," he said back in April 2010. 
This quote led to a chorus of derision from both home and away fans. Being confident in your ability is necessary as a striker but when it is not backed up by performances then it quickly becomes perceived as arrogance.
Six years on from that statement, the 28-year-old finds himself unable to get into a less-than-stellar Denmark squad that failed to qualify for Euro 2016, and now he cannot get into the Wolfsburg training camp.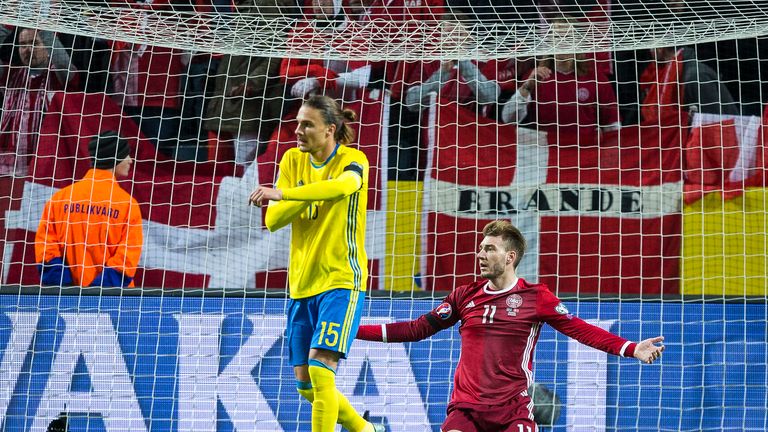 His record of 29 goals in 72 appearances at international level is creditable but how has he found himself behind a trio of attackers with a combined record of just six goals in 40 appearances?
Ultimately it comes down to goals this season - or the lack of them in Bendtner's case. It is now over a year since he scored last international goal and he has managed only four in 24 appearances for club and country in 2015/16.
That statistic is all the more damning when you consider that he scored three in his first four games of the campaign, managing just one since August 22. Even that goal is fast becoming a distant memory, coming as it did almost five months ago on October 31.
Indeed, Bendtner has made more headlines with his antics off the pitch than he has for his performances on it since joining Wolfsburg in the summer of 2014, and his relationship with manager Dieter Hecking has been rocky to say the least.
The Wolfsburg boss criticised Bendtner during pre-season and insisted that the Dane would not be considered for the first team while he continued to "clearly lag behind" his team-mates.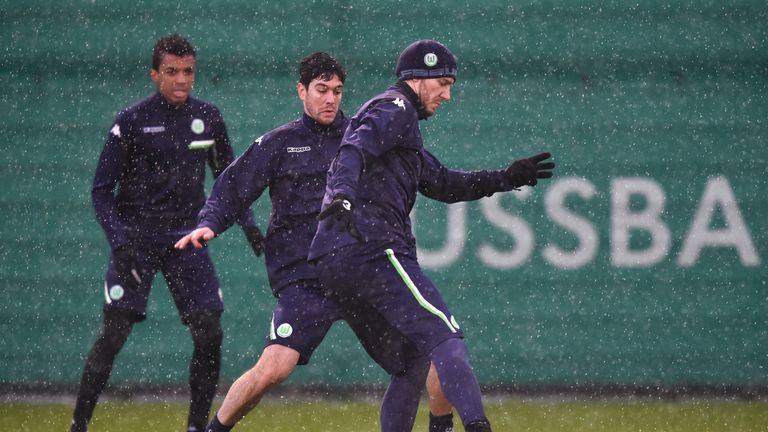 "I hope he realises that this does him good," Hecking told Sport1.de. "He can really do with this to get better."
However, by the time Wolfsburg travelled to take on Manchester United in the Champions League in September, frosty relations seem to have thawed.
"He has reacted very well. I have seen that in training," Hecking said. "He did have problems before but in his time at Wolfsburg he has come on a lot.
"Certainly in the last four to six weeks I have seen more development from him. He is on the right track. That is clear."
Bendtner soon derailed and since his manager's remarks he has started only three games for Wolfsburg in six months. His lack of playing time was such that it was reported that he said his farewells to his team-mates and was on his way out of the club in January.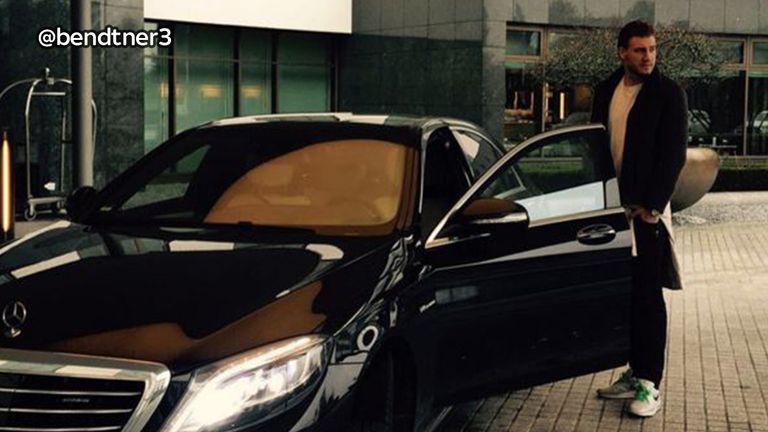 Less than a month later and Bendtner found himself in hot water having failed to respect his contract, after posting a picture of himself getting into a Mercedes - rivals to the club's main backer Volkswagen and earning himself a hefty fine.
"We have our rules, one of those being that you must pay attention to how you are photographed in public," said Allofs. "The rules are not new. It's misconduct and it's careless, which at the end of the day will cost (Bendtner) money."
The Guardian reported that Wolfsburg are looking to terminate Bendtner's contract and the training ground ban must be one step closer to making this happen.
"We have attempted to hold talks with his advisers and have discussed a solution. I think that there will be a decision soon," Allofs told Bild.
"We have decided that he does not have to come in for now. The fact that he has been training on his own recently was not something we wanted to carry on."
Simply put, things aren't going to plan for Bendtner. Not that he seems too concerned, his confidence levels certainly show no signs of diminishing.
He recently posted a picture of himself and partner Julie Zangenberg on Instagram alongside the caption: "We really don't care what people think. We hot and young, and full of fun."
For now though, both Wolfsburg and Denmark seem happy to do without Bendtner and his fun. What the future holds for the Copenhagen-born forward is unclear.
However, one thing seems certain and that is Bendtner will not be at the Volkswagen Arena next season.
Wherever he ends up, it seems safe to say that we have not heard the last of Nicklas Bendtner.