The cancellation of Monday's Manchester derby in Beijing was a blow to Pep Guardiola's pre-season plans, but the Manchester City boss has been praised for the initial impact he has had on his squad by pundits, players and observers alike.
But how has Guardiola's pre-season training differed from what Manuel Pellegrini and his coaching staff did last summer?
The Spaniard is renowned for doing things his own way, so, with the help of Sky Sports News reporter James Cooper, former Man City player and club ambassador Mike Summerbee, and two members of the current first-team, we take a look at Guardiola's approach to pre-season…
Type of training
"Guardiola wants his Manchester City team to be leaner and meaner so they can keep up with the demands of the pressing football he wants them to play," says Cooper, who is keeping a close eye on the club's pre-season preparations, which began on July 6. "A lot of the players have lost significant amounts of weight - including those who looked like they didn't need to lose any!"
However, while some managers favour sending their players on long, hard running drills to get them back into shape, Guardiola takes a different approach. Author Marti Perarnau, in Pep Confidential, his book about Guardiola's first season in charge of Bayern Munich, wrote about players returning from the off season to a "mountain of footballs" and, from day one, City's squad have been doing work with the ball.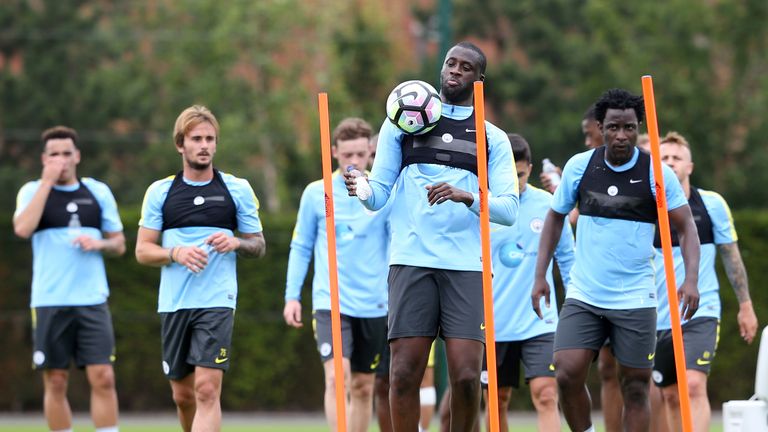 But that does not mean the players have been getting off lightly. While Guardiola has given his players time off, there have been plenty of double sessions too, and midfielder Fabian Delph has spoken of how intense the training days have been.
"The intensity has gone through the roof," he said. "It's so intense - high pressing, very energetic. It's been tough but it's been very, very good."
Summerbee, who won the league title, FA Cup and League Cup with City in consecutive years from 1967/68, has been an impressed onlooker and reckons Guardiola's methods will pay off when the season begins.
"I've watched training three or four times and it is very high tempo," he said. "I've been very, very impressed. They're pressing all the time. It's very intensive, very aggressive, something the game of football in England needs.
"There's only one way you can go when you train as hard as that and work as hard as that and that's to be successful."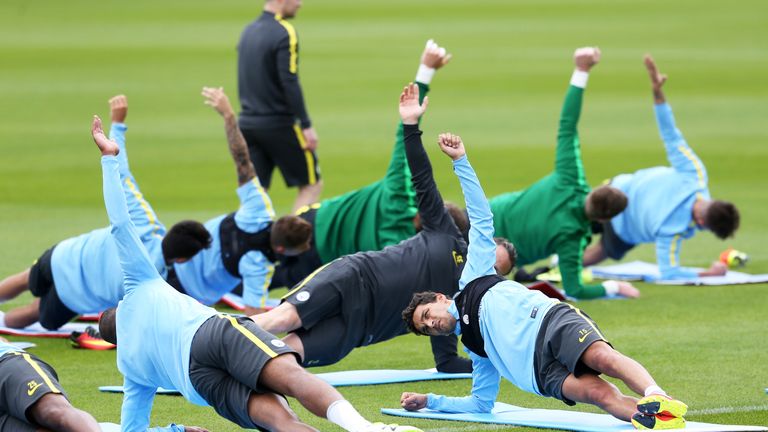 Another element Guardiola has added to City's training regime is increased stretching time. Manchester City players picked up a combined total of 81 injuries in 2015/16, according to physioroom.com, and it is an area Guardiola is keen to address.  
"He's anxious to cut the number of injuries that City suffered last season," explains Cooper. "The players have been doing a lot more stretching before and after sessions than they previously did."
Tactics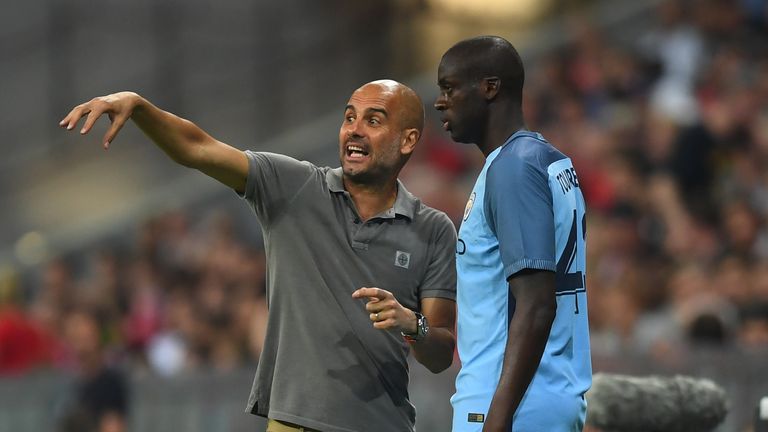 Manchester City fans got a hint of how their team may shape up this season in last week's friendly with Bayern Munich.
City were sent out in a 4-2-3-1 formation, set about building attacks slowly from the back before accelerating their play in the final third and aimed to win the ball back quickly high up the field when Bayern were in possession.
"I am so happy, we did many things we spoke about well and in the right moment," Guardiola said after the 1-0 defeat. "In the second half we played with a little more intensity and I'm really satisfied with what we did because we've only been together for two weeks."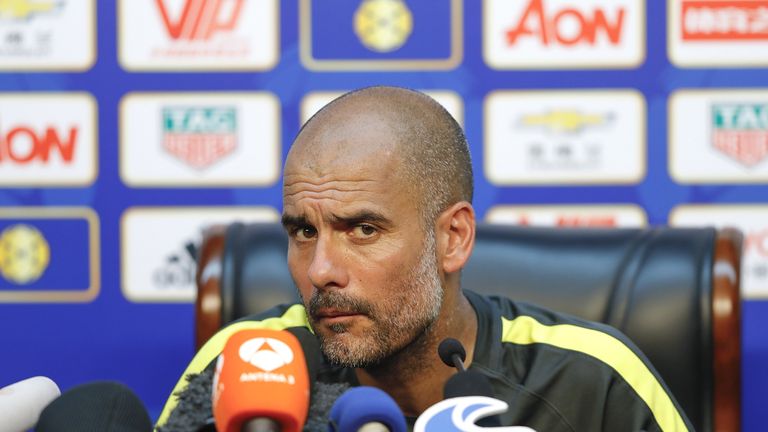 I am so happy, we did many things we spoke about well and in the right moment.
The approach appears to have been received warmly by the players. "Everybody seems to be pressing their claims and the new systems of play have been very interesting," said Delph.
Defender Gael Clichy, meanwhile, has spoken of Guardiola's eagerness to protect his side against the threat of counter-attacks.
"What he wants is for his team to play offensive football and for that he wants the full-backs to support - without getting beaten when we lose the ball," said the Frenchman. "That's something new as before we were quite open and if you look at our games from last year we were conceding a lot of goals on the counter-attack because we were an offensive team and open.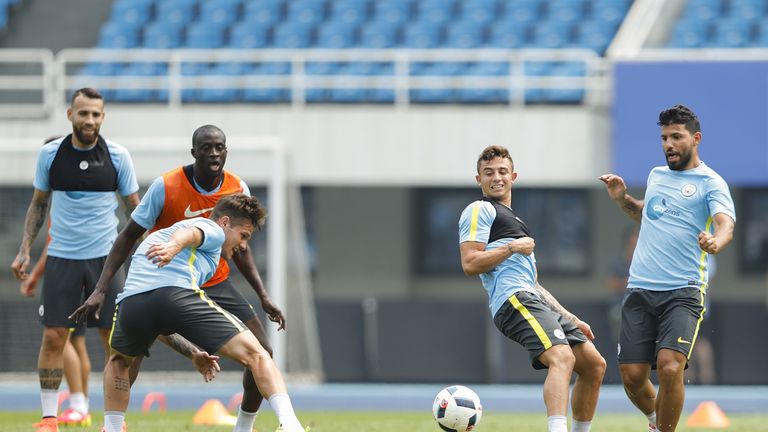 "I guess he's trying to make us as offensive as previous years but just as solid at the back. He doesn't want the onus to just be on the back four to defend but it's the responsibility of the whole team to get the ball back quickly when we lose it."
It's clear that, as well as the physical preparation for the upcoming season, Guardiola is eager to stamp his own style of play on his new squad.
Relationship with players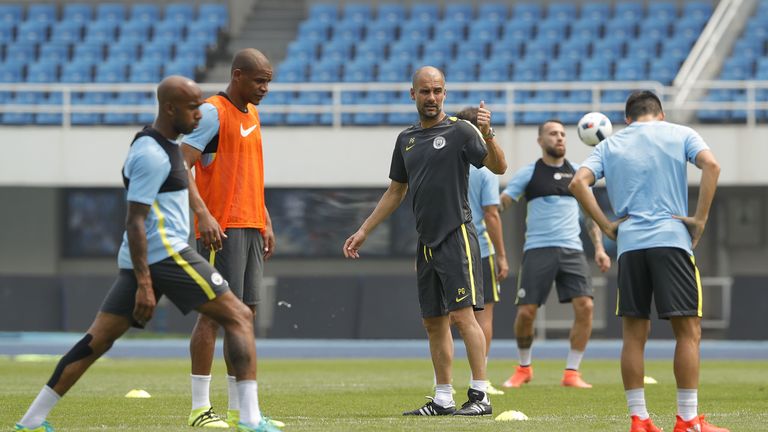 Given his success as a manager, Guardiola unsurprisingly commands respect from his playing staff but it appears the former Barcelona boss has also put his man management skills to use in Manchester.
"So far, he has been unbelievable with everyone," enthused Delph. "From day one, he knew everybody's name. He makes you feel good about yourself and makes you want to do well and push on. He seems like he's been wanting to come to the Premier League to showcase his skills for some time and I'm really excited to have him here now."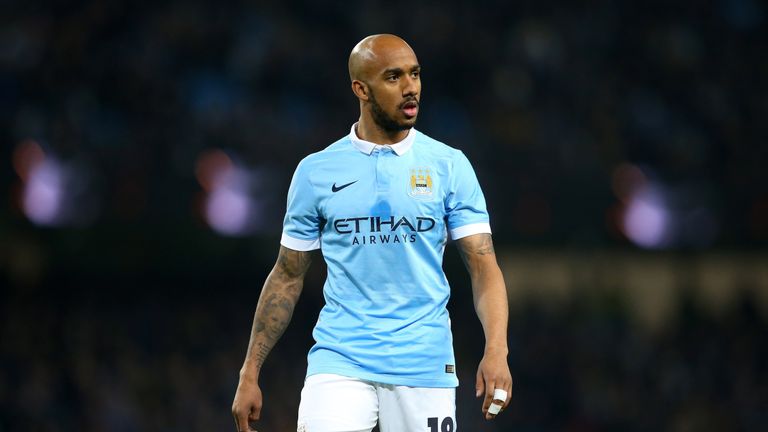 He makes you feel good about yourself and makes you want to do well and push on.
Guardiola's personal touch has also impressed Summerbee. "He does it the right way," said the former winger. "The way he is with the players, when someone does something good he always says 'well done', which is great. He's very personal with people."
The challenge for Guardiola will be maintaining that intensity, excitement and good feeling throughout his debut season in England.