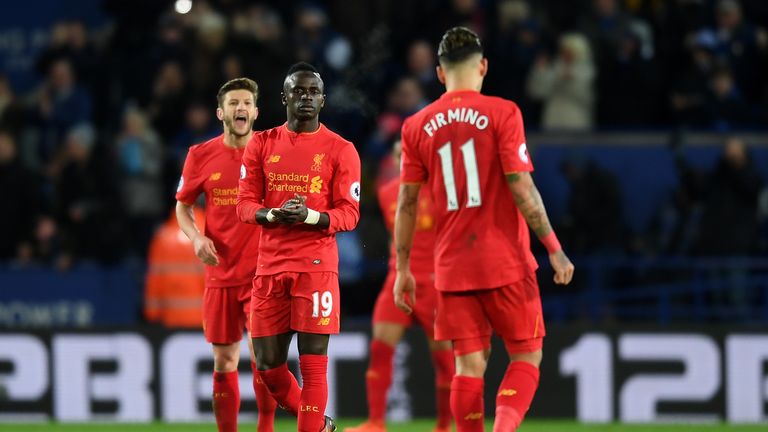 Liverpool are heading towards a sixth-placed Premier League finish, according to the Sky Sports Premier Predictor.
Jurgen Klopp's men were beaten 3-1 by Leicester on Monday Night Football, their third defeat in their last five Premier League games.
The dismal run of form has all but ended their Premier League title hopes, and the Sky Sports Premier Predictor is now tipping them for a disappointing sixth-placed finish, with only a 32 per cent chance of making the top four.
Manchester United are also expected to narrowly miss out on Champions League qualification, with Chelsea, Tottenham and Manchester City and Arsenal making up the Predictor's most likely top four.
At the other end of the table, Leicester's victory at the King Power Stadium has significantly boosted their survival prospects. The Foxes now sit two points clear of the drop zone, with only a 22 per cent chance of relegation.
Bottom side Sunderland have a 74 per cent chance of sliding into the Sky Bet Championship, according to the Predictor, while Crystal Palace still have a 66 per cent chance despite their 1-0 win over Middlesbrough.
The Sky Sports Premier Predictor also makes weekly predictions for upcoming Premier League matches, and Leicester, Manchester United and Tottenham are seemingly set for wins this weekend.
Scroll down to see the predicted Premier League table and this week's predicted results…
Sky Sports Premier Predictor - % chance of Premier League finishing position
| Team | Winner | Top 4 | Relegated | Avg simulated points |
| --- | --- | --- | --- | --- |
| Chelsea | 90% | >99% | <1% | 85 |
| Tottenham | 4% | 76% | <1% | 73 |
| Man City | 3% | 69% | <1% | 72 |
| Arsenal | 2% | 67% | <1% | 72 |
| Man Utd | 1% | 50% | <1% | 70 |
| Liverpool | <1% | 32% | <1% | 67 |
| Everton | <1% | 7% | <1% | 63 |
| WBA | <1% | <1% | <1% | 56 |
| West Ham | <1% | <1% | <1% | 49 |
| Burnley | <1% | <1% | <1% | 48 |
| Stoke | <1% | <1% | <1% | 48 |
| Southampton | <1% | <1% | 2% | 46 |
| Watford | <1% | <1% | 2% | 45 |
| Swansea | <1% | <1% | 16% | 40 |
| Leicester | <1% | <1% | 22% | 39 |
| Bournemouth | <1% | <1% | 23% | 39 |
| Middlesbrough | <1% | <1% | 40% | 37 |
| Hull | <1% | <1% | 57% | 35 |
| Palace | <1% | <1% | 66% | 34 |
| Sunderland | <1% | <1% | 74% | 33 |
Sky Sports Premier Predictor - weekend predictions
| Home team | Draw | Away team |
| --- | --- | --- |
| Leicester 55% | 26% | Hull 19% |
| Liverpool 36% | 30% | Arsenal 34% |
| Man Utd 84% | 6% | Bournemouth 10% |
| Stoke 45% | 25% | Middlesbrough 30% |
| Sunderland 20% | 22% | Man City 58% |
| Swansea 35% | 31% | Burnley 34% |
| Tottenham 64% | 22% | Everton 14% |
| Watford 36% | 31% | Southampton 33% |
| West Brom 60% | 24% | Crystal Palace 16% |
| West Ham 19% | 21% | Chelsea 60% |