"Be who you want to be, and accept someone for who they are." Ryan Atkin is used to making decisions that affect others on a football pitch - now he's helping to change the game for everyone.
Atkin is a 32-year-old professional referee who is working on the Panel List (Level 2b) this season, operating as fourth official in EFL and National League fixtures and taking charge of games himself in the National League North and South.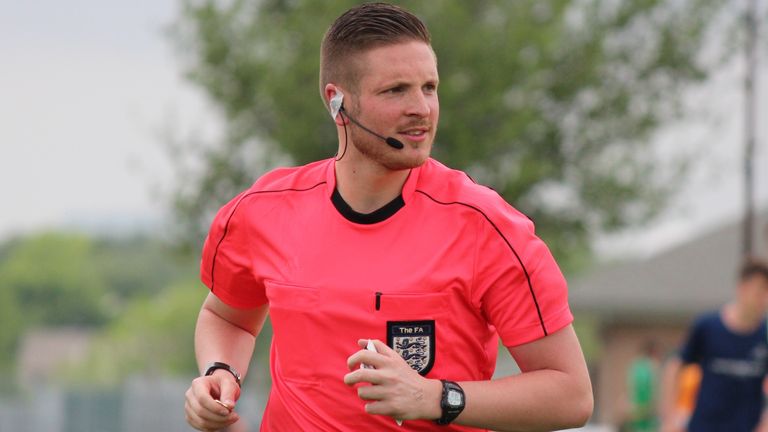 Encouraged by the positivity surrounding Stonewall's Rainbow Laces campaign, which is supported by the TeamPride coalition of organisations including Sky Sports, he describes his experiences as a referee to date, the benefits of now being open about his sexuality and his hopes for the future...
For a number of reasons, I feel it's the right time for me to say that I'm someone involved in professional football who happens to be gay. Clearly, this is a step into the unknown - in our UK pro game, it's widely known that there are currently no openly gay footballers, nor have there been any openly gay referees until now. I hope that my action, however small, will help give others in a similar situation the confidence to be themselves. In a few years' time, articles like this won't be necessary, but until that point, all of us in football have a duty to create an environment where everyone can feel comfortable. It's OK to be different and when we all truly believe that, we'll start to move on.
It's my belief that 'being yourself' without fear ultimately makes you happier, which in turn makes you a better person. Some of my colleagues already know about my sexuality, and they treat me equally and with respect. I'm confident that those who don't yet know will be just as accepting. Going forward, I don't want to dwell unnecessarily on the possibility of not being accepted by others, and I wouldn't want to find myself scrutinised without having had the opportunity to speak first. I've found officials within football to be very open-minded; it's something the game can be proud of. Also, it should come as no surprise that people who are happy in their own skin at work will perform better as a result; the same is true of professional sport. The best referees are the ones that bring their whole self to the match, officiating with their personality and ultimately improving their ability to get the decisions right.
I want to help demonstrate the impact that Stonewall's Rainbow Laces campaign is having. Lots of referees participated by wearing the laces on the weekend of action last November. There's a human side to officiating too and our involvement, alongside that of the players, can only be useful in raising awareness of what it means to be LGBT. Of course, being gay doesn't matter in the context of refereeing a match but if I'm speaking about equality and diversity, then I'm going to mention that I'm gay because it's relevant. Homophobia is still a problem, but things are improving all the time. You can change the game and culture when you change your mind - and those who do need education generally change their ways once they've been made aware that their behaviour is unacceptable in society. The Rainbow Laces campaign also sends a message of inclusion to millions of people watching football around the world. In the future, it'd be great to find ways to get supporters more involved too.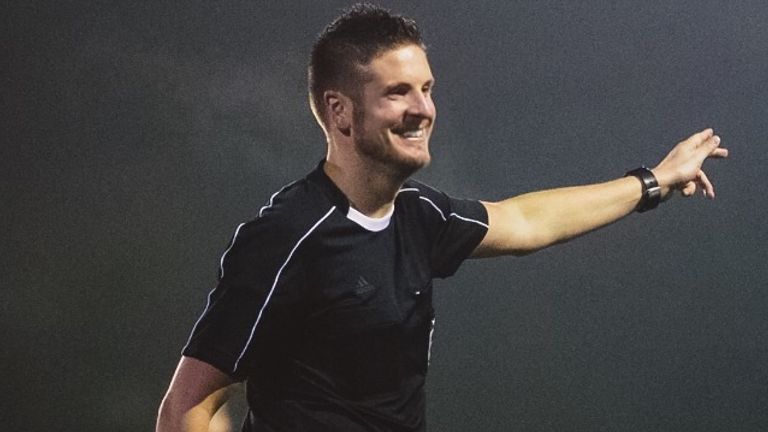 It makes sense for referees to speak up on equality - it's integral to our job.
The commitments on LGBT inclusion from the Football Association, the Premier League and the EFL have been crucial. FA chairman Greg Clarke and PL executive director Bill Bush have recently made positive comments which go some way towards tackling issues in the modern game. With upcoming international tournaments taking place in countries where being gay is a crime or where people are being persecuted for their sexuality, it's more important than ever that governing bodies, major organisations and brands continue to support and sponsor campaigns that promote equality for all.
There are often consequences when you can't be completely true to yourself. In the past, I would deliberately keep a distance between certain aspects of my life and lifestyle, particularly from my day job (I work in the rail sector) and my refereeing. I moved to London from my hometown of Plymouth in 2006 and looking back, I do have a few regrets. We lost my aunt to cancer later that year and I never got time to tell her about how my life was changing. I know she would have been proud, and would have loved me for being me. I didn't come out to my mum until 2014. She was visiting Brighton to see family and over dinner, I thought 'it's now or never'. I felt she was missing out on so much that I wanted to share - I was basically lying to her by omission and she deserved better. I took a large gulp of wine and told her - it didn't go as I imagined at first as she had a lot of questions, but she seemed fine with it. I then threw her in at the deep end as I was meeting friends in a gay bar on the seafront called 'Legends'. They had a drag queen on stage and she didn't hold back with my mum! I haven't been brave enough to take her out with me again...
People would probably still say the rail industry is male dominated and 'masculine' - but that doesn't mean it's not accepting. It's funny - of all the people who have asked me if I'm gay or who I've chosen to tell, the best-received comments have probably been from work colleagues. They've become some of my best friends who I keep in regular contact with and meet up for beers. They think it's great that I referee and when I was previously officiating in the EFL, they would come and watch and support me. A lot of my friends who are also gay have no interest in sport, especially football (I don't count going to the gym as sport, but they would probably argue that point!) So when I've achieved something in refereeing or I've had a bad game, they often don't understand the pressures or think to ask. Sometimes that can be hard, but I've recently dragged a couple of them to games which, to their surprise, they've enjoyed. Perhaps that's more because I'm being shouted at, but it's progress!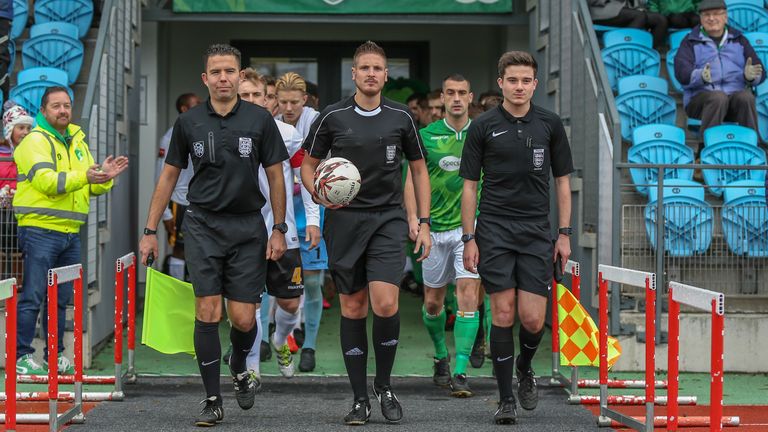 Role models are important to show that being gay and being interested in football are by no means mutually exclusive. In the world of refereeing, rugby union's Nigel Owens has shown that it really doesn't matter about your sexuality - it's about how well you perform as a ref that defines you. He's taken charge of the Rugby World Cup Final and there can be no higher responsibility in his sport. He will only have been appointed to that because of his skill and talent, and because he's respected. For any campaign on inclusion and diversity, role models are necessary - people form a connection with them and develop a better understanding. For me, my own role model in football has been Howard Webb - he's approachable, knowledgeable and very accepting of people. He's somebody who I've been very privileged to get to know.
It makes sense for referees to speak up on equality - it's integral to our job. For starters, regardless of gender, we're all treated the same - the fitness test for the professional game is the same whether you're male or female. As for sexuality, I've chosen to tell some of my refereeing colleagues that I'm gay, purely because I've become friends with them. When you're in good company, you share things about your own life. That happens even more as you move up the pyramid - it becomes tighter at the top and if you're good enough, you'll get to where you want to be. You can also have games where everything doesn't run as smoothly as you'd like. That's when your fellow referees act as a support network to pick you up, dust you off and help you for the next stage of that game, or your career.
Referees get a lot of stick for a number of reasons, but their sexual orientation can't be one of them. I myself have never been a victim of homophobic abuse; however, I'm aware others have been. Therefore, in the future, the biggest challenge that I might face as an openly gay referee would potentially be dealing with homophobia - that could come from players, spectators and yes, possibly some of my own refereeing colleagues. However, I believe it would be minimal - the FA and clubs are already showing strength in tackling any incidents where they arise. In the worst cases, if people know that what they're saying or doing is inappropriate and it's witnessed, it will be dealt with accordingly. There have been examples where people have made racist remarks in football clubs and been banned for life. A deliberately homophobic remark or action should also be punished in an appropriate fashion.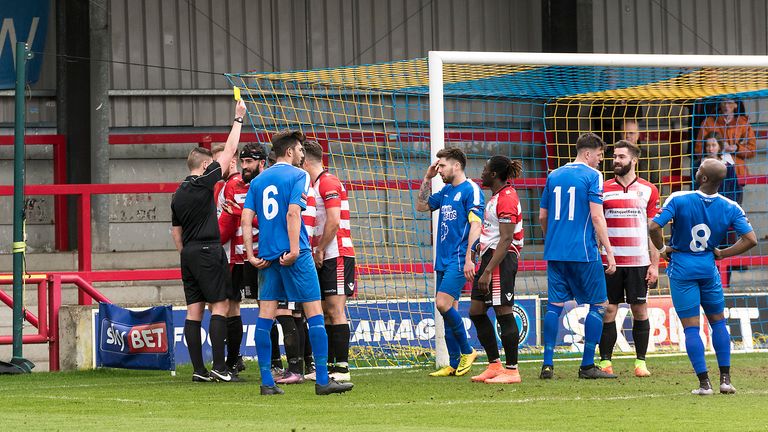 There's a need for more education and training on homophobia within football. Often, in the heat of the moment, words are used with little understanding or appreciation of their actual meaning. Throwaway remarks are made without people considering the impact. When that happens on the pitch, that's where the skill of refereeing comes from - you've got to determine the context of the way certain words are said. However, the Laws of the Game state that "using offensive, insulting or abusive language and/or gestures" warrants the issuing of a red card and in English football last summer, there was an additional clampdown on "intolerable behaviour" from players. Meanwhile, Professional Game Match Officials Limited (PGMOL) - the body that operates the referees on the professional leagues - run a course for their officials on equality and diversity which I have found to be very interactive and informative. The messages filter down too, especially to younger people. Sport changes with each generation.
We're very lucky to be involved in a sport that touches all corners of the globe, and world football's governing bodies are starting to use that power to change opinions and behaviours. 'Sexual orientation' is listed among prohibited discriminations in the FIFA Statutes, and also as a protected human rights status in UEFA documentation for potential host nations bidding for Euro 2024. We'll get there, but it's a slow walk at times, particularly with forthcoming World Cup tournaments handed to countries with anti-LGBT laws. That's frustrating but it's also a chance to make a real difference - and I feel we're continuing to move in the right direction.
Footballers who are gay but aren't open about it probably don't want it to define them. They'll feel they are there to play football; that's what they're good at. Also, we're all afraid of the unknown. We like to know what's going to happen, and we like to be in control. I think that's ingrained in us as human beings. But we all want to get to a place where everyone can be themselves, including gay players. If in an interview they're asked a question that touches upon their personal life, either they don't mention it or they have to think very carefully about the answers they're giving. I know I have done the same in conversations on many occasions. Hopefully, eventually, they can talk openly.
I'd urge everyone - irrespective of sexuality, race, religion, or ability - to get involved in sport, either playing or officiating; it'll add a richness to your life. Football brings people together, and the LGBT community is no different. I've been very fortunate to be welcomed into the London Titans family, which is something that has helped me immensely in my own personal development. LGBT-inclusive teams like the Titans, Stonewall FC, Bexley Invicta and many more, are really encouraging environments - you get to kick a ball around with people that have similar interests, and you won't be judged for who you are.
Earlier this summer, I was in Miami for the International Gay & Lesbian Football Association (IGLFA) Unity Cup - I was honoured to be invited to officiate there. I've been a member of the IGLFA for many years, and the organisation has been fundamental in promoting and fostering the growth of LGBTQ football worldwide. Officiating at the Dallas Cup for the last 11 years has been another career highlight. It's a prestigious international tournament with a focus on friendship and diversity, and I really feel like part of a big football family whenever I go there. Domestically, one of my proudest memories is being invited to be fourth official by Howard Webb for a West Ham v Roma friendly in 2007 when I was just 22, while the 2014 FA Youth Cup final and MK Dons' 4-0 League Cup win over Manchester United in the same year were also stand-outs for me. Most recently, I took charge of the Isthmian League Premier Division play-off final in May, which saw Bognor Regis Town beat Dulwich Hamlet to gain promotion to the National League South, where I'm refereeing this season.
In my refereeing career to date, I've had to work hard on my abilities in order to get to this level. Whatever the standard, you want to do it for yourself, but more importantly you want to do it for the game, the players and the spectators. There are days when I've made bad calls, and I look back on them so I can improve next time. Sky Sports' 'Support the Ref' Week opened a lot of people's eyes into how personally we take our own decisions. If I watch highlights on TV or a YouTube clip of a poor decision moment, it actually makes me feel rather sick. I can't change the mistakes that I've made - but I have definitely learned from them.
Ultimately, on matters of sexuality and gender identity in sport, we still need to smash stereotypes. You can't put people into pigeonholes. Try Googling 'gay referee'. The top results are YouTube videos of two Brazilian refs who are famous in their homeland for being flamboyant on the field. One of them was gay, the other isn't. They have their own style and it makes for funny clips, but dig deeper into the search results and you see the bigger picture - the achievements of Nigel Owens in reaching the pinnacle of his sport; the story of Jesus Tomillero, the Spanish referee who has become an LGBT advocate since being the target of homophobic abuse; and gay officials in American and Australian sport. There's also the story of the late Dutch referee John Blankenstein, who took charge of 88 international games between 1985 and 1995. They've all helped to break down stereotypes, just by being themselves openly. In my case, what happens next is unknown - only time will tell, with regards to the response and attitudes of others. But I truly believe it will be a positive outcome - for me, for the relevant governing bodies and for anyone who aspires to the maxim to 'Be Yourself'.
Click here to learn more about Stonewall's Rainbow Laces campaign, which is supported by Sky Sports as part of TeamPride. Assistant referee rainbow flag illustration courtesy of Steve Welsh at miniboro.com - follow @miniboro_dotcom on Twitter.