John Terry says Chelsea side of 2004 to 2006 would beat current Man City side
Last Updated: 19/12/17 6:58am
John Terry believes Jose Mourinho's early Chelsea side would beat the current Manchester City team.
City, 11 points clear at the top of the Premier League, have won the last 16 games in the top flight, and are unbeaten this season under Pep Guardiola.
But Terry's Chelsea side of 2004 to 2006 won both Premier League titles under Mourinho, and still hold the record for the highest points tally in a Premier League season (95 in 2004/05).
And speaking on Monday Night Football, the former Chelsea defender explained how the great Chelsea side of that era would operate, and why he believes they'd see off Guardiola's City.
Asked which side would compete with City, Terry said: "I would say 2004/05 or 2005/06, those first two sides when Mourinho arrived at the club," and replied when asked if Chelsea would beat them by insisting: "Yes, yes.
"We were never afraid to say: 'They'll have more possession than us,' but we were set, comfortable.
"The full-backs [William Gallas and Paulo Ferreira] would always go up the pitch, and [Claude] Makelele would always sit, which was great for us centre-backs.
"But we had great legs, great power, and we had the big man up front. Didier [Drogba] made such a difference. We had that ball into Didier, and he could hold it up, with the runners off him [Damien Duff and Arjen Robben] and [Frank] Lampard would be box-to-box game after game."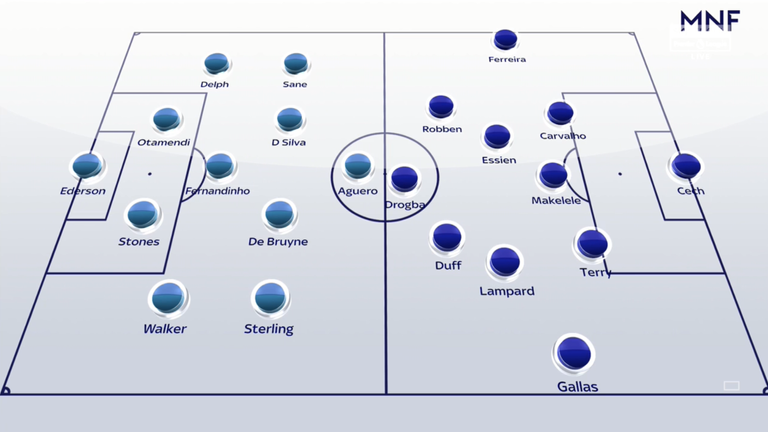 Though Terry was confident that Chelsea side would cause City problems, the 37-year-old Aston Villa defender admitted that they would find it difficult to "bully" sides.
Terry says that with stricter refereeing it is harder to ruffle opponents physically, but added that the pace and power of top flight players has improved.
"Probably not as much nowadays, you certainly wouldn't get away with as much, but also I'm not sure you'd get near some of them now, the pace of Sane, De Bruyne, Sterling as well, blimey.
"The way the game is going and has gone, everyone has so much pace and power.
"As a Chelsea side we felt we could go and bully most sides, but I think these can compete with the physical side of it, and they have something different going forward."