FIFA president Gianni Infantino says Iran has assured him female fans will "soon" be allowed into stadiums.
Infantino was criticised for attending the Tehran derby between Esteghlal and Persepolis on Thursday because attendance was limited to men only.
Women are banned from attending games in Iran and 35 were arrested for trying to get into Thursday's match.
But Infantino opened a FIFA equality conference on Friday by claiming his visit could help "many women around the world".
Infantino said: "I hope, I am confident, I was promised that women in Iran will have access to football stadiums soon."
He did not specify who made the pledge, while saying he was reluctant to be heard "criticising anyone".
A FIFA spokesperson said: "FIFA is strongly committed to promoting the protection of human rights, including especially the right of women to attend football matches.
"One of the main purposes of the FIFA president's trip to Iran was to raise this particular issue and engage in discussions with the Iranian political and sporting authorities in order to make concrete progress on this matter.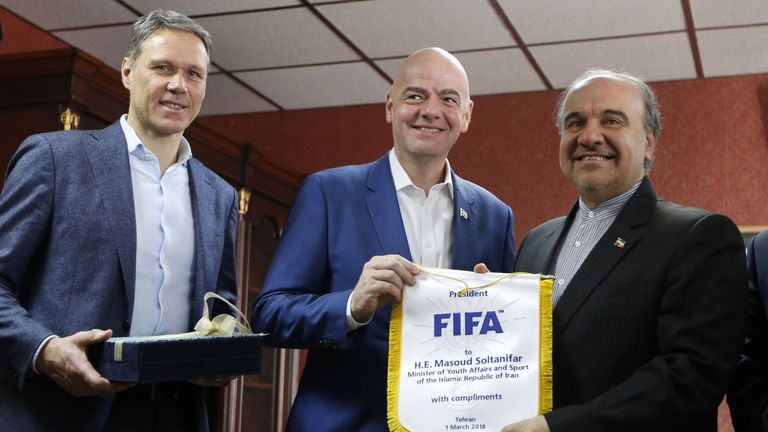 "During his meeting with the Iranian president Hassan Rouhani, president Infantino underlined the importance that all football fans irrespective of gender should be allowed to cheer and support their favourite teams inside the stadium, especially in a country like Iran, where the whole population is so passionate about football.
"President Rouhani promised positive developments on this in the near future.
"FIFA will therefore continue its dialogue with the Iranian authorities to make sure the necessary steps are taken to allow women in Iran to fully enjoy football as fans and watch their favourite teams and players inside the stadium."