Jamie Carragher has apologised for spitting towards a father and his 14-year-old daughter from his car window - an incident for which the Sky Sports football pundit has been suspended by the company.
The former Liverpool and England defender was filmed in an altercation while driving away from Old Trafford following Saturday's match between Manchester United and Liverpool.
Sky said in a statement on Monday that it "takes this matter extremely seriously and strongly condemns Jamie's actions. We have made that clear to him in person today and suspended him from his duties. It falls well below the standards we expect of our people".
Carragher has apologised to the family involved via telephone and told Sky News on Monday that he would like the chance to apologise to them again in person.
"You can't condone that behaviour no matter what, in any way shape or form, no matter wherever you are, or who you represent," Carragher said.
"It was a moment of madness that is difficult for me to explain. Watching it back, it almost feels like an out of body thing, that madness for four or five seconds. No matter what the circumstances for anyone, you can't behave like that.
Totally out of order & Ive apologised personally to all the family this evening. I was goaded 3/4 times along the motorway while being filmed & lost my rag. No excuse apologies. https://t.co/ofrNfiwhYH

— Jamie Carragher (@Carra23) March 11, 2018
"You're thinking: 'why did you react?' That's part of being a public figure at times. Different things get said but you don't react like that. This is the only time I've reacted like that. It will be the only time I ever react again like that.
"I called the family. Obviously they were upset and disappointed last night. I spoke to the girl and that is my biggest regret. There're lots of regrets but certainly the biggest one is for her to be caught in the middle of my altercation with the father. It devastates me a little bit more than anything else, really, that a young girl that wasn't involved in anything, really, has now become embroiled in this.
"The fact that it is a young girl maybe feels slightly worse to me. I've got a daughter exactly the same age and, if someone had done that, it's difficult for me to find the words (for) the way I would react or what I would say if I ever bumped into them, because the way that father sees his daughter is the way I see mine.
"Sky takes this matter extremely seriously and strongly condemns Jamie's actions. We have made that clear to him in person today and suspended him from his duties. It falls well below the standards we expect of our people."
"All I can do is apologise as much as I possibly can, because obviously I can't go back. I've done that with the family and hopefully they accept that and I'd like to apologise again to them if possible.
"I agree it has (brought the game of football into disrepute). You said before about role models, footballers, people in the job I do, any public figure, is a role model, whether you like it or not. People do look up to our actions and in the world we live in with social media, a lot of young people will have looked at this clip as well.
"It's a poor message, (but) not just about being in the game or football. It's a poor message for everyone out there; man, woman or children. It's the lowest of the low. Wherever I was brought up as a kid, spitting was that. I've never done it before, and I'll never do it again I assure you. The only thing I can do is apologise and try and get back to the person that I know I am.
"I apologise because I know that will put a lot of my supporters' families and friends in a difficult position. But the most important people I'd like to apologise to is the family involved because they've been dragged into this media storm by myself, my actions, which I'm sure will not be nice for them, especially the 14-year-old girl. The people that know me or look up to me, that's for me to sort out. Hopefully I can get the chance again to meet up with the family and apologise face to face."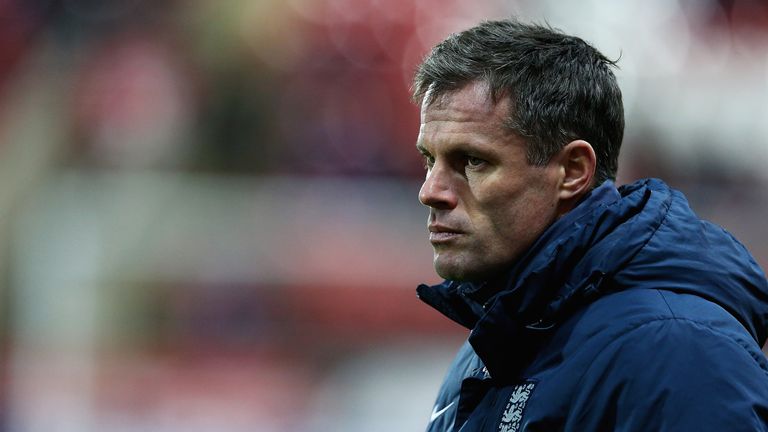 Asked whether he thinks he should keep his job at Sky Sports, Carragher said: "It remains to be seen. All I would say is it's Sky's decision, not mine. What I would say is that there is no doubt that what I have done is disgusting. I apologise for it and (I'm) getting vilified, and rightly so. If anyone had done that in the game I was commentating on I'd have vilified them for the next few days.
"But what I would hope, not just for Sky, but for the public who've known me for possibly 25 years in the public eye since I started playing for Liverpool, is that five seconds of madness will not take over everything I've done. Some people may or may not like me even before this incident, but hopefully going forward I can show the real me because I don't feel like it's a real representation of me.
"I haven't offered my resignation. I'm just speaking to people at Sky and we're working out what the best way of going forward is for me and Sky. They've made it be known there that they're very disappointed and understandably so. I've brought shame on the name of Sky Sports.
"It doesn't matter whether I say yes or no (to whether I think I should keep my job). That is down to the powers above. Hopefully I can show people over these next days and weeks the real me. Hopefully one moment of madness won't cloud the judgment people have in me, whether that is good or bad. But of course this is a bad stain on me and my character.
I've just watched Carra23 say sorry. No excuses he's made a big mistake . He's massively passionate about football and he's overstepped the mark and shouldn't have reacted . I've been on TV for 3 years with him and imo this isolated incident shouldn't stop us working together

— Gary Neville (@GNev2) March 12, 2018
"I don't want people to think I'm giving an excuse. I've had that (stick from supporters) plenty of times. You get that, that's part of being a public figure. I've never reacted like that before when I've had that, so I cannot explain the reason why I reacted like that.
"This whole sorry incident I've dragged this family into has been devastating for them and close family around myself and it's all come from my actions. There's not a lot more I can add to it than improve my behaviour going forward and apologise again to the family involved and people watching at home.
"No matter how bad today has been for everyone, it could have been a lot worse, when you think it was in busy traffic coming out of a football ground. So we're probably very lucky people."