Jack Grealish to Tottenham: What has drawn Spurs to the midfielder?
With the help of Spurs' former head of elite potential identification David Webb, we attempt to answer...
By Sky Sports with David Webb
Last Updated: 14/06/18 11:54am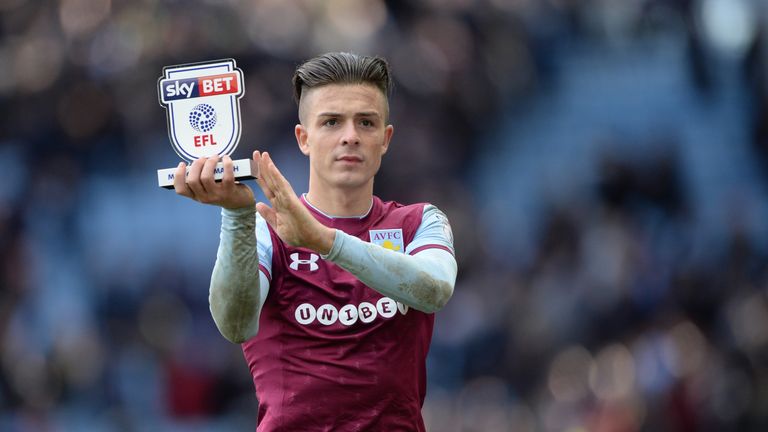 Tottenham have offered Aston Villa £15m for their highly-rated midfielder Jack Grealish, Sky Sports News understands.
The club want another creative player for the attacking positions behind Harry Kane, but rarely do they venture into the lower divisions to find such talent.
The last time they did was when they signed Dele Alli from League One MK Dons in 2015, and that was the first time in six years, since a double deal for Sheffield United pair Kyle Naughton and Kyle Walker in 2009.
Sky Sports News understands Grealish was not among their original list of transfer targets, so why have they decided to move for the England U21 international?
With the help of David Webb - a football transfer consultant and former head of elite potential identification at Tottenham - we attempt to answer that question…
"The Championship has improved him on and off the pitch"
Statistically, Grealish has been one of the standout performers in the Championship this season and received glowing reviews from fans of both his and opposing clubs. He scored three goals, bagged six assists and made 59 key passes - more than another Tottenham target in Ryan Sessegnon - as Villa made the play-offs but lost in the final to Fulham.
Grealish was outstanding at Wembley, showing what he can do on the big stage, but a deeper look at his statistics throughout the Championship last season show why he is so coveted.
Having missed the first half of the season due to a career-threatening kidney injury, Grealish helped Villa turn their season around in the new year. Villa won 58 per cent of games with Grealish starting, and 48 per cent without, with a man-of-the-match performance against Birmingham and match-winning stunner against Cardiff the standout moments.
His pass completion rate of 83.7 per cent in the opposition half was among the best in the division, but Grealish's strength also lies in his ability to draw the foul. He won 3.37 per game last season, more than any other Championship player, and with Christian Eriksen's deadly delivery key to Spurs' success, the Premier League side will have surely seen this as an advantage.
Sky Sports News understands Spurs have been one of a number of top clubs who have scouted him during his impressive campaign along with Manchester United and Arsenal, while Chelsea, Fulham and Leicester are also keen. Webb says he has been on top clubs' radars since he broke into Villa's first team while they were still in the Premier League in 2014.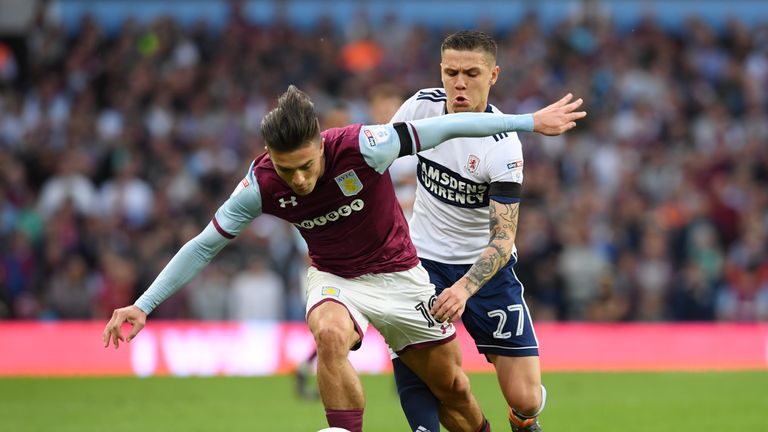 "Watching him when he was younger, his ability was never in question," Webb told Sky Sports. "When I first started at Tottenham in 2015, Grealish was breaking into the first-team at Villa. He was fluctuating between the U23s and the first team. Watching him in the U23 games, it was far too easy for him at that level.
"He wasn't ready for the first team but, because of his talent and the way he played with his quality on and off the ball, he looked like he needed guiding before he could make that next step. I would have recommended him based on his ability but, a few years ago you wouldn't have put him into an environment like Tottenham.
"If you're a Tottenham, you're looking at the season he's had and the strides he's made with his character, looking at his improvements on and off the field. His talent is coming to fruition.
"I'd be amazed that big clubs, with the due diligence they do, would go for him but with the season he has had and the steps he's made off the field, he is ready for a higher level. He's been a difference-maker on the pitch for Villa this season, and he has needed time in the Championship for his development."
In 2015, after helping Villa to an FA Cup final and survival in the Premier League, Grealish was pictured slumped in the street during a holiday in Tenerife. But in an exclusive interview with Sky Sports before the play-off final, Grealish insisted he had grown up as a player and a person.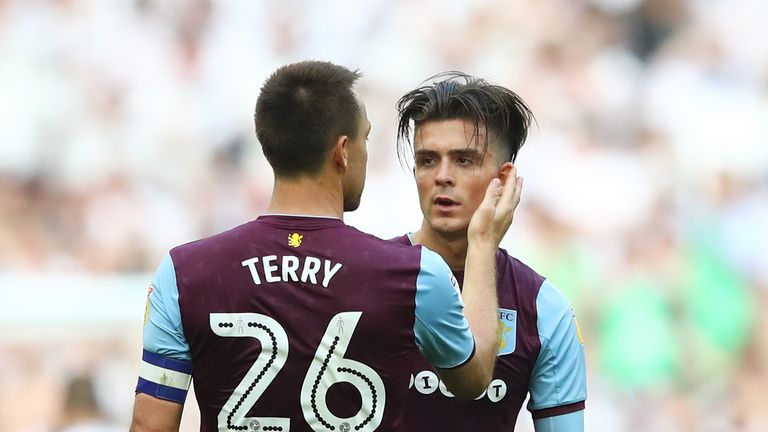 "As a footballer, there is so much spare time," Grealish said. "When I was younger I was probably doing stuff I shouldn't have been, going out too much. I'm still a young kid now, only 22, but when I first came onto the seen at 18 or 19 you have so much time to grow up on and off the pitch.
"Stuff happened, everyone is like it, but I was a young kid back then, I've grown up now. You see the light, I certainly have, and all I want to do is concentrate on my football and be the best I can be, and put all of that behind me."
"He fits the Tottenham profile and can develop under Pochettino"
Tottenham have been looking for an attacker to play behind Kane with the likes of Eriksen and Dele Alli, and have been interested in Anthony Martial and Wilfried Zaha. Webb believes Grealish fits the profile of an intelligent attacking playmaker that can learn how to be effective in Mauricio Pochettino's system.
"Technically, he could potentially be a top Premier League player. He's a very clever player and athletically he's quite good," Webb said. "He's a very intelligent player on and off the ball - more of an Eriksen-type player (than the others Spurs have). He can also bypass players; he's very skillful.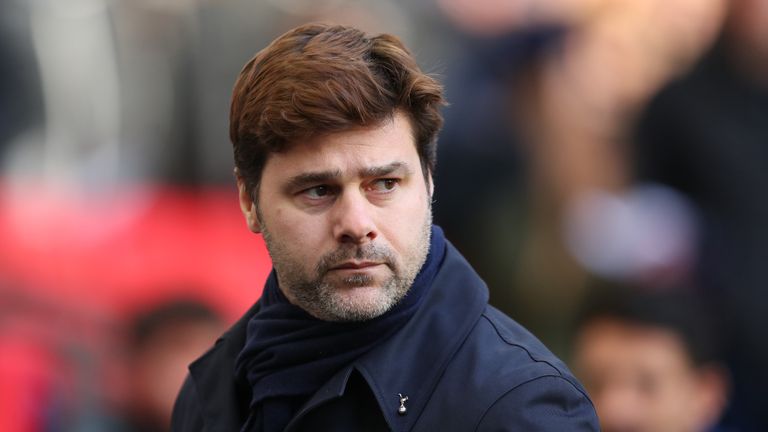 "He hasn't got that top acceleration. He's not a Raheem Sterling, who is going to bypass players with speed, but he can bypass with small acceleration and then execute a through pass or shot on goal, or develop play in that area. He is more of a player that can unlock doors and offer a little bit of a goal-threat as well.
"In Tottenham's system he would play behind the striker, in the attacking three. Those players - an Eriksen, [Erik] Lamela, [Heung-Min] Son or Alli - they want to roam and interchange, be quite sharp and understand the way Pochettino plays. It's very fast, on the transition and, for them, about knowing where to run, how to run. Grealish would have that.
"I am not surprised they have gone for him because of his quality and the improvements he has made. He is British as well, and there are not too many players like that, that are British-based. Being that and being someone who can develop under Pochettino, it's no surprise to me. Under a developer and teacher like Pochettino, it could be time that he is ready to work with someone like that."
The financial aspect
From a business point of view, Tottenham are hoping to capitalise on Villa's financial problems to land a young British talent that would otherwise be worth much more to a club that does not have to accrue funds.
However, Villa value their prize asset at closer to double the £15m figure Spurs have offered and, despite their precarious financial state, senior sources at Villa believe they may not be forced to sell their star academy graduate after all.
At Monday's crucial board meeting, acting deputy chief executive Luke Organ painted a more optimistic picture of the club's finances and, while not ruling it out, suggested they may not be forced to sell the youngster.
Grealish remaining at Villa Park appears unlikely, though, with the player entering the last two years of his contract and Villa failing to get him to sign an extension midway through last season.