Sepp Blatter says England or UK and Ireland deserve to host World Cup 2030
Former FIFA president Blatter critical of 2026 World Cup bidding process
By Sky Sports News
Last Updated: 20/06/18 12:02pm
Former FIFA president Sepp Blatter thinks England and the home nations will be strong candidates to host the World Cup in 2030.
England failed with their bid to host the 2018 World Cup, receiving just two votes in the opening round of voting in 2010 as the tournament was awarded to Russia.
Speaking at this year's tournament, where he is a guest of Russian president Vladimir Putin, Blatter told Sky Sports News: "I think that England deserve to organise the World Cup. They have had it in 1966 so it is a long time ago.
"With Scotland, Wales, Northern Ireland and Ireland they will be candidates I am sure.
"With 48 teams [in a World Cup], you need more than one country [to host]."
The Swiss was in charge of football's global governing body at the time Russia was awarded the tournament before his reign ended amid a corruption scandal involving FIFA.
Blatter was also highly critical of the bidding process for the 2026 World Cup - awarded to the joint bid from U.S.A, Canada and Mexico - in which each nation's choice was made public for the first time.
"Elections should be made by secret ballot, this is in the statute of FIFA and in the regulations," Blatter said. "You should not announce who votes for who.
"It is normal that it goes back to North America because they should have been in [the bidding] for 2022."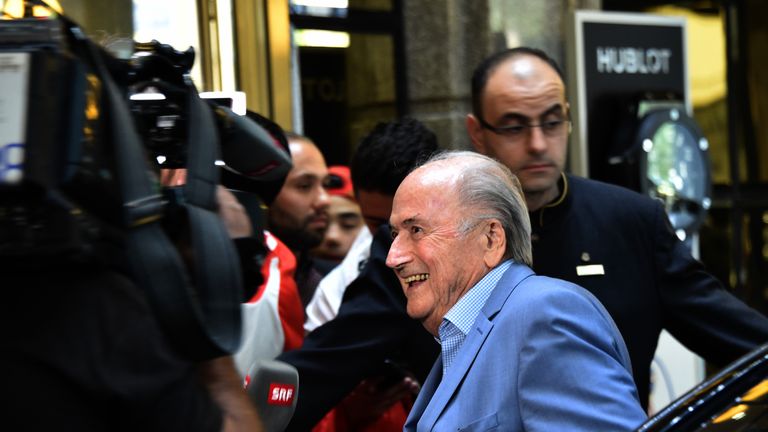 It is understood Blatter, who is serving a six-year suspension which brought an end to his reign as president after 17 years in charge, will attend Wednesday's match between Portugal and Morocco.
"It is good for me because when I came back, I had the impression that it is my World Cup," he said.
"I have been actively involved in 10 World Cups and this time I am only a guest.
"But It is good to be here to smell football and to smell the ambience.
"I feel a little abandoned because I am suspended, but I am still the elected president."