Manchester United lack identity under Jose Mourinho, Raphael Honigstein says
By Ron Walker
Last Updated: 05/08/18 6:48pm
Jose Mourinho's Manchester United "lack identity" thanks to a "scattergun" transfer approach, football journalist Raphael Honigstein told the Sunday Supplement.
Mourinho has made no secret of his frustration with United's lack of senior signings this summer, bringing in only Shakhtar midfielder Fred to join third-choice goalkeeping addition Lee Grant and right-back Diogo Dalot since the end of last season.
Honigstein understood the Portuguese's annoyance and dour interviews during United's spell in the US for the International Champions Cup - but told the panel there was a deeper conflict between the manager and those running the club, which have blurred its identity on and off the pitch.
"I have some sympathy with Mourinho when it comes to transfers - Ed Woodward's [United's chief executive] problems with getting them over the line precedes his arrival," Honigstein said. "It's not a new story that transfers are taking longer and becoming more complicated for whatever reason.
"I think the scattergun approach reflects very conflicting strategies. Mourinho wants a specific type of player, who is ready-made, 26 or 27, will perform all the time and has the skills of a world-class player but play like an underdog and not have the ball, wait for things to happen and take advantage.
"But United as a club want players who have value going forward, we want to unearth the superstars before they are superstars, we don't necessarily want to be paying £100m every year, more like £30m or £40m, grow the players, make them better and sell them on or build a team around them.
Bayern Munich v Man Utd preview
"These styles are not really joining up. You can see it on the pitch; this is a team that doesn't really know what it is, it's lacking identity."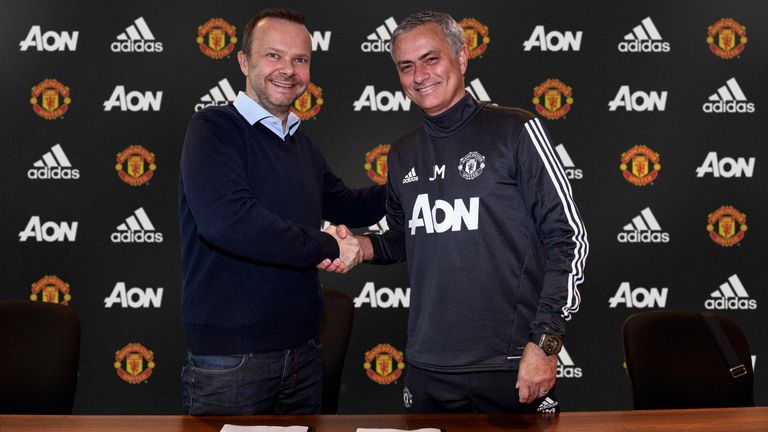 Mourinho's relationship with Woodward has often been reported as fractious since the former joined the club in 2016, and the Daily Mail today reports the pair are on a "collision course" after an awkward exchange in the tunnel of their final International Champions Cup game with Real Madrid last week.
The newspaper stated it was the pair's first meeting in 17 days, and that Mourinho has been left feeling let-down by his chairman.
The Telegraph's chief football correspondent Jason Burt told the panel: "If he's only spoken to Ed Woodward once in 17 days, which is the story this morning in the Mail, that is a problem. Whoever's fault that is, that's a real issue. Whatever Jose is complaining about, and we've seen him having a sour face many times before, that is a problem for any club. It cannot be a healthy state of affairs, and there's probably culpability on both sides there.
"What always surprises me about United is their whole approach to transfers - it is so scattergun. They just want to nick players from other clubs who others are after, there's no real strategy, they're looking at a centre-half and suddenly it's Harry Maguire after he had a good World Cup - I've never heard him linked before then. He doesn't seem to be Mourinho's style of player.
"We're going into Jose's third season, third-season syndrome with him, obviously he seems unhappy, and you're asking me if he's going to be here next season I'm probably thinking not because of his demeanour."
Get the dedicated Sky Sports Premier League channel to watch 126 live games next season. Find out more.