The FA remains in discussions with its stakeholders over the potential £600m sale of Wembley Stadium to Shahid Khan, Sky Sports News understands.
However, the governing body are keen to insert a buyback clause in the deal, allowing them to reacquire Wembley for as little as £100m if Khan fails to maintain its elite status, reports Sky News' City Editor Mark Kleinman.
The news comes following a report in the Financial Times on Wednesday morning that the FA had agreed to sell Wembley to the Fulham and Jacksonville Jaguars owner.
The £600m deal will be presented at a meeting of the FA's 10-member board on Thursday, where they must decide whether to give it their backing.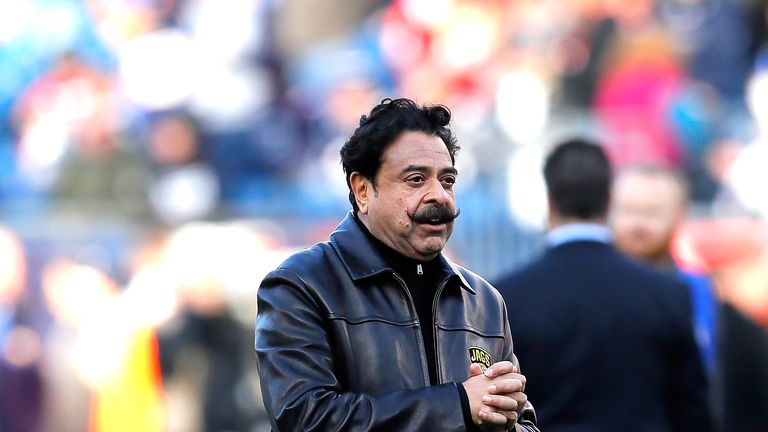 If the board chooses to do so, the proposal will be presented to the 127-member FA Council next month for approval.
The buy-back clause is aimed at persuading sceptics on the FA board about the merits of the sale, and would be triggered if Wembley was downgraded by UEFA as a host venue.
Khan, a Pakistani-American businessman, revealed he has been in talks to purchase Wembley since February 2017.
He said he wanted to buy Wembley to strengthen the Jaguars' presence in London "at a time when other NFL teams are understandably becoming more interested in this great city".
The FA says the money raised from the sale of the stadium would be invested into grassroots football, with one source telling Sky Sports News in April: "If we are ever to have the chance to change the face of football in this country, this offer could make that happen."
If Khan does buy Wembley, England's home international fixtures will still be played at the ground, as will cup and play-off finals.
The deal would not affect Craven Cottage's status as Fulham's home ground, nor would it prevent the club's plans to develop their stadium and training ground from going ahead.
If the sale does happen, the FA will keep their headquarters at Wembley - rent-free - and also keep the Club Wembley hospitality business.
The Department for Digital, Culture, Media and Sport, Sport England and the Greater London Authority are all said to have signalled their support for a sale on the proposed terms.
Greg Clarke, the FA chairman, and Martin Glenn, the governing body's chief executive, are also endorsing the deal.