Will Manchester City beat Manchester United on Wednesday and take a big step towards winning the Premier League title?
After Tottenham's narrow win over Brighton and Watford's late rally against Southampton on Tuesday, the spotlight turns to Old Trafford as the Manchester rivals meet in front of the Sky Sports cameras. Who is Merse expecting to triumph? And does he think former club Arsenal will get back on track against Wolves?
Crystal Palace went to Arsenal at the weekend and ended up scoring three times. I watched Palace against Manchester City in their previous game and they couldn't get a kick. It was damage limitation. Then they go to Arsenal and they fancy themselves. It shows you the gap between Manchester City and Liverpool and the other teams.
You can talk about Arsenal's team selection against Palace but you can't defend like they did. They could have had Diego Maradona playing up front but you won't win matches if you have defending like that.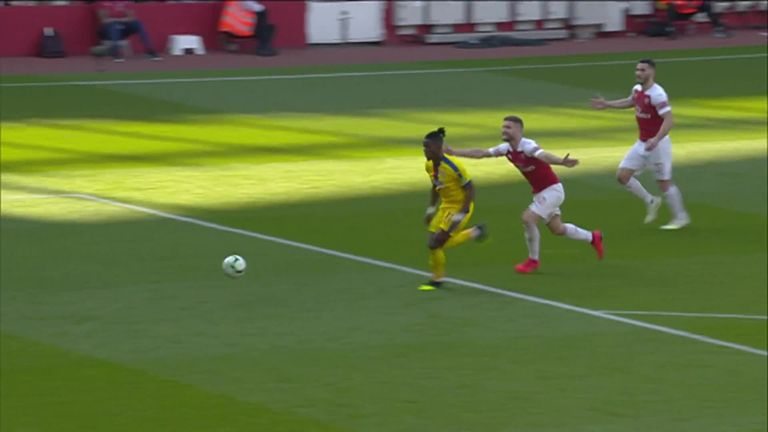 Wolves are a good side when teams have a go at them, like Arsenal will. Look at the teams that Wolves have dropped points against - Huddersfield have done the double against them, Brighton sat back and got a draw, so did Newcastle. They have lost points against teams outside the top six because they play deep against them and they need to learn how to break that down.
PAUL PREDICTS: 2-2
I think the league will be won here as I expect Manchester City to win easily.
Manchester United are just not very good. It was embarrassing against Everton and the players should be ashamed of themselves.
They need to work hard this week, which will not be enough, but it is the least they can do. To lose the way they did against Everton was mindblowing. They should be honoured to play for that club and they embarrassed it.
There could be some nerves for City as United will park the bus. You need the second goal to make sure you win every game because at 1-0 you never know, there could be a set-play and then it's level.
I remember when Tottenham lost the league to Leicester in 2015/16 they kept chasing it against West Brom when they were 1-0 up and then West Brom get a corner, score from it, and the league is over. You need to get that second goal.
If City win this game, I can't see how they are going to be stopped. They have one game a week for three weeks and, no disrespect to the teams they are playing, if they can't win those three games with the squad they have got then they don't deserve to win the league.
PAUL PREDICTS: 0-4
Merson's earlier predictions
Tottenham vs Brighton (Tuesday)
I can't see anything other than a Tottenham win.
Brighton did great to get the draw at Wolves, which was massive for them as Cardiff now have to get two results instead of one, but I don't think they will get anything here.
Tottenham have been good in their new stadium and I think they will consolidate their top-four place with a win.
PAUL PREDICTS: 3-0 - RESULT: 1-0
Watford vs Southampton (Tuesday)
I think Southampton will be alright, but they will be disappointed with their result at Newcastle. Cardiff only need to get a win somewhere and it could be game on and Southampton will be back in it. If Cardiff beat Fulham on Saturday, they would only be two points behind Southampton.
Watford are a good team, although every time I say that they lose! They did the job at Huddersfield and are still rolling on in that fight for seventh. That is a big thing for the teams outside the top six, they have their own league and whoever comes in seventh has won it.
PAUL PREDICTS: 3-1 - RESULT: 1-1