Phil Neville blasts Cameroon behaviour as England reach World Cup quarter-finals
"I'm completely and utterly ashamed of the behaviour of the opposition. I didn't enjoy the game for that reason, my players didn't... I think it's pretty sad"
Last Updated: 24/06/19 2:37pm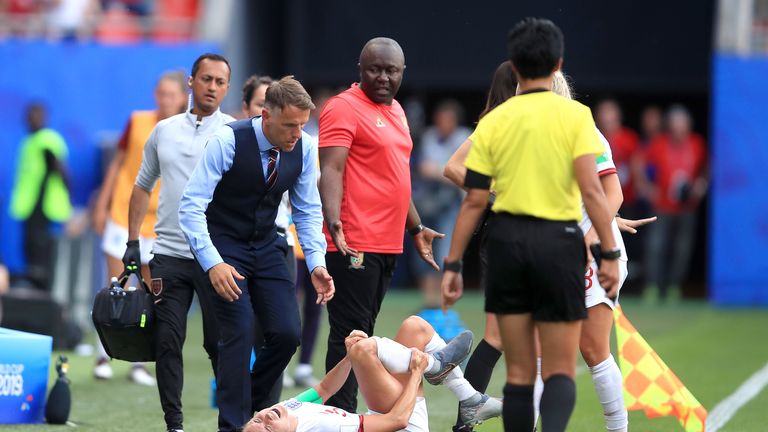 An angry and "ashamed" Phil Neville said England's win over Cameroon "wasn't football" as he condemned their opponents' bizarre behaviour.
Cameroon twice refused to restart play after being hit by two VAR goal decisions against them during the World Cup last-16 match, in which England progressed with a 3-0 victory to set up a quarter-final against Norway on Thursday.
Neville did not hold back after full-time as England recorded their biggest win in a World Cup knock-out game, but the victory was far from the first thing on his mind. Here's every word from the Lionesses manager...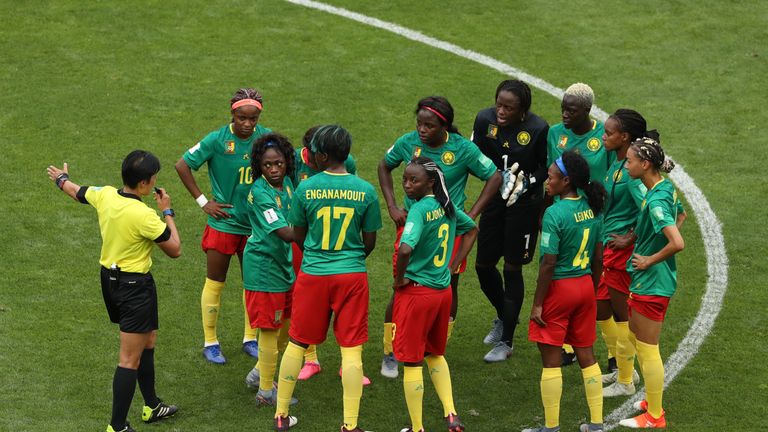 'I'm ashamed... that wasn't football'
In his post-match press conference, Neville said: "I came to this World Cup to be successful but also to play a part in making women's football globally more visible, globally better, to put on a show that the rest of the world can see, that women's football is improving.
"I sat through 90 minutes of football there and felt ashamed. Proud of my own players' performances and behaviour, under circumstances I've never seen on a football field before.
"I'm completely and utterly ashamed of the behaviour of the opposition. I didn't enjoy the game for that reason, my players didn't, and all those young girls watching back in England, and the young boys watching, with that kind of behaviour, I think it's pretty sad. It takes you back to the times where you were a kid and you lost and went home crying with your ball.
"When I started in management, I think it was Arsene Wenger told me: 'The team mirror the manager', and obviously their team mirror the manager. If that was any of my players, and it never will be, they'd never play for England again, with that kind of behaviour.
"I feel sorry for the referee, the decisions were correct, and I think the referee at the end was probably trying to protect football in not giving the penalty, not giving the sending off, and I admire her unbelievably for that.
"I think what we've seen today is people fighting in the VIP area, Cameroon people fighting in our hotel, and we've seen that on the field too. I would say: get your ship in order first before you start throwing stones."
Neville told BBC Sport: "It didn't feel like football, to be honest with you. We get briefings about coming on TV and saying it was a good win, and it was a good win, we played OK and we were ruthless in attack - but that wasn't football.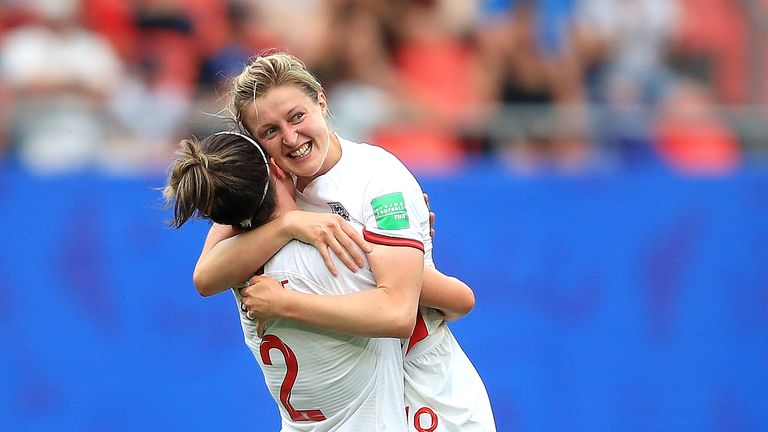 "It wasn't a World Cup last 16, in terms of the behaviour I want to see from footballers. This is going out worldwide. I can't stand here and say I particularly enjoyed it, my players didn't enjoy it, at half-time they were confused about the actions, what they should do.
"They kept their concentration fantastically, but with images going out worldwide about how to act, there's young girls out there seeing that behaviour. That's not right. We're into the quarter-finals but there's a bigger picture here. There's a certain standard of behaviour you have to have. My players had that and I'm proud.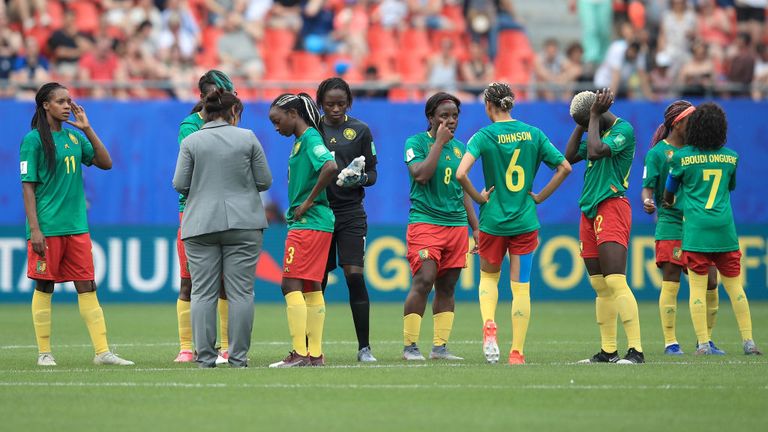 "I've got no sympathy with Cameroon over the goals. None. The rules are the rules. The second goal - I lost count - Ellen White was onside. We know the rules, we've been spoken to 350,000 times by referees by the rules. The referee got every one right, I thought she took pity on them at the end - we should've had a penalty.
"The behaviour is wrong, this is going out worldwide watching a team that's refusing to play. I'm proud of my players, of their discipline and going out to play football."
Cameroon coach: 'A miscarriage of justice'
Cameroon head coach Alain Djeumfa labelled Ellen White's goal, which was given after a VAR review, a "miscarriage of justice" but after suggesting the match officials had been biased against his side, dodged questions asking him to elaborate on the reasons behind his claim.
"The opening goal in the 14th minute when there was the indirect free-kick, I think that was the wrong decision," he said.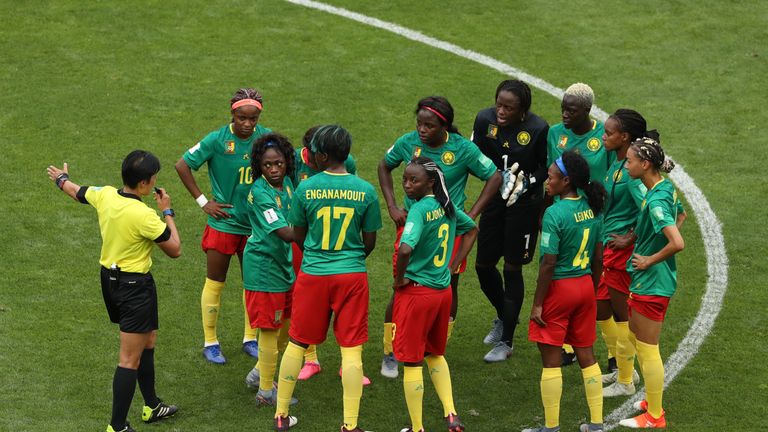 "We realised the game was slipping away and had to make sure we didn't concede a goal in the opening 20 minutes, but unfortunately the officials wanted something else.
"I just said it was a miscarriage of justice but I won't go further than that. Why should I talk about anything else, this is football; it's a game, a sport. Occasionally the referee makes mistakes, and the referee made a lot of mistakes tonight.
"The players never refused to play, I don't think we ever refused to play. My players were examples, and occasionally when you are in this state of shock and you can lose your cool, but I don't think the players ever refused to play, they showed professionalism and I take my hat off to them for that."