Champions League draw: Tottenham to play Bayern Munich, Liverpool get Napoli
Chelsea drawn with Ajax; Manchester City play Shakhtar Donetsk
By Joe Shread
Last Updated: 30/08/19 6:34am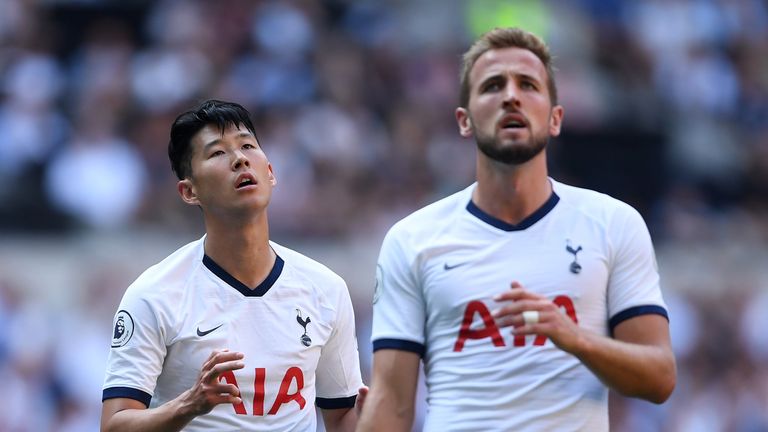 Tottenham have been drawn against five-time winners Bayern Munich in the Champions League group stage.
Spurs, who were beaten in their first ever Champions League final last season, are joined in Group B by Olympiakos and Serbian champions Red Star Belgrade.
Liverpool, the holders after beating Spurs in last season's final, have been drawn to play Napoli in the group stage for the second successive season.
Alongside Jurgen Klopp's side in Group E are Red Bull Salzburg, who won the Austrian Bundesliga last season, and Belgian side Genk.
Chelsea, who return to the Champions League after a one-year absence, have been placed in Group H, alongside 2018/19 semi-finalists - and Dutch champions - Ajax. The Blues will also play Valencia and Lille.
Manchester City are in Group C with Shakhtar Donetsk - who they play in the group stage for the third consecutive campaign - Croatian champions Dinamo Zagreb and Italian club Atalanta.
Manchester City's director of football Txiki Begiristain said: "It is important to be ourselves when we play and keep doing things our way. We have to keep fighting and if we do all that, we will be close.
"We have shown we can win trophies and win the Premier League and we just have to be ourselves - in the Champions League, everything has to be perfect because if you have one mistake in the quarter-finals, you are out.
"So, it is important to keep playing the way we believe, keep things tight and keep fighting."
Elsewhere in the draw, five-time winners Barcelona have been placed in Group F with Borussia Dortmund, Antonio Conte's Inter Milan and Czech league winners Slavia Prague.
PSG have been drawn alongside Real Madrid - the most successful side to ever play in the Champions League - in Group A, while Juventus will play Atletico Madrid in Group D.
Champions League draw in full
Group A: PSG, Real Madrid, Club Brugge, Galatasaray
Group B: Bayern Munich, Tottenham, Olympiakos, Red Star Belgrade
Group C: Manchester City, Shakhtar Donetsk, Dinamo Zagreb, Atalanta
Group D: Juventus, Atletico Madrid, Bayer Leverkusen, Lokomotiv Moscow
Group E: Liverpool, Napoli, Red Bull Salzburg, Genk
Group F: Barcelona, Borussia Dortmund, Inter Milan, Slavia Prague
Group G: Zenit St Petersburg, Benfica, Lyon, RB Leipzig
Group H: Chelsea, Ajax, Valencia, Lille
2019-20 Champions League group stage fixtures in full
Matchday one:
September 17
Napoli vs Liverpool
Red Bull Salzburg vs Genk
Inter Milan vs Slavia Prague
Borussia Dortmund vs Barcelona
Lyon vs Zenit
Benfica vs RB Leipzig
Chelsea vs Valencia
Ajax vs Lille
September 18
Club Brugge vs Galatasaray
PSG vs Real Madrid
Olympiacos vs Tottenham
Bayern Munich vs Red Star Belgrade
Shakhtar Donetsk vs Man City
Dinamo Zagreb vs Atalanta
Atletico Madrid vs Juventus
Bayer Leverkusen vs Lokomotiv Moscow
Matchday two:
October 1
Real Madrid vs Club Brugge
Galatasaray vs PSG
Tottenham vs Bayern Munich
Red Star Belgrade vs Olympiacos
Atalanta vs Shakhtar Donetsk
Man City vs Dinamo Zagreb
Juventus vs Bayer Leverkusen
Lokomotiv Moscow vs Atletico Madrid
October 2
Liverpool vs Red Bull Salzburg
Genk vs Napoli
Slavia Prague vs Borussia Dortmund
Barcelona vs Inter Milan
Zenit vs Benfica
RB Leipzig vs Lyon
Valencia vs Ajax
Lille vs Chelsea
Matchday three:
October 22
Club Brugge vs PSG
Galatasaray vs Real Madrid
Olympiacos vs Bayern Munich
Tottenham vs Red Star Belgrade
Shakhtar Donetsk vs Dinamo Zagreb
Man City vs Atalanta
Juventus vs Lokomotiv Moscow
Atletico Madrid vs Bayer Leverkusen
October 23
Genk vs Liverpool
Red Bull Salzburg vs Napoli
Inter Milan vs Borussia Dortmund
Slavia Prague vs Barcelona
RB Leipzig vs Zenit
Benfica vs Lyon
Ajax vs Chelsea
Lille vs Valencia
Matchday four:
November 5
Liverpool vs Genk
Napoli vs Red Bull Salzburg
Barcelona vs Slavia Prague
Borussia Dortmund vs Inter Milan
Zenit vs RB Leipzig
Lyon vs Benfica
Chelsea vs Ajax
Valencia vs Lille
November 6
PSG vs Club Brugge
Real Madrid vs Galatasaray
Bayern Munich vs Olympiacos
Red Star Belgrade vs Tottenham
Dinamo Zagreb vs Shakhtar Donetsk
Atalanta vs Man City
Lokomotiv Moscow vs Juventus
Bayer Leverkusen vs Atletico Madrid
Matchday five:
November 26
Galatasaray vs Club Brugge
Real Madrid vs PSG
Tottenham vs Olympiacos
Red Star Belgrade vs Bayern Munich
Man City vs Shakhtar Donetsk
Atalanta vs Dinamo Zagreb
Juventus vs Atletico Madrid
Lokomotiv Moscow vs Bayer Leverkusen
November 27
Liverpool vs Napoli
Genk vs Red Bull Salzburg
Barcelona vs Borussia Dortmund
Slavia Prague vs Inter Milan
Zenit vs Lyon
RB Leipzig vs Benfica
Valencia vs Chelsea
Lille vs Ajax
Matchday six:
December 10
Red Bull Salzburg vs Liverpool
Napoli vs Genk
Borussia Dortmund vs Slavia Prague
Inter Milan vs Barcelona
Benfica vs Zenit
Lyon vs RB Leipzig
Chelsea vs Lille
Ajax vs Valencia
December 11
Club Brugge vs Real Madrid
PSG vs Galatasaray
Bayern Munich vs Tottenham
Olympiacos vs Red Star Belgrade
Shakhtar Donetsk vs Atalanta
Dinamo Zagreb vs Man City
Atletico Madrid vs Lokomotiv Moscow
Bayer Leverkusen vs Juventus