FIFA has urged competition organisers to use "common sense" when considering whether to punish players for protesting against the death of George Floyd during matches.
The Football Association in England has promised to take a "common-sense approach" to players involved in gestures or behaviour promoting the anti-discrimination message, but the German FA (DFB) says it is considering sanctions against players after several demonstrated this weekend.
The players made the gestures after Floyd, who was black, died in Minneapolis after a white police officer knelt on his neck, despite Floyd warning he could not breathe.
FIFA told the Associated Press: "FIFA fully understands the depth of sentiment and concerns expressed by many footballers in light of the tragic circumstances of the George Floyd case.
"The application of the laws of the game... is left for the competitions' organisers, which should use common sense and have in consideration the context surrounding the events."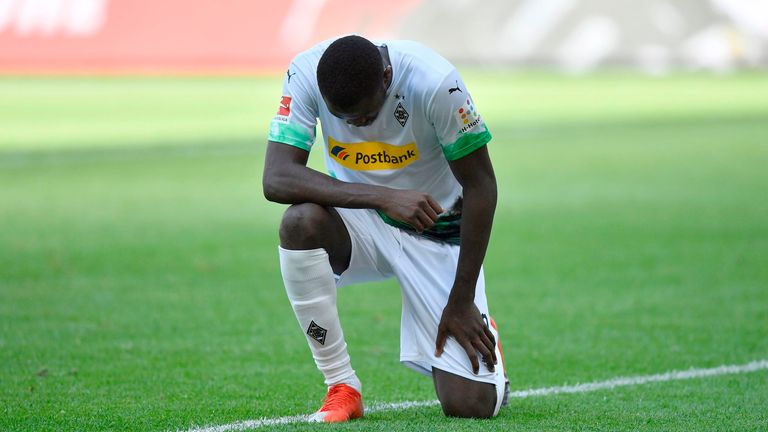 Jadon Sancho was shown a yellow card for removing his shirt to reveal a "Justice for George Floyd" message after scoring for Borussia Dortmund on Sunday. Team-mate Achraf Hakimi revealed the same message in the game.
On the same day, Marcus Thuram took a knee after scoring for Borussia Monchengladbach, while on Saturday, Schalke's Weston McKennie wore an armband with the words "Justice for George".
DFB vice president Rainer Koch said: "As is the case internationally, the game itself should remain free of political statements or messages of any kind."
Mass protests have continued to take place in America since Floyd's death, prompting President Donald Trump to threaten to use the army to restore order.
Post-mortems have classified Floyd's death as a homicide, ruling he died of asphyxiation following compression to his neck and back.
'Jadon should be applauded, not sanctioned'
Professional Footballers' Association (PFA) deputy chief executive Bobby Barnes says Sancho should be applauded for his tribute to Floyd, rather than punished.
"I genuinely don't think this is a political message that Jadon has sent out," he said. "This is a humanitarian slogan that he's put on his shirt, along with many others.
"When you cast your mind back to that terrible incident a week ago and you look at something that you can only really express as man's inhumanity to man.
"I think it's only right that players use the platform that they've got to bring attention to these sort of injustices. I certainly think that someone like Jadon should be applauded, certainly not sanctioned."
Barnes also praised the solidarity shown by the Liverpool squad, who displayed their support for the Black Lives Matter movement by taking a knee at Anfield.
"Footballers do have a social conscience and what we've actually seen here is a demonstration of the depth of feeling that players have," Barnes added.
"I was very encouraged by the solidarity shown by the Liverpool team, all colours, races and creeds came together to express their solidarity with George Floyd and abhorrence for this sort of activity, that unfortunately has been going on for far too long."
FA in England promises 'common sense'
The Football Association has promised to take a "common-sense approach" to players involved in gestures or behaviour promoting the anti-discrimination message.
An FA statement read: "The FA strongly condemns discrimination of any kind and has endeavoured to ensure that football in England is both diverse and inclusive in recent years.
"Where any behaviours or gestures on the pitch that may constitute a breach of the laws of the game have to be assessed, they would be reviewed on a case-by-case basis with a common-sense approach and understanding of their context.
"The power of football can break down barriers across communities and we remain deeply committed to removing all forms of discrimination from across the game we all love."
Under Law 4 Section 5, players are not supposed to have slogans, statements or images on their kit or other equipment which could be deemed as political.
The laws state that a match official should ask the player to leave the field and remove the item before returning to the field.
But the FA is clearly prepared to judge examples of players taking the knee, or engaging in other forms of political protest related to the #BlackLivesMatter cause, on a case-by-case basis.